California water conservation lagged in October, but state is still on course
Tourists view their photos of the Beverly Hills sign in Beverly Gardens Park. The city and three other water suppliers face financial penalties for falling short of state water conservation mandates.
(Allen J. Schaben / Los Angeles Times)
Sevag and Houry Alsanian of Lebanon take photos of themselves in Beverly Gardens Park.
(Allen J. Schaben / Los Angeles Times)
Beverly Hills is "very concerned" about falling short of the state's 32% reduction mandate, said Cheryl Fielding, the deputy city manager for public affairs.
(Allen J. Schaben / Los Angeles Times)
Marjan Zohoury and her son, Ryan, stand in front of their Beverly Hills home Friday, Oct. 30, 2015. Zohoury says she understands the importance of water conservation efforts but Beverly Hills also faces pressure to preserve its reputation as a beautiful city.
(Allen J. Schaben / Los Angeles Times)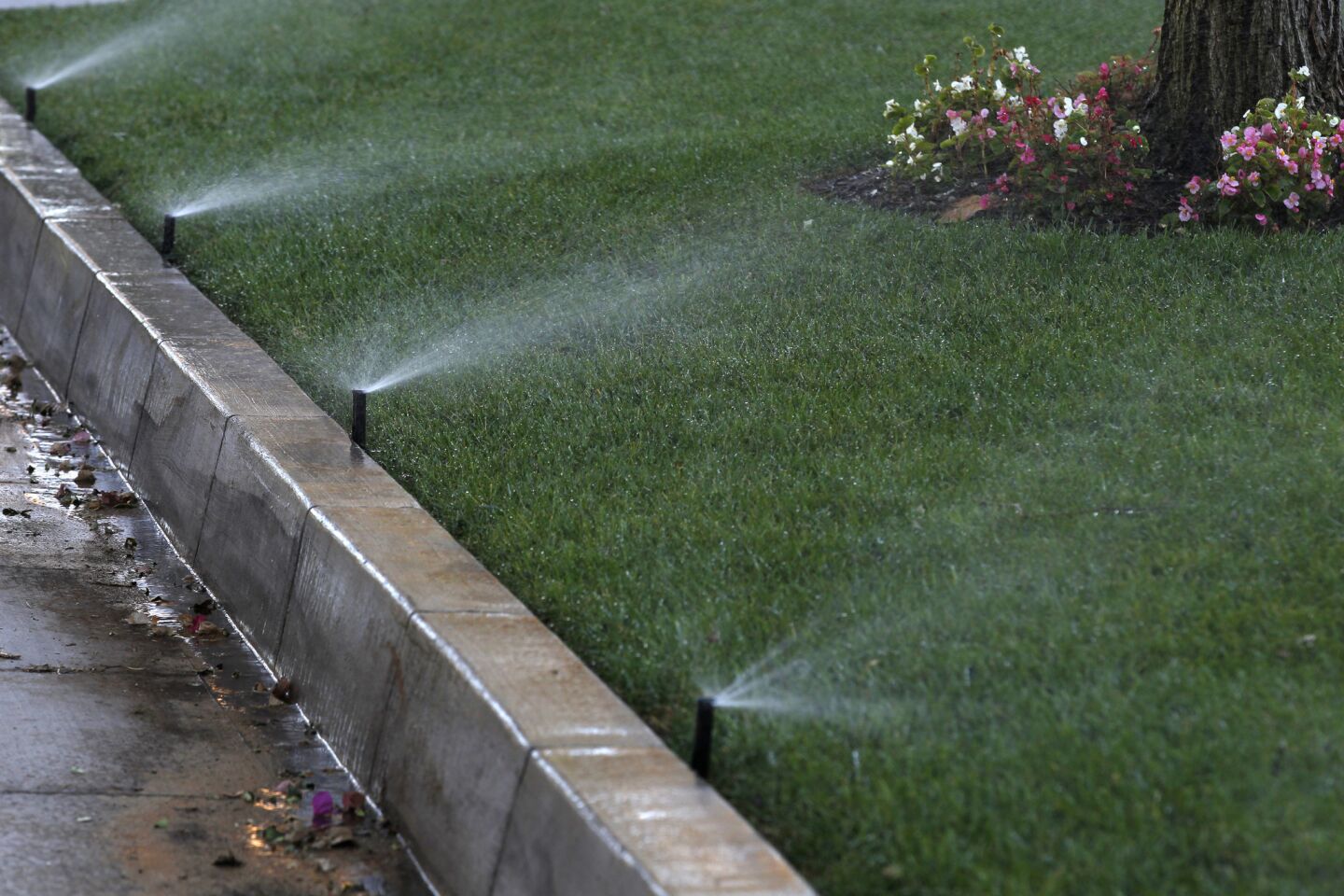 In addition to Beverly Hills, the cities of Indio and Redlands and the Coachella Valley Water District were issued a $61,000 penalty for failing to meet their conservation mandates. Above, a lawn in Beverly Hills gets watered.
(Allen J. Schaben / Los Angeles Times)
Green grass across the street from Beverly Hills City Hall.
(Allen J. Schaben / Los Angeles Times)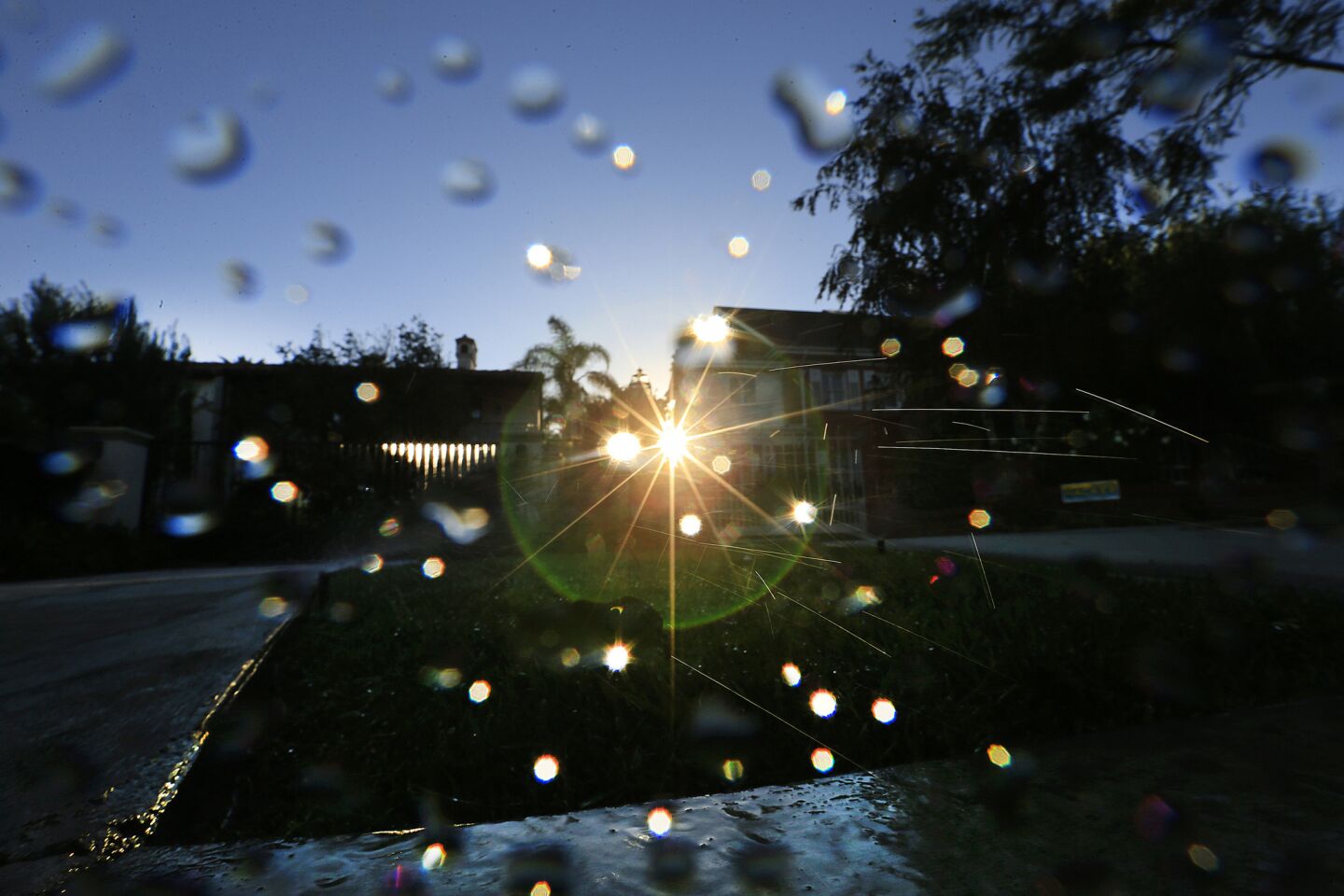 The setting sun illuminates water drops from sprinklers at a residence in Beverly Hills.
(Allen J. Schaben / Los Angeles Times)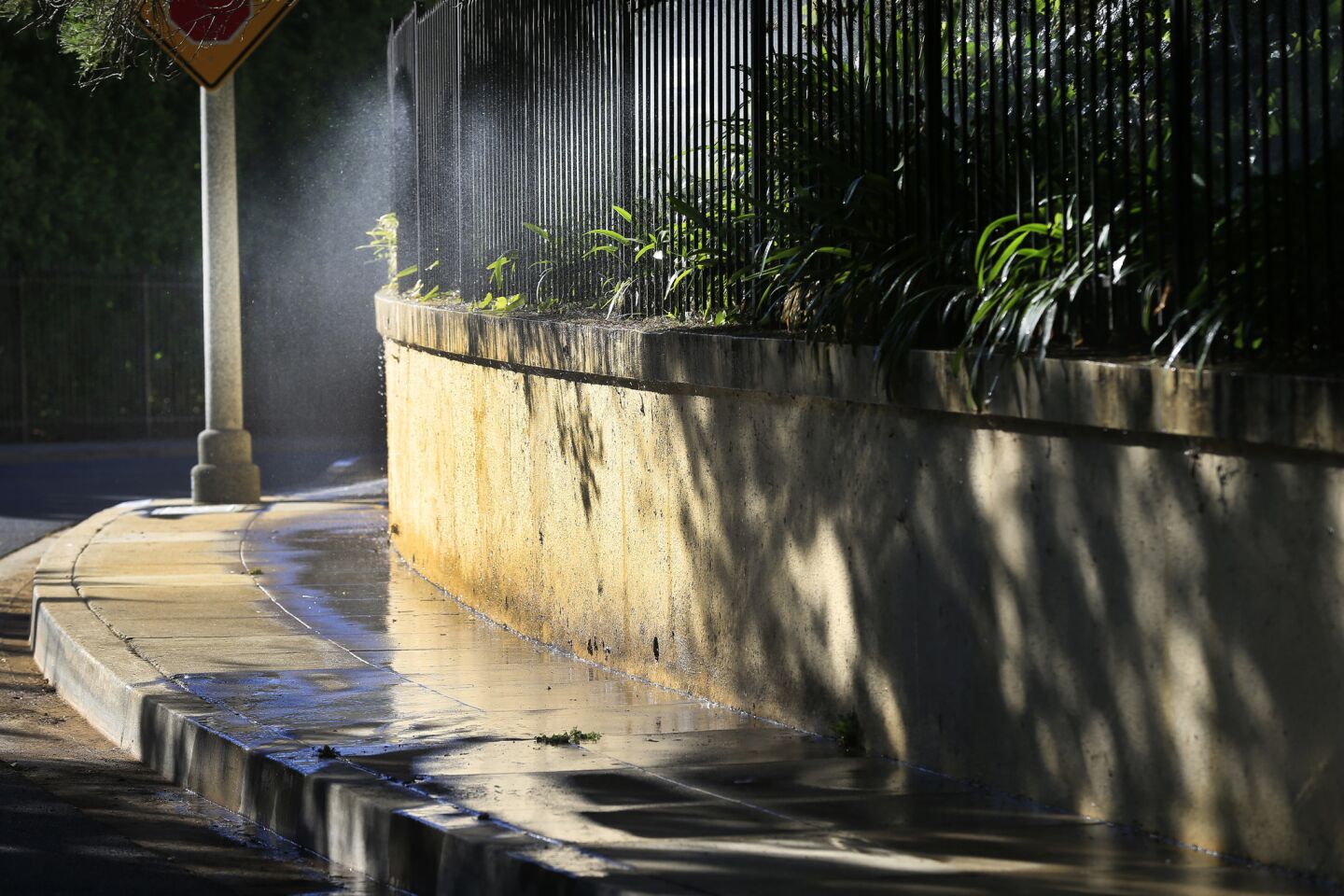 Water from sprinklers flows over a retaining wall at a residence in Beverly Hills.
(Allen J. Schaben / Los Angeles Times)
During the first four months of California's emergency drought rules, people in cities and towns across the state made conservation look easy.
From June to September, urban areas routinely exceeded Gov. Jerry Brown's call to reduce water use by 25% — sometimes by wide margins.
But during an unusually hot October, state regulators say, water savings hit a snag. For the first time, residents and businesses fell short of the statewide target, cutting their water consumption by 22.2% in October compared with the same month in 2013.
Water officials say they expect savings percentages to be lower during the colder, rainier months, when people typically use less water and there is less room to cut back.
Felicia Marcus, chairwoman of the State Water Resources Control Board, said she was "relieved" by the 22% effort in October. It showed that Californians "haven't eased up," she said at a board meeting Tuesday where the numbers were announced.
Because local water suppliers saved so much during the summer, the state's cumulative savings are 27.1%, officials said, still above the level ordered by Brown.
"That's the number that matters," Marcus said in a phone interview. "I'm going to be worried until the drought's over. I wake up worried. But there's a lot to be thankful for, and I'm appreciative of the efforts Californians are making every day."
To bring about a 25% cut in water consumption, the water board assigned conservation standards to each of the state's 411 urban suppliers this year.
Suppliers with a history of high per-capita water use were ordered to cut as much as 36% from 2013 totals. Suppliers with a history of lower consumption were told to cut as little as 8% or, in rare cases, even 4%.
Some have struggled mightily to meet their targets. Seven suppliers finished October more than 15 percentage points from their targets. Fifty-eight others missed their marks by 5 to 15 percentage points, water board officials said.
The board already has begun penalizing water suppliers for falling short of their mandates, fining Beverly Hills, Indio and Redlands and the Coachella Valley Water District $61,000 each. At Tuesday's meeting, water board staff said Beverly Hills had paid its penalty.
Meanwhile, other local water providers have been issued formal notices warning that they, too, could face fines if they fail to improve.
Overall, enforcement actions by the board declined in October, staff members said. For example, water suppliers handed out almost 4,000 fewer financial penalties to customers in October than they did in September.
They took a generally positive view of statewide conservation in October. The month's average temperature was about seven degrees hotter than in October 2013, water board staff members said. (The state uses 2013 data as the baseline for its water-use comparisons.)
Though the state's percentage of water saved was the smallest in five months, staffers noted that Californians had conserved 41.9 billion gallons of water in October 2015 — more than three times what they saved during the same month in 2014.
Officials also pointed to a statewide decrease in the average amount of water that residents used each day. In October, residents used 87 gallons per person per day, 10 fewer than they did in September.
The board will not impose any penalty because the state missed its target in a single month, Marcus said.
"Not bad, not bad at all," she said of Californians' conservation in October.
Mark Gold, associate vice chancellor for environment and sustainability at UCLA, was also unconcerned by the latest numbers.
"We had a brutally hot October so it isn't surprising that we didn't meet the 25% goal for the month," Gold said. "However, a 22% cutback during such a hot month demonstrated that urban water users are still doing their part to conserve."
With wet, cold weather expected this winter, managers of some districts that lag furthest behind have worried that they will be unable to boost their savings enough by February, when the current drought regulations expire.
Brown has issued an executive order extending the mandatory water cuts if the drought continues through January. Water officials have said that will almost certainly be the case.
In another indicator of the severity of the state's water shortage, officials with the Department of Water Resources said the State Water Project would limit deliveries again in 2016.
Twenty-nine public agencies contract for water from the project to help them serve Californians. But under Tuesday's initial allocation, the suppliers will receive only 10% of what they have requested. Officials said that allocation could increase depending on rain and snow amounts this winter.
The water agencies received only 5% of what they requested in 2014 and 20% this year.
But officials also gave Californians reason for hope, reporting Tuesday that the state's snowpack is more than double the level it was last year at this time.
Snow levels measured statewide showed that water content was 56% of the historical average for Dec. 1. One year earlier, the water content measured just 24% of average.
"It's certainly a better sign than there was last year," said David Rizzardo, chief of snow surveys for the water resources agency. "Anything is better than zero."
Times staff writer Veronica Rocha contributed to this report.
Twitter: @ByMattStevens
MORE ON THE DROUGHT
Massive El Niño gains strength, likely to drench key California drought zone
California's hard-hit water districts will get a chance to ask regulators for relief
L.A. considers suspending trash pickup when heavy rainfall is forecast
---
The stories shaping California
Get up to speed with our Essential California newsletter, sent six days a week.
You may occasionally receive promotional content from the Los Angeles Times.