Some emergency drought rules might be eased, but don't start hosing down sidewalks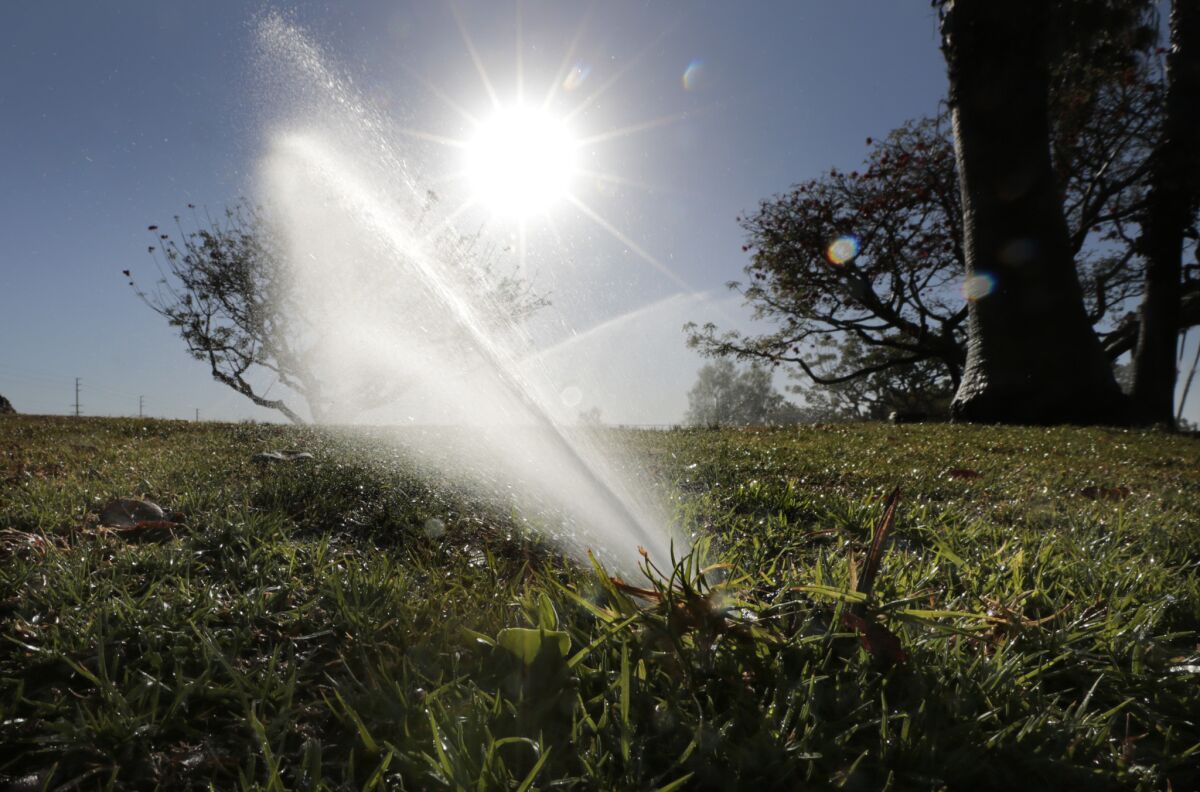 Gov. Jerry Brown and top water regulators on Monday laid out a revised game plan for dealing with California's persistent drought, making some conservation rules permanent while also moving to give communities more of a say in deciding how much water they must save.
Brown issued an executive order enshrining a conservation ethic in state regulations — banning permanently some wasteful water practices and ordering regulators to develop new water-efficiency standards designed to drive down long-term urban use.
In doing so, Brown made it clear that the days when Californians could use as much water as they pleased are over.
At the same time, the staff of the State Water Resources Control Board recommended changes to emergency drought rules that would allow communities around the state to relax or even drop mandatory conservation targets that have been in effect for much of the last year.
Though officials emphasized that the harsh California drought has not ended, they said the wet winter and spring in many parts of the state brightened the supply picture sufficiently to give local agencies more flexibility.
California's two largest reservoirs, Shasta and Oroville in Northern California, are more than 90% full. The State Water Project, which delivers supplies to the Southland, has upped its allocation to 60% of requests, the highest it has been since 2012.
"We're making a shift that recognizes supply conditions have improved," water board conservation manager Max Gomberg said.
Under proposed revisions that the water board will consider May 18, local agencies — many of which had complained that the drought rules were too heavy-handed — would set their conservation targets based on their ability to meet demand if there are three more severely dry years.
In the case of some Northern California communities with brimming local reservoirs, that could mean the end of water rationing. It could even ease restrictions in the dry Southland.
As the drought intensified, Brown last year ordered a statewide 25% cut in urban water use, the first mandate of its kind in California history. To achieve that, the water board set individual targets for communities. Those with the highest per-capita use were ordered to reduce water consumption by as much as 36%.
Since then, the state's overall urban use has dropped nearly 24% compared with 2013.
But water agencies up and down the state complained that the conservation targets didn't take into account regional climate differences, previous conservation efforts or alternative supplies such as desalinated seawater.
Those complaints grew louder this winter as El Niño drenched the northern half of the state and the mountain snowpack recovered from the record lows of last year.
The percentage cuts imposed by the state last year were a fairly blunt instrument adopted in an emergency situation, said water board chair Felicia Marcus.
The proposed revisions are more tailored to individual circumstances, she added.
"Show us your situation," she said. "Come up with the conservation standard appropriate to you and we reserve the right to set one if [you] don't — and reserve the right to second-guess."
Timothy Quinn, executive director of the Assn. of California Water Agencies, said members were "pleased the staff is proposing a fundamentally different approach that builds on extensive feedback from the water community.... While the statewide drought is not over, it is time to better match conservation levels with local water supply conditions."
Even as state officials signaled an easing of some aspects of the drought rules, Monday's executive order makes other provisions permanent: Bans on hosing off sidewalks, washing cars with hoses that lack shut-off nozzles and irrigating lawns so that water spills onto pavement, as well as watering grass in public street medians.
"Californians stepped up during this drought and saved more water than ever before," Brown said in a statement. "But now we know that drought is becoming a regular occurrence and water conservation must be a part of our everyday life."
Under the executive order, urban agencies will have to continue to file monthly reports on local water use.
Brown also directed the state board to devise over the next seven months long-term standards dealing with indoor residential use, landscape irrigation, leaks and commercial and industrial use.
The details are uncertain at this point, but the new framework would go beyond an existing legislative requirement — adopted before the drought — for a statewide 20% reduction in urban use by 2020. "It will be stronger," Marcus said. "It's a different approach and focuses on being efficient.
"The executive order basically declares business as usual with water as a thing of the past," she added.
In a statement, the Metropolitan Water District of Southern California, the region's water wholesaler, voiced support for the shift.
"Southern California's long-term water plan already assumes conservation achievements above and beyond those targeted by state legislation for 2020," said Jeffrey Kightlinger, the agency's general manager. "Gov. Brown's executive order is completely consistent with conservation objectives for Southern California."
Twitter: @boxall and @ByMattStevens
ALSO:
Suicidal man triggers partial closure of 91 and 57 freeways in Anaheim
Guns, beer and vomit: Rampage leaves endangered fish dead in Death Valley
Man's body found in trunk of car parked at Ontario Mills Mall
The stories shaping California
Get up to speed with our Essential California newsletter, sent six days a week.
You may occasionally receive promotional content from the Los Angeles Times.