West Hollywood whistleblower case goes to trial with allegations of retaliation for reporting sexual harassment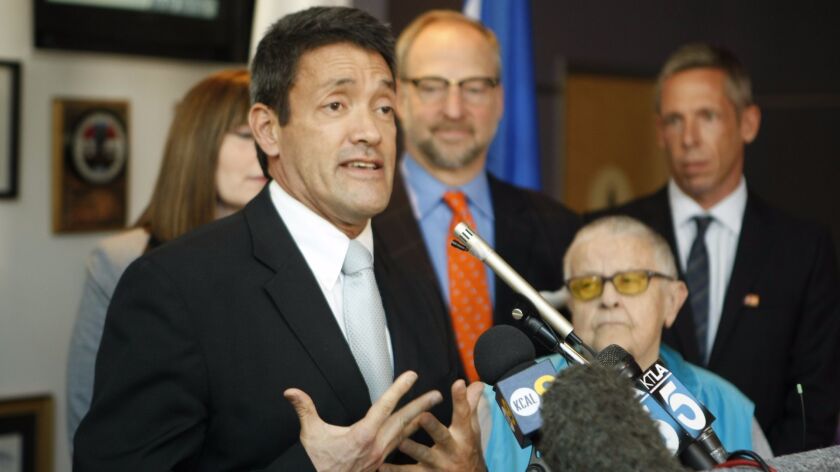 The wrongful termination case of a former West Hollywood City Council aide opened this week, with an attorney telling jurors that his client was fired for reporting the sexual harassment of a colleague and illegal electioneering at City Hall.
West Hollywood retaliated against former council deputy Michelle Rex for complaining about the treatment of Councilman John Duran's deputy, attorney Mark Quigley said as the trial began in a downtown Los Angeles civil courtroom.
"This is about sexual harassment, retaliation and termination," Quigley told jurors in his opening statements on Thursday. Rex, he said, "told the truth, and she got fired."
Rex, a former aide to Councilman John D'Amico, was employed as part of a controversial council deputy system that spawned high salaries, political infighting and scandals involving allegations of sexual innuendo and office spying.
For three decades, each part-time elected City Council member had a full-time deputy, who typically earned a six-figure salary, plus full benefits and membership in a five-person union that sometimes took positions on items pending before the City Council.
The council voted to eliminate the deputy system in June 2015, after a headline-grabbing scandal involving Duran and his deputy, Ian Owens.
Owens was suspended, with pay, from his job in January 2015, amid allegations that he bugged the office of Councilman John Heilman's deputy, Fran Solomon.
Owens suspected that Solomon was soliciting campaign contributions for her boss, who was running for reelection, on city time. He sent what he said were details of her telephone conversations to reporters and others, saying he went public with his allegations only after being ignored by Duran.
After his suspension, Owens sued the city, saying Duran had ignored his complaints because he was angry Owens had spurned his sexual advances. Duran acknowledged that he hired Owens after they met in 2012 via Grindr — a smartphone dating app for gay and bisexual men — and were sexually intimate.
Rex was interviewed as part of an investigation into the conduct at City Hall and verified Owens' claims, according to her attorneys. Rex reported that she had witnessed Duran making sexual comments toward Owens and openly discussing his sex life, and that Duran had shown her pictures of naked men, according to her lawsuit.
Because Rex and Owens reported inappropriate behavior, "city officials concocted a scheme to terminate the Council Deputy program," Rex's lawsuit states.
Because of dramatic changes in the City Council's five-person membership in 2015 — including the elections for two at-large seats and a special election for a seat vacated by Jeffrey Prang after he became county assessor — there were only two full-time deputies employed when the council decided to eliminate the deputy system: Rex and Owens.
Rex was formally terminated in January 2016 and says the city refused to consider her for any other positions.
"She was crushed," Quigley told jurors. "She wanted her job back, and she realized she couldn't get it back."
Quigley said the council inappropriately abolished the deputy system as a direct result of the scandal and the negative publicity it garnered.
"For 30 years, everybody loved it," Quigley said of the deputy system. "It worked fine. No problems."
The deputies were replaced by a team of city employees who provide services for all the council members.
Steve Rothans, the attorney representing the city, refuted those claims, saying the deputy program was "inherently dysfunctional" and had been a problem for decades. The timing for restructuring the program was ideal, he said, because of the openings on the City Council.
Rothans described the deputies as glorified personal assistants with bloated salaries. They picked up council members' laundry, drove them to the airport, walked their dogs and often didn't show up for work until mid-day, he said.
"Resident after resident would say to the council that the deputies should be eliminated, and no other city in Los Angeles County has a program like we have at the cost," Rothans said.
The atmosphere at City Hall, Rothans said, had become toxic because of spats between deputies, who were loyal to their council members and wouldn't talk to each other if their bosses were fighting.
Rothans said there were no accusations of sexual harassment until Owens was suspended. Rex and Duran were friends, he said, who socialized outside work, went to parties and "danced on a table together."
Owens, who sued the city and his boss for sexual harassment and wrongful punishment, received a $500,000 settlement. Under the terms of the settlement, Duran and the city admitted no wrongdoing.
At a council meeting weeks later, Duran called Owens and Rex "two of the most detested employees at City Hall."
Twitter: @haileybranson
---
The stories shaping California
Get up to speed with our Essential California newsletter, sent six days a week.
You may occasionally receive promotional content from the Los Angeles Times.