'We won!' West Hollywood councilman says of Prop. 8 decision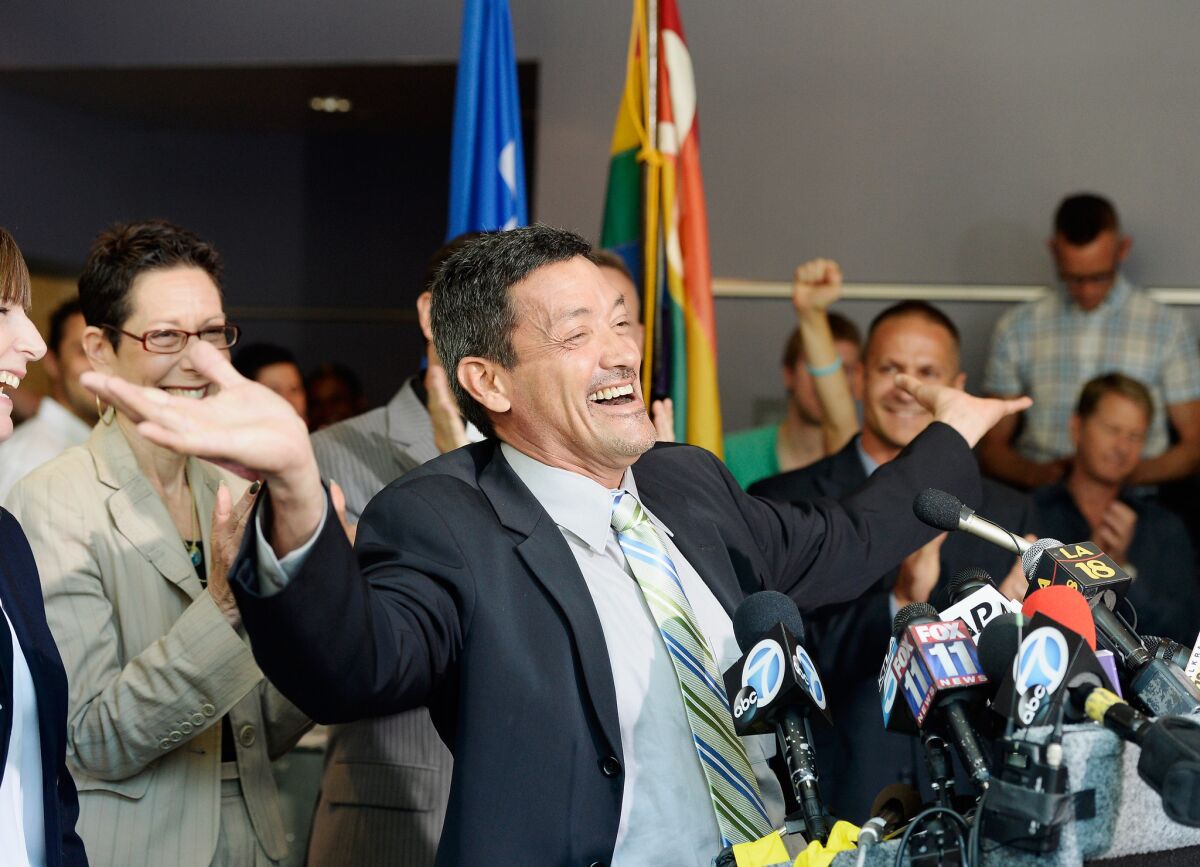 West Hollywood Councilman John Duran smiled at the group gathered Wednesday in front of City Hall.
"We won!" he said, throwing his hands in the air, laughing as the crowd cheered.
Duran and other officials met for a news conference Wednesday after the U.S. Supreme Court handed down its procedural ruling on California's controversial gay-marriage ban, Proposition 8.
The Court decided Proposition 8 proponents didn't have the standing to defend the measure in court, clearing the way for same-sex marriage to resume in California.
The decision was especially welcomed in West Hollywood, where city surveys indicate about 40% of the population is gay or lesbian, and four of five city council members--including Duran -- are gay men.
"Today, through the demolition of DOMA and the elimination of Proposition 8, we now return California to that column called free states," he said, "where gay and lesbians can once again marry."
"We won on a technicality," he continued. "We'll take it. We'll have couples marrying again. ... We can get back in the business of marriage."
West Hollywood Mayor Abbe Land called the day "a wonderful day of true celebration." She said that in the summer of 2008, when hundreds of lesbian and gay couples married in West Hollywood, it was "one of our most joyous times as elected officials."
"Though we are going to celebrate today ... we know that, as we've said, there is work to be done," Land said. "Every couple, every same-sex couple should have the right to marry no matter where they live, and it should eventually be the law of the land so we have full equality ... but for now, we're going to support the Supreme Court; we're going to celebrate the state of California."
West Hollywood Mayor Pro Tem John D'Amico, who married his husband, Keith Rand, on Aug. 1, 2008, smiled as he spoke to the crowd. He was emotional, speaking slowly.
"Keith and I met 21 years ago and were married five years ago,'" he said. "Three hours ago, the U.S. Supreme Court decided that we belong in America like everyone else."
Heidi Shink, a member of the West Hollywood Services Commission, also married in the summer of 2008. She and her wife have been together for 18 years, she said.
"We have so much work left to do, but today, gays and lesbians and our straight allies can actually breathe a little easier — because, I don't know about you, but I couldn't breathe," Shink told the crowd. "We can stand a little bit taller and hold our heads a little bit higher knowing that our country has actually embraced us a little more fully today.
"God, it's a great day."
Lisa Belsanti, a senior management analyst for the city of West Hollywood, said she heard her 3-year-old daughter, Norah, stirring early Wednesday and went into her room with a smile.
"It's a great day!" she said. But for a toddler, every day's a great day, she said, laughing. "She was like, 'Of course, Mama.' "
Belsanti and her wife, Rebecca Belsanti, were legally married on June 17, 2008. They had what Lisa jokingly calls an "illegal wedding" with family and friends present in 2000, shortly after the passage of California Proposition 22. The couple celebrate the 2000 wedding as their anniversary, she said.
Lisa Belsanti said her daughter will grow up with legal gay marriage in California, and, for that, she's excited. It's too complicated to explain the laws to her daughter now, she added, but she told her the day was special nonetheless.
"She thinks it's a great day because she's going to the museum," she said, laughing. "By the time she's of age to understand, this isn't even going to be part of her awareness."
ALSO:
Supreme Court ruling on gay marriage might not end battle

Prop. 8 decision means 'wedding' celebration tonight for gay couple
Kamala Harris calls for same-sex marriages to resume 'immediately'
hailey.branson@latimes.com
---
Life is stressful. Our weekly mental wellness newsletter can help.
You may occasionally receive promotional content from the Los Angeles Times.