Proposed neighborhood council incites age-old debate: What will become of Westwood?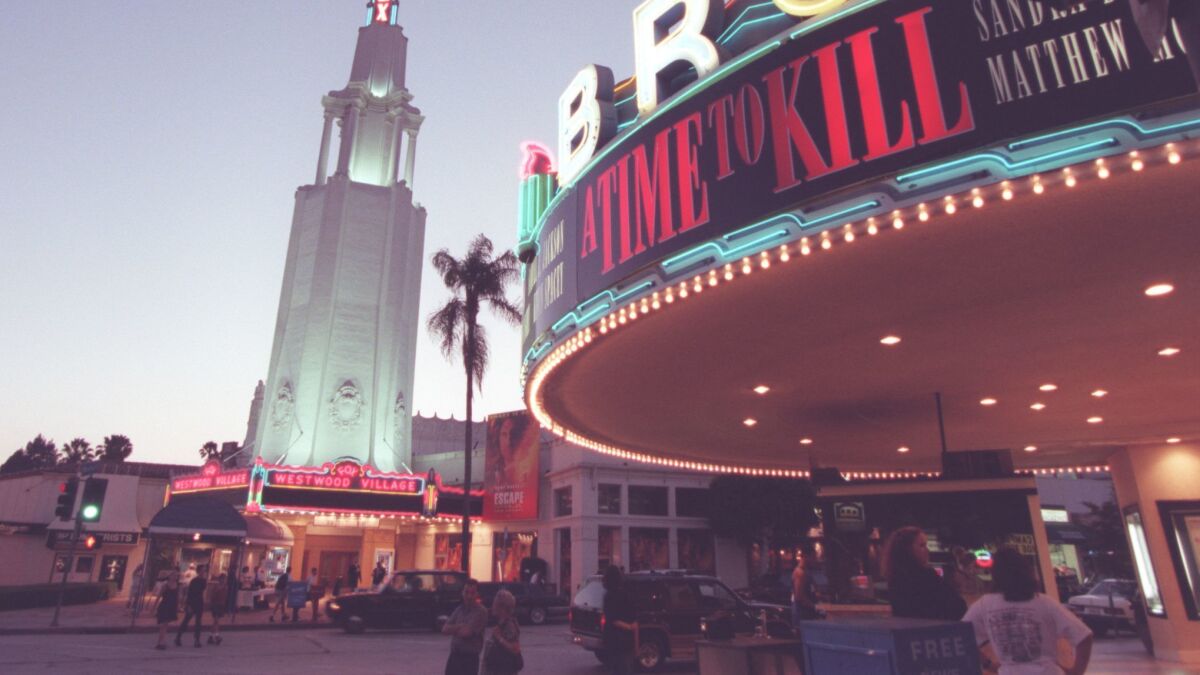 For decades, Westwood Village was a lively Los Angeles destination, drawing crowds of UCLA students and others to its movie theaters, restaurants, bars and live entertainment.
But that began to change in the late 1980s, first when a young woman walking along a crowded Westwood street was fatally shot by a gang member, shattering the sense that the area was safe. In the years that followed, the closing of some movie theaters, and the rise of other entertainment centers, such as Santa Monica's Third Street Promenade and the Century City mall, steered people elsewhere.
The neighborhood has struggled for years to recapture its original charm.
"In the last several decades, every effort that has been made to inject energy into Westwood has fallen flat," said Zev Yaroslavsky, a faculty member at the UCLA Luskin School of Public Affairs and a former L.A. city councilman representing Westwood. "It's a conundrum. I can't explain it now, and I couldn't figure it out when I was a councilman."
Now a new effort has surfaced. A group led by UCLA students is seeking to carve a new neighborhood council out of the existing council's boundaries — one that would serve the historic village and the UCLA campus.
An election open to area residents, employees, students and business owners is being held Tuesday, overseen by the city's Department of Neighborhood Empowerment. Since the group submitted its application for the new council in December, the campaign has grown contentious.
The group Westwood Forward promotes itself as a forward-thinking entity that would support revitalized nightlife and housing development. Group leaders say it would be more inclusive of students and renters than the Westwood Neighborhood Council, which serves a wider area.
Neighborhood councils are advisory, but they can influence the L.A. City Council. Michael Skiles, president of UCLA's graduate student association and board member of Westwood Forward, said he believes a new council would rekindle Westwood's former energy, and that the current council has stifled progress.
But opponents see Westwood Forward as naive in thinking that a new council will change anything in the village, and that students who so often move in and out of the village should not be making long-term decisions.
"Saying 'no' is not the way to go about revitalizing everything," said current council President Lisa Chapman. "But I don't think a group of politically inexperienced students should be making decisions for businesses in Westwood Village, some that have been there 20, 30 years."
Westwood Forward sparked the debate after the council voted not to support a proposed student dormitory where the University Extension building sits.
But Chapman said the Westwood council has been in favor of affordable housing for students, supporting UCLA's decision to add beds to dormitories. The council doesn't have the power to stunt development, she said.
"They think the neighborhood council can just create affordable housing," she said. "We don't make the decision on whether developers can come in and develop projects."
About 14% of Westwood Village's storefronts are empty — many of them on Westwood Boulevard. However, a recent increase in leasing will soon bring that number down to about 12%, said Andrew Thomas, head of the Westwood Business Improvement Assn.
Thomas said the Westwood council has a reputation for making it tough for new businesses to launch by imposing conditions that drive up construction, design and legal costs.
After Westwood Forward began its push for a new council, the existing council voted to support changes to the Westwood Village Specific Plan that would make it possible for a greater variety of restaurants to operate in the village. It also eliminated a list of conditions to its alcohol permit application that prohibited activities such as playing pool, dancing and karaoke.
A new council would set back the council's progress, Chapman said.
The debate comes as UCLA and the neighborhood look ahead to the opening of a subway station and hosting athletes for the 2028 Summer Olympics.
"There's already going to be considerable interest by city of L.A. to see if Westwood is ready to change," Skiles said. "Because of all the commercial attention coming to the village, there needs to be places for Olympic athletes and spectators to go out and have fun."
Every neighborhood in which a university exists has conflicting goals, said Yaroslavsky, a UCLA alumnus.
The proposed council "has been a rupture between what has always been a tension since I was a student in the late '60s," he said. "It will focus the debate on the university and student interest much more than it's been focused on before."
alejandra.reyesvelarde@latimes.com
The stories shaping California
Get up to speed with our Essential California newsletter, sent six days a week.
You may occasionally receive promotional content from the Los Angeles Times.