Rescuers cut fishing line wrapped around whale's tail off La Jolla coast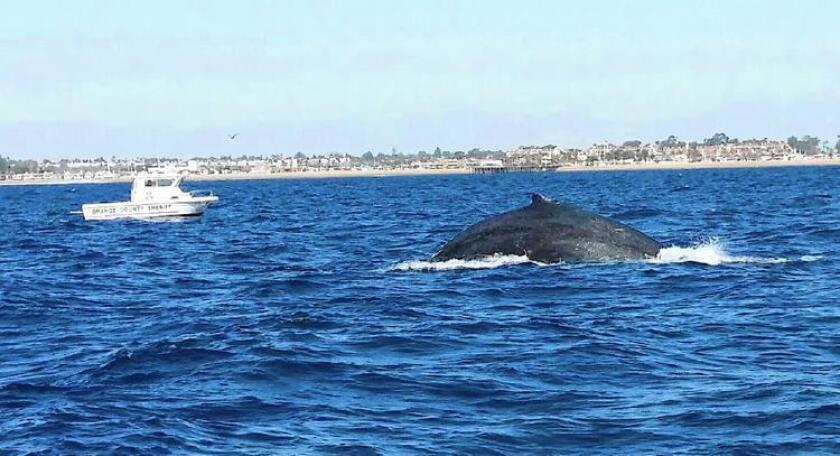 For the second time in a week, SeaWorld crews on Saturday came to the aid of a humpback whale off the coast of La Jolla after it became tangled in fishing lines from lobster traps and floats.
Rescue crews spent about three hours cutting 250 feet of snarled lines from the tail of a roughly 40,000-pound, 45-foot adult whale, said SeaWorld curator of mammals Keith Yip.
"It's a fairly risky, fairly dangerous operation," said Yip, who led the rescue effort with crew members Mike Hopkins and Eric Otjen.
Last Sunday, SeaWorld technicians and Coast Guard crews freed a 25-to-30-foot humpback from similar lobster trap lines.
Whale watchers spotted the latest distressed humpback off Newport Beach on Friday. Rescuers there were able to cut away some lines and attach a bright orange ball to tag the whale as it headed south.
Lifeguards in La Jolla spotted it off the coast about 9 a.m. Saturday.
Yip said the lines were covered in barnacles, indicating they had apparently been dragged around by the whale for some time. Crews weren't able to remove additional lines across the whale's mouth and possibly embedded in its jaws.
Instead, they worked at the back, where at least two lines had snarled into a knot about 6 feet from the whale's flukes. As Yip and the others pulled their boat closer, the whale would dive, and kept swimming at a good pace of about 6 knots, Yip said.
"He was not very appreciative of us behind him," Yip said. He said they used knives to slice through the lines by hand.
"We helped the whale significantly," he said. "It's definitely not dragging anything. Hopefully it can free itself from the line in its mouth."
Yip said a third humpback whale, wrapped in gill nets, was spotted off Newport Beach on Saturday afternoon and his crew would be on standby Sunday in case they were needed to assist.
Earlier this month, a humpback whale became ensnared in netting off Rancho Palos Verdes. Rescuers were unable to get close enough to attach a locating device and eventually lost track of the animal.
Rescuers said warmer ocean waters may be to blame for the entanglements. They explained that warm water means a scarcity of anchovies and other food sources for whales, forcing them to be more daring when it comes to finding sustenance.
pauline.repard@sduniontribune.com
Pauline Repard is a staff writer for the San Diego Union-Tribune
ALSO
Navy ship christened in honor of fallen Marine hero from San Diego
Teenager hospitalized after car crashes into Party City store in San Dimas
Rescuers continue working to free entangled whale off coast of San Diego County
---
The stories shaping California
Get up to speed with our Essential California newsletter, sent six days a week.
You may occasionally receive promotional content from the Los Angeles Times.