Why this version of the 'knockout game' makes conservatives crazy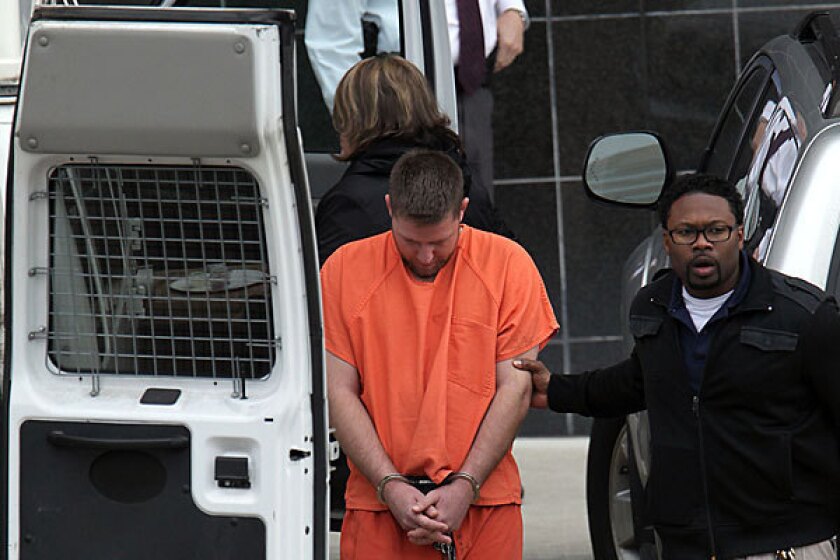 This post has been corrected. See the note at the bottom for details.
Just as the media hysteria over the "knockout game" had started to wane, news out of Texas ratcheted up the anxiety over unprovoked racial attacks.
Or maybe not.
There definitely was a "knockout" attack.
We know because, according to a federal complaint, the assailant captured himself on video saying so. But this was a white-on-black attack, the most common interracial hate crime. So of course it's news, but nothing that the conservative commentators who love to whip up racial anxiety are going to get too worked up about.
Instead, they are reserving their disdain for the feds, who "after months of silence" about the knockout game, have suddenly leaped into action because, the insinuation goes, the victim was black.
Last week, federal and local prosecutors in Texas announced they had arrested Conrad Alvin Barrett, 27, who is white, on suspicion of violating the federal Matthew Shepard and James Byrd Jr. Hate Crimes Prevention Act. (Named, as you know, for murder victims who belonged to the two groups most often targeted in hate crimes: gays and African Americans.)
On Nov. 24, authorities said, Barrett walked up to a 79-year-old black man who was walking near his home in Katy, Texas, a Houston suburb and slugged him in the head.
"He did hunt for an African American victim for at least a week," prosecutor Ruben Perez, the assistant U.S. attorney for the Southern District of Texas, told me Monday.
The victim, who has been identified only as R.C., spent four days in the hospital after the attack. He lost three teeth, and doctors inserted two metal plates in his jaw, which was broken in two places.
Later on the day of the attack, Barrett approached a couple — complete strangers — at Dekkers Mesquite Grill in Fulshear, about 10 miles from Katy, and asked them if they'd ever heard of the "knockout game." The husband happened to be an off-duty arson investigator and peace officer for the city of Katy. Barrett told the strangers that he'd played the game that day, then pulled out his cellphone to show them the video.
The video depicted a man, whose clothes and voice matched Barrett's, walking toward an elderly black man and saying "How's it going, man?" After that, there was a "loud smack" and the victim fell to the ground. On the video, prosecutors said, Barrett said "knockout," then fled in his vehicle.
The off-duty officer flagged down a Fulshear police officer, who stopped Barrett as he left Dekkers. Officer Michael McCoy asked Barrett about the video, then confiscated the phone.
Two weeks later, an agent with the Drug Enforcement Administration retrieved 11 videos, all made the day of the attack, from Barrett's phone.
According to prosecutors, on one video Barrett says, "This is Conrad." On another, he uses the N-word and says that African Americans "haven't fully experienced the blessings of evolution." In another, he drives around the parking lot of the Katy Mills Mall and says he's been trying to gather his "courage" for the past week. At one point, he says, he "found the perfect African American suspect" but then apparently changed his mind.
Most tellingly, he also says: "The plan is to see if I were to hit a black person, would this be nationally televised?"
Nationally televised?
Gee, why he would say that?
Could it be because he'd seen so many news stories recently hyping the idea of a "knockout game" trend, and he was looking for a little racial revenge? Many of those stories goosed the lazy narrative that black teens were randomly attacking white people. Perhaps this unbalanced young man was motivated to act.
With Barrett's arrest, perhaps we can put to rest the idea fomented in conservative circles that mainstream outlets have ignored the racial aspect of so-called knockout game attacks because the perpetrators are black and, in the words of talk show host Larry Elder, mainstream outlets function as a "public relations bureau for blacks."
This warped reality conveniently ignores the spate of stories that were illustrated with photos of the dark-complected Amrit Marajh, 28, who was arrested and charged with hate crimes in connection with an attack on a 24-year-old Jewish man in Brooklyn in November.
Conservatives have warped reality further by minting a new hero in the Rev. Al Sharpton, who wrote last month in the Huffington Post that "knockout game" attacks must be condemned.
It's been delicious to watch conservatives hold up Sharpton as an exemplar after they've spent decades dismissing him as a race charlatan.
"When you start condoning it and you start to act like there's something funny about these types of actions, you set up the kind of crisis that leads to the demise of everyone," wrote Sharpton.
Nice straw man, Rev.
No one has condoned racially motivated attacks on strangers, or acted like there's "something funny" about them.
But clear thinking people have called into question the idea that the perpetrators of these random assaults are invariably black teenagers, that there has been an increase in such assaults, or that the media are afraid to report that black people commit crimes.
Meanwhile, on Friday, a judge refused to set bail for Barrett. He will have to sit in jail while a grand jury decides whether to indict him.
Perez, the prosecutor, said that Barrett, who has worked as a landman for an oil and gas exploration company, has been in trouble with the law before. About a decade ago, he was convicted of burglary of a vehicle and driving while intoxicated. A marijuana possession charge was dismissed.
Already, you can see the outline of a defense taking shape; Barrett's attorney, George Parnham, told a local television station that his client takes three kinds of medication, including lithium, for a bipolar disorder.
Whatever else happens with this case, let's hope it puts to rest the tired canard that black teenagers are responsible for a surge in racial violence.
[For the record, 5:24 p.m. PST, Dec. 30: A previous version of this post incorrectly referred to Marajh as African American.]
Man accused of prank-calling NBA, NFL coaches pleads not guilty
Man fatally struck by two vehicles in Huntington Beach is identified
Twitter: @robinabcarian
---
For reporting and exclusive analysis from bureau chief John Myers, get our California Politics newsletter.
You may occasionally receive promotional content from the Los Angeles Times.