170 homeowners and businesses sue Southern California Edison after Woolsey fire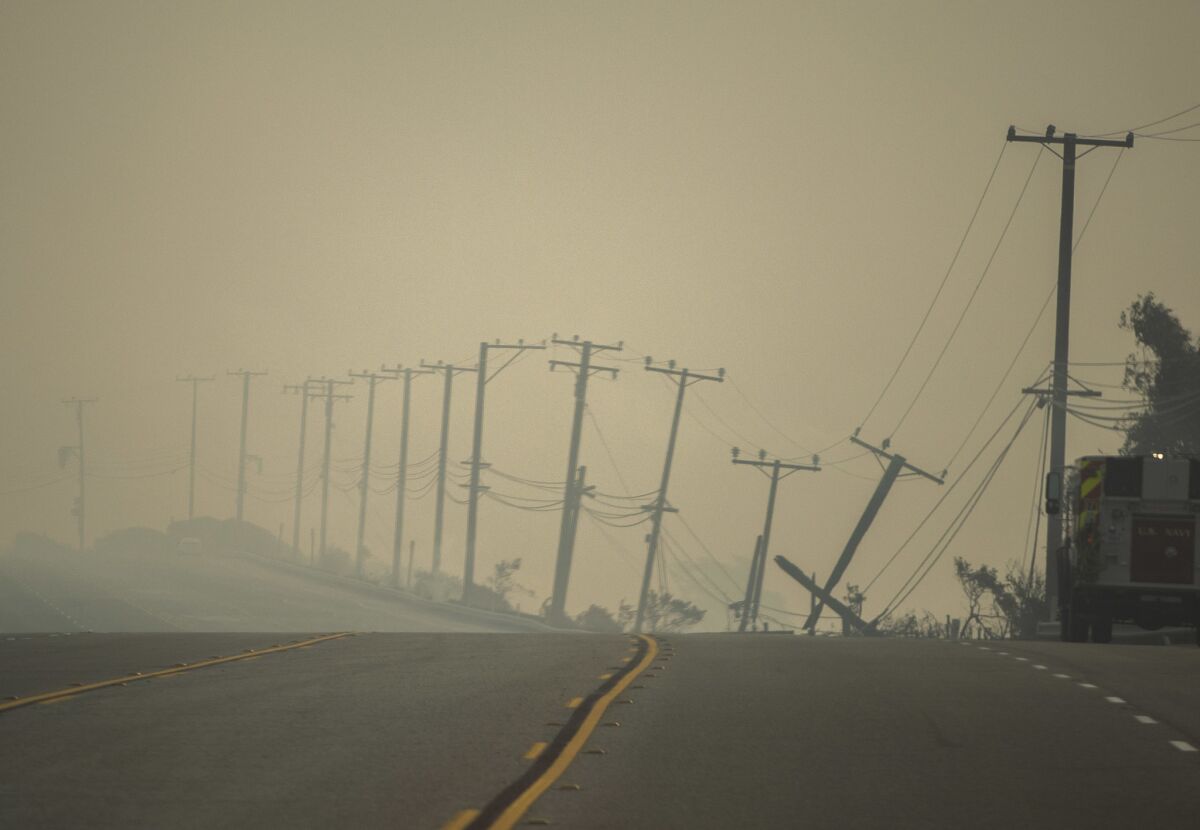 A group of 170 homeowners and businesses whose properties were damaged or destroyed by the Woolsey fire has filed mass tort lawsuits against Southern California Edison, a law firm announced Tuesday.
The lawsuits come a month after 17 people took similar actions against the utility company, which is facing a shortfall of nearly $1 billion in its power budget and is still dealing with multiple lawsuits in connection with the Thomas fire that ravaged Ventura and Santa Barbara counties in 2017.
The recent cases against SCE were filed in Los Angeles and Ventura counties on Monday and Thursday, according to the law firm Robertson & Associates LLP, which made the announcement.
The Woolsey fire erupted around 2:24 p.m. Nov. 8 and destroyed about 1,500 structures, damaged 341 buildings and burned 96,949 acres — a burn area bigger than the city of Fresno. The fire also left three people dead and three firefighters injured, according to the California Department of Forestry and Fire Protection.
Attorneys filing the lawsuits on behalf of the plaintiffs alleged that the fire was started by SCE's overhead electrical equipment at the Rocketdyne facility in Simi Valley. They say that an hour before the fire, SCE's power lines arced, sending sparks and starting a fire behind several homes along Roadrunner Avenue in Thousand Oaks, the same location where other fires have broken out in the past three years.
Amid red flag warnings because of strong Santa Ana winds, the company was negligent in failing to maintain its electrical facilities, clearing vegetation from the electrical equipment and not shutting the power off once the fire had started, the attorneys said.
"This repeating pattern of SCE burning down our communities because of their faulty overhead electrical equipment must stop," said attorney Alexander Robertson IV. "Edison and its shareholders should be held solely responsible for incinerating thousands of homes and businesses and should not be allowed to pass the costs of their negligence onto the ratepayers."
Among those suing the company are NFL Hall of Fame running back Eric Dickerson and Kevin Foley, a celebrity photographer whose 6,500-square-foot studio burned. Also suing are Gary and Diane Cerveny, who lost their vintage car collection appraised at $8 million.
Several businesses that suffered property losses and costs because of the suspension of their operations also are suing. Among them was Malibu Valley Farms, which lost its farm and incurred costs related to the evacuation of about 100 horses.
For more Southern California news, follow @latvives on Twitter.
The stories shaping California
Get up to speed with our Essential California newsletter, sent six days a week.
You may occasionally receive promotional content from the Los Angeles Times.