A grandmother lost everything in the Woolsey fire. Her granddaughter created art from the ruins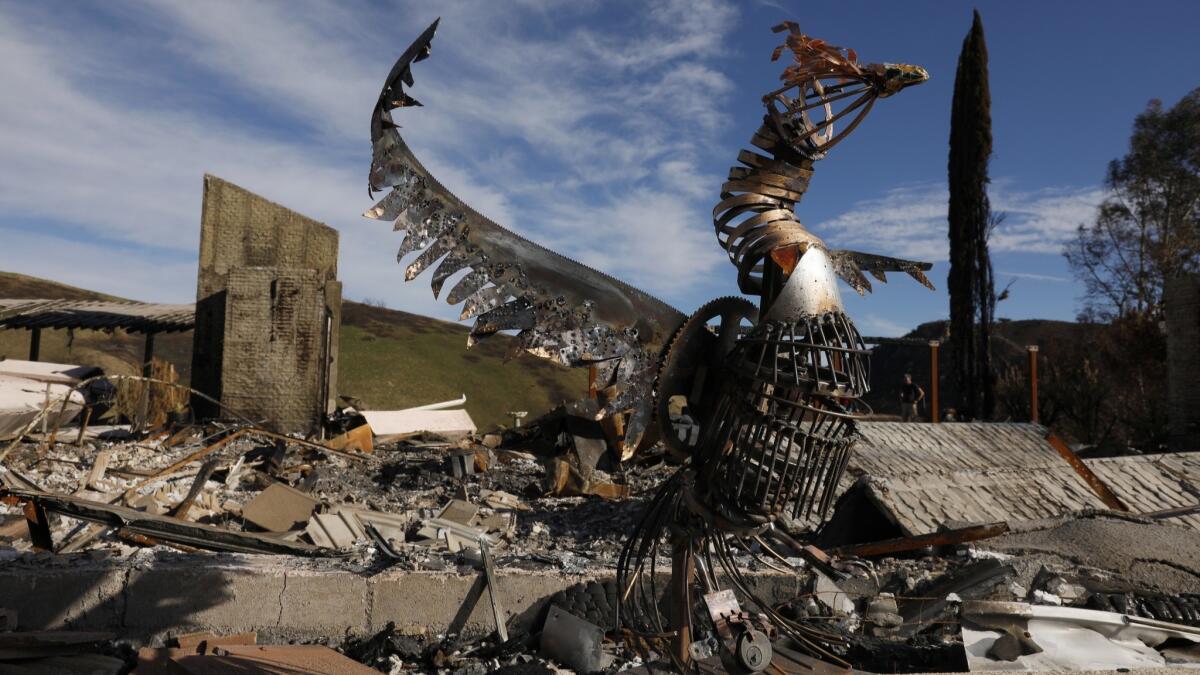 First came the fire and then rejuvenation — like a mystical bird rising from the ashes.
After the Woolsey fire consumed 90-year-old Letty Bierschenk's Bell Canyon home last month, her granddaughter was determined to find something meaningful among the devastation.
Jessica Bierschenk, 17, returned to the woman's home after the fire was extinguished and began to sift through the charred heirlooms whose origins she'd only heard of through family stories.
"Most things were completely obliterated," she said. "There was really nothing left. We searched for metal and glass, and most of what we found had turned to dust. That was the hardest part. Everything that had ever been something was nothing."
She stumbled on her late grandfather's saw that had been left in the garage since he died in 1999. The metal blade had warped from the heat of the intense blaze, but in its own way, it was still perfect.
The jagged blade that her grandfather had used to build furniture long before Jessica was born transformed into the wings of a phoenix. The components of Bierschenk's sewing machine became the bird's body. The neck was fashioned from the mainspring of the family's burned grandfather clock.
Jessica welded each of the pieces together over the course of about a week to create a sculpture she presented to her grandmother a few days before Christmas.
"I really wanted to do something to not necessarily commemorate the house, but give it some meaning afterward," the girl said. "The legend of the phoenix is that they are born out of the ashes. I thought that would be an appropriate theme."
Bierschenk cried when she saw the sculpture in the art room at Jessica's family home in Pacific Palisades. She knew immediately what it was and what it had been made from. She said she likes to think that all of her belongings went to heaven, but the items that made up the phoenix gave some of them new life on earth.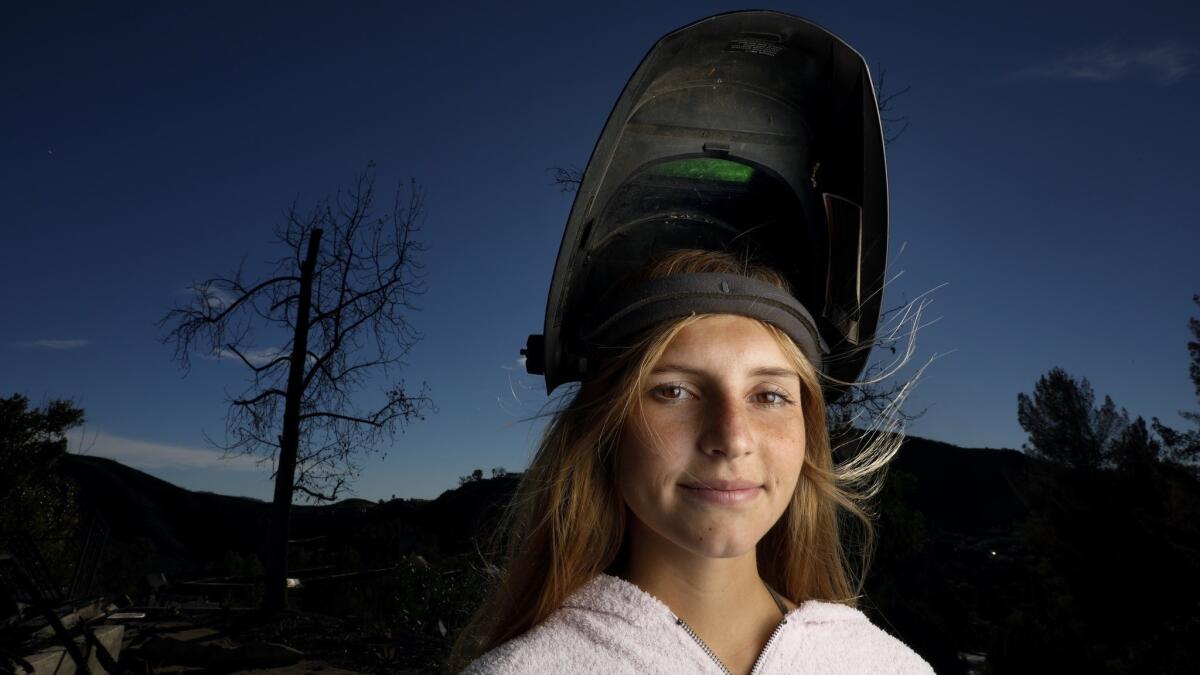 "Seeing her cry, I know some of her tears were sad, but I think they were mostly happy," Jessica said. "It made me happy that I could give her something to remember."
The house on Dapplegray Road, centrally located between Santa Barbara and Pacific Palisades where her children now live, was often the setting for family holidays and was the last home she shared with her husband, Bierschenk said. Inside were memories of a life built together and artifacts collected over decades.
A decorative bookcase that her husband had built for their library displayed hundreds of her books in multiple languages. Tucked away were countless pieces of artwork her children had fashioned during their school days. She had saved it all as a reminder of what a talented and creative family they had.
"I can't even tell you how many pieces of cardboard cutouts I have," Bierschenk said, her voice trailing off. "Well, actually, I don't think I have those anymore."
She paused as the memory washed over her.
"I hadn't thought about that," she said. "It's sad. I don't think I want to go there right now."
The weekend before the fire began its devastating tear through the region, charring nearly 97,000 acres in Los Angeles and Ventura counties and destroying scores of homes, Bierschenk celebrated her 90th birthday with a party at her house. Family and lifelong friends were among the 50 guests in attendance.
RELATED: Couple, facing huge losses in the Camp fire, get separate pardons from Gov. Brown »
She sat for a while in a blue leather chair and took it all in — the house, her friends and family smiling around her. Looking back, it may have been the perfect way to say goodbye, she said.
"We had good years there, and we always enjoyed the house. We had guests and were happy to share our good fortune," she said. "That's one of the things that's helped me accept that it's going to be back."
The last time she saw her home was on television as flames engulfed it. She recognized it immediately by the white fence she had put up around the pool area. She hadn't been afraid that the fire would take it, but watching flames lick up the walls of the structure pushed her into a new reality.
"The camera focused in, and I said, 'Oh, my God, that's our house.' I watched it go," she said. "I think my feelings were so intense and yet so far away from what I was watching. It was a very strange feeling. I didn't cry, but I wanted to."
Bierschenk said she plans to rebuild in the same spot on Dapplegray Road. She doesn't want a mansion, she said — she'd like her modest single-story home of 28 years to be exactly as it was.
There will be one change, of course. A phoenix will grace the entryway.
Twitter: @Hannahnfry
Sign up for Essential California for news, features and recommendations from the L.A. Times and beyond in your inbox six days a week.
You may occasionally receive promotional content from the Los Angeles Times.