Yosemite deaths put focus on killer toll of drought on trees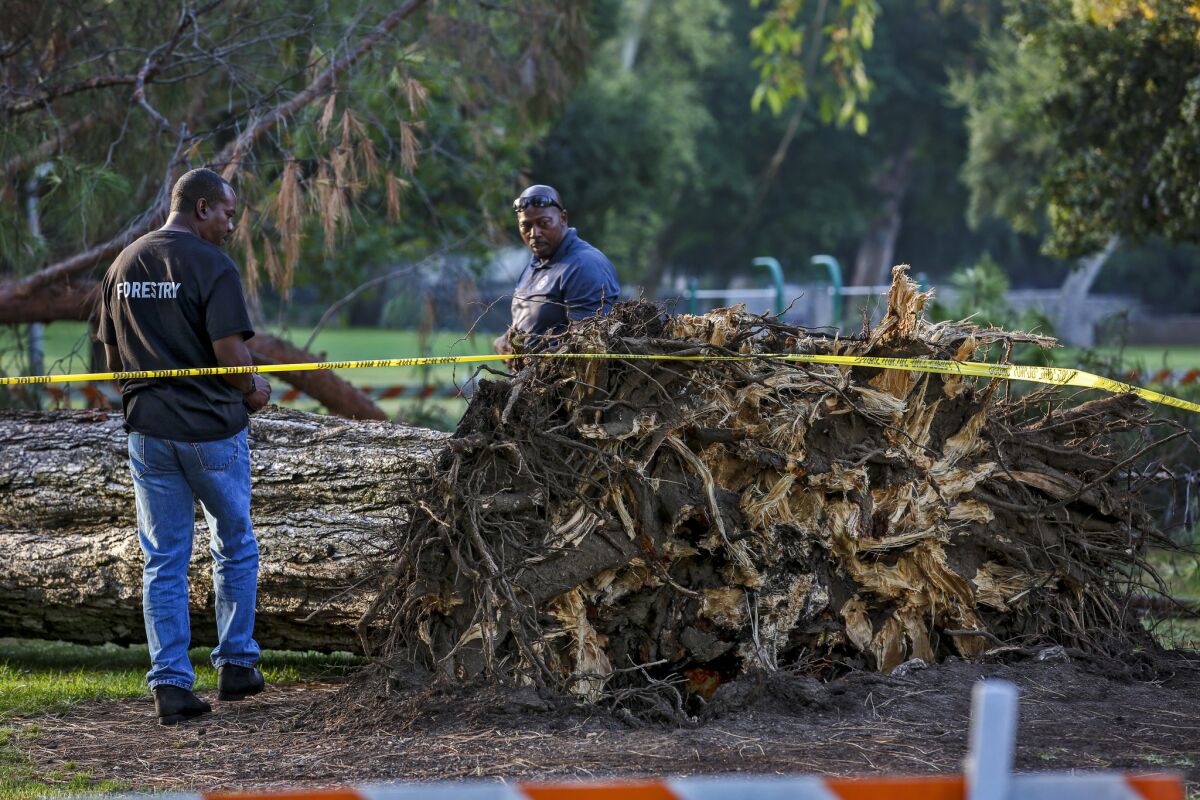 The deaths of two children at Yosemite National Park after a tree limb fell on their tent while they were sleeping is again focusing attention on the toll the drought is taking on trees.
Officials don't know why the limb fell. But the drought has caused major problems for trees both in cities and forests.
Pasadena tree

Last month, an 85-foot pine toppled and injured children in a Pasadena park.
Officials said the prolonged drought, a lack of strong roots and a burst of heavy rain were factors.
The massive, city-owned Italian stone pine came crashing down on young day campers outside the Kidspace Museum at Brookside Park on July 28. Firefighters, police officers and bystanders worked feverishly to free the 33 children caught beneath its branches.
Interested in the stories shaping California? Sign up for the free Essential California newsletter >>
Two of the children were critically injured but were recovering, authorities said.
The thirsty tree may have absorbed too much water in a short period, concluded arborist Ted Lubeshkoff, hired by the city to investigate why the tree fell.
"California is currently in its fourth year of drought, where it is receiving abnormally low rainfall amounts. This probably resulted in the Italian stone pine not receiving adequate amounts of water," he wrote.
Urban trees
According to a Los Angeles parks department survey ending in April, as many as 14,000 trees in L.A. parks — about 4% of the total — may have died during the last year of drought. The year before that, officials said only about 1% of trees were found dead. In a normal year, the tally would be even less.
Scientists say the death of so many trees could drive up temperatures, wreak havoc on habitats and limit the capture of water. They expect that even more trees could wither as Californians struggle to comply with new conservation rules.
Forest tree die-off
Researchers estimated that the drought has killed off at least 12.5 million trees in California's national forests during the drought.
The scientists expect the die-off to continue. "It is almost certain that millions more trees will die over the course of the upcoming summer as the drought situation continues and becomes ever more long term," said biologist Jeffrey Moore, acting regional aerial survey program manager for the U.S. Forest Service.
Moore and other researchers conducted an aerial survey of more than 8.2 million acres of forest last month.
ALSO:
Drought, then rain undermined Pasadena tree that fell on children
You've been watering your trees all wrong: A drought expert explains how to get it right
Die-off of millions of California trees concentrated in Sierra Nevada
The stories shaping California
Get up to speed with our Essential California newsletter, sent six days a week.
You may occasionally receive promotional content from the Los Angeles Times.