Police never informed of sexual assault allegation against Luke Walton, officials say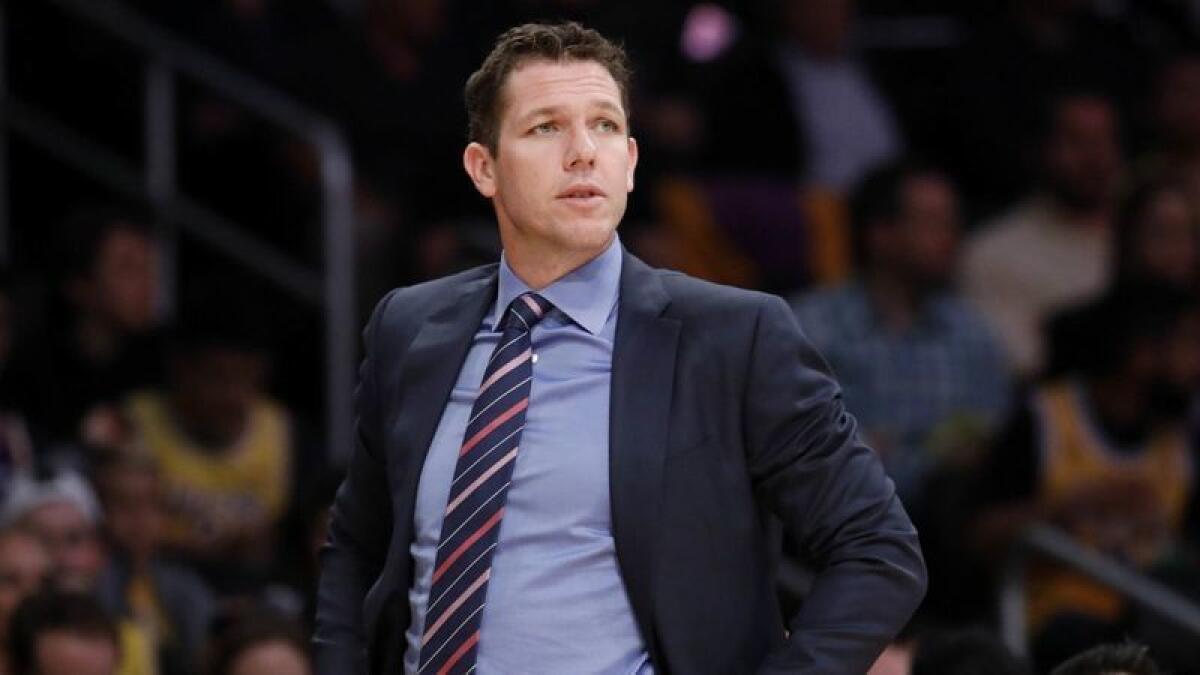 Santa Monica police said Tuesday that officials never received a report accusing former Lakers coach Luke Walton of sexual assault, and they are not currently investigating allegations made by a sports reporter.
In a civil lawsuit filed Monday in Los Angeles County Superior Court, former Spectrum SportsNet host Kelli Tennant alleges that Walton assaulted her at the Casa del Mar Hotel in Santa Monica while he was an assistant coach with the Golden State Warriors.
No date was given for the alleged assault, but the suit says it happened after the publication of a book written by Tennant, for which Walton wrote a foreword. The book, "The Transition: Every Athlete's Guide to Life After Sports," was published in 2014.
"There has been no report made to the Santa Monica Police Department," Lt. Candice Cobarrubias said in a statement. "No investigation is ongoing."
Walton, now coach of the Sacramento Kings, parted ways with the Lakers on April 12 after a mutual agreement. He now is the subject of an NBA investigation, as well as one by the Kings.
"We are coordinating with the Kings organization and are in the process of gathering more information," NBA spokesman Mike Bass said.
Walton has denied any wrongdoing through his attorney.
"The accuser is an opportunist, not a victim, and her claim is not credible. We intend to prove this in a courtroom," Mark Baute, Walton's attorney, said in a statement to several media outlets.
Kelli Tennant says she waited to bring up sexual assault allegations for fear of losing job »
Walton was a mentor to Tennant, a former USC volleyball player, and she had known his wife for years because both were competitive volleyball players in college, the lawsuit says. She drove to the hotel to give him a copy of the book. She had expected to meet him in the lobby, but he invited her to his room so as not to be in the public eye, according to court documents.
The lawsuit, which was examined by the Los Angeles Times, alleges that Walton suddenly "pinned Ms. Tennant on the bed, placing his hips and legs over her body." He then "began forcing kisses on her neck, face and chest."
The suit says she yelled for him to stop and tried to free herself as Walton groped her breasts and groin area while continuing to forcibly kiss her. His crushing weight and 6-foot-8 frame pinned her to the bed, and during the attack, the coach "rubbed his erection on her leg," according to the lawsuit.
At one point, Walton got off the woman and she was able to swing her legs off the bed, but he again restrained her and continued the assault, the suit states. When he did finally stop, he laughed and said: "Good to see you."
"She was afraid she was about to be raped," the suit contends.
While Tennant did not make the #MeToo allegations public against Walton at the time, she did tell other people about the alleged assault, according to her lawsuit.
When Walton became coach of the Lakers, Tennant says he continued to harass her. Each time she saw him, Walton made implied threats of additional physical harm through his conduct, the suit alleges, imposing himself with big hugs or a kiss despite Tennant making it clear his advances were not wanted.
At a charity event in May 2017, Walton "uttered vulgar, guttural sounds at her in a lewd manner," then said, "Mmmm … you're killing me in that dress" before embracing the 6-foot-2 Tennant in an aggressive and unwanted manner, according to the lawsuit.
Garo Mardirossian, Tennant's attorney and a well-known Los Angeles litigator, declined to discuss specifics about the suit and said he would answer questions at an upcoming news conference.
Sign up for Essential California for news, features and recommendations from the L.A. Times and beyond in your inbox six days a week.
You may occasionally receive promotional content from the Los Angeles Times.