Kelli Tennant says she waited to bring up Luke Walton sexual assault allegations because she was scared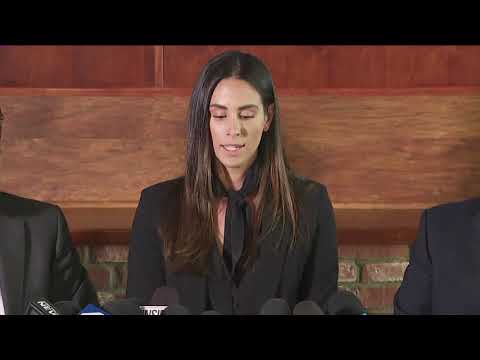 Maintaining that she has struggled for years to cope with the alleged incident, Kelli Tennant said she no longer can remain silent about her sexual assault claim against former Lakers coach Luke Walton.
A former Spectrum SportsNet reporter suing Luke Walton, with whom she worked at the network before he became an NBA coach, said she no longer can remain silent about her sexual assault claim after struggling for years to cope with the alleged incident.
Kelli Tennant held a news conference on the ground floor of a mid-Wilshire law office, seated between the two attorneys who filed the suit on her behalf, Garo Mardirossian and David deRubertis. Mardirossian said he has known Tennant, 31, since she was 12 years old. On a wall behind them hung framed boxing memorabilia, including in what was likely an unfortunate coincidence, a glove and boxing trunks said to have been worn by Mike Tyson, who was convicted of rape in 1992.
"I was scared," Tennant said. "When someone assaults you and you think you're going to be raped, coming forward is a scary thing. I have spent years now dealing with it, trying to forget about it, hoping that I can push it to the side and hoping that time would heal. And that was not the case. Over this time, I was able to muster up the courage and have conversations with Garo where I felt comfortable talking about this."
An NBA and Sacramento Kings investigation into sexual assault allegations against coach Luke Walton determined there was insufficient evidence to support the claims.
Mardirossian revealed that the alleged attack occurred in 2014, a detail that was not in the lawsuit filed to the Los Angeles County Superior Court on Monday. At the time, Walton, who is now the head coach of the Sacramento Kings, was a first-year assistant coach with the Golden State Warriors. Mardirossian also said Tennant told her immediate family at the time of the incident, and also a few people he said weren't relatives "that she communicated with that were very close to her."
Mardirossian said Tennant never told Spectrum SportsNet about the alleged attack. The network employed her and assigned her tasks which required interactions with Walton once he became the Lakers' head coach in 2016.
Walton's attorney Mark Baute did not respond to a request for comment. In a statement released to several media outlets Monday night, Baute denied Tennant's allegations.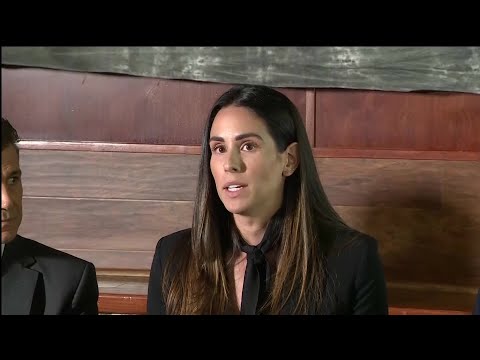 During the news conference, Tennant recounted most of the details as they were presented in the lawsuit. She paused occasionally to take deep breaths and compose herself.
She said she arranged to meet Walton at a Santa Monica hotel to give him a gift-wrapped copy of her book for which he had written the foreword because at the time she viewed him as a friend, mentor and former colleague. But once she arrived, Walton invited her to his room and assured her he was doing so only because the Golden State team was in the lobby.
"I walked up to the hotel [room] with him and continued to tell myself not to overthink it and that I could trust him," Tennant said. "Out of nowhere he got on top of me and pinned me down to the bed and held my arms down … while he kissed my neck and my face and my chest. And as I kept asking him to please stop and to get off, he laughed."
She closed her eyes and inhaled as she recounted the details during the news conference.
"I continued to ask him over and over again to stop," she said, after opening her eyes.
Police never informed of sexual assault allegation against Luke Walton, officials say »
Tennant and Mardirossian were asked several times why they didn't involve law enforcement. Santa Monica Police Lt. Candice Cobarrubias said in a statement "there has been no report made to the Santa Monica Police Department. No investigation is ongoing."
"I felt coming forward would jeopardize every aspect of my life," Tennant said.
Mardirossian gave different explanations. He said that they didn't believe law enforcement would care about a five-year-old case.
"Our interest is not to have Mr. Walton put in jail or to be investigated by police, necessarily," Mardirossian said. "Our interest was for Kelli to feel better about herself, to come out and talk about what happened to her."
He later added: "I haven't said that I'm closing the door on it. Now that you folks are bringing it up and hammering us over the head with it, we'll consider it."
David Ring, a plaintiffs attorney who has won some of the biggest sexual abuse lawsuits in California, said there is a 10-year statute of limitations in civil cases against the alleged perpetrator of a sexual assault.
Louis Shapiro, a criminal defense lawyer, said there is a three-year statute of limitations on felony sexual battery. The alleged crime Tennant described with Walton with over-clothing touching is too old to charge criminally.
Walton played for the Lakers from 2003 to 2012. After retiring as a player, Walton dabbled in broadcasting, and appeared on Spectrum SportsNet, along with Tennant. He then went into coaching and was on the Warriors' staff from 2014 to 2016, when the Lakers hired him. Walton guided the Lakers for three seasons before he and the team mutually parted ways on April 12.
The NBA is investigating the situation.
"We are coordinating with the Kings organization and are in the process of gathering more information," NBA spokesman Mike Bass said.
Tennant stopped working at Spectrum SportsNet in 2017. She has not resumed her television career.
Tennant said she went public because she was "no longer comfortable about staying silent."
"So many of us feel silenced and feel this burden at not wanting to lose everything we've worked for," Tennant said. "Telling someone that you trust and being able to go to HR is super important. I don't think every person has that ability. I don't think every person has that protection. This is why we are in a state where this is such [a common] conversation."
All things Lakers, all the time.
Get all the Lakers news you need in Dan Woike's weekly newsletter.
You may occasionally receive promotional content from the Los Angeles Times.