At Melvyn's, steak Diane is a staple and the dining staff spans the decades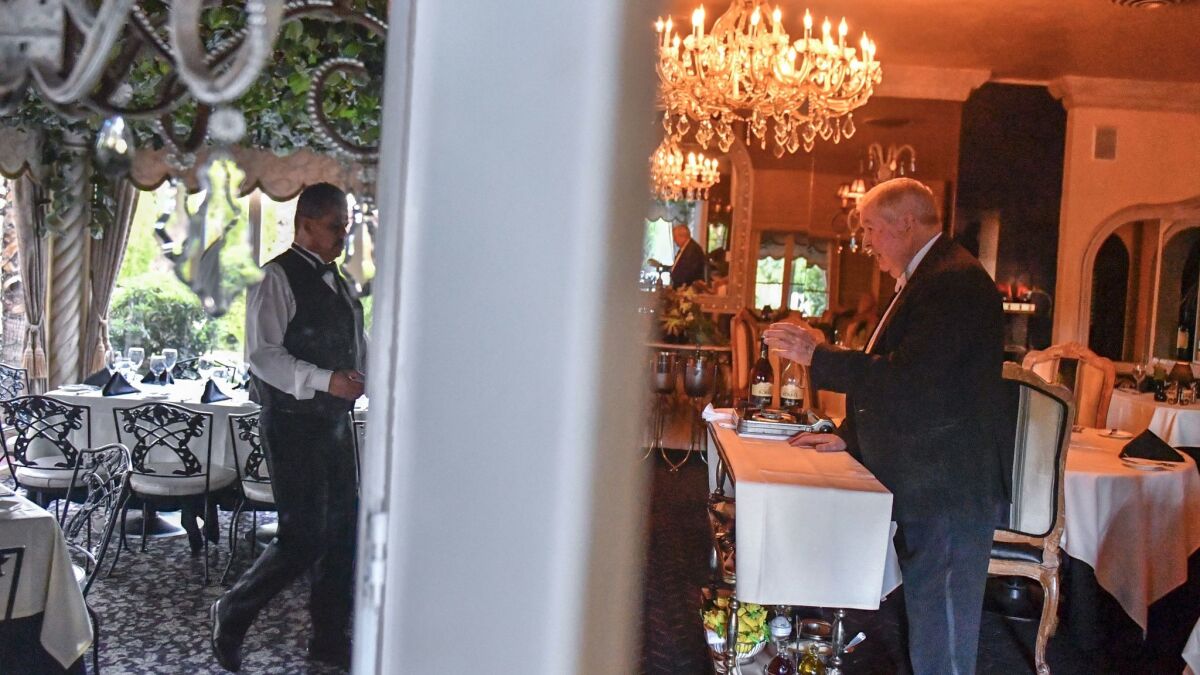 In most places, the past four decades have been a time of dizzying change.
But at Melvyn's restaurant, Frank only means Sinatra, Coachella headliners go unrecognized, and a steady patter of one-liners trumps talking politics.
Bobby Bolduc, 81, a dining room captain, has been working here for 42 years. He has seniority over waiter Manuel Castaneda, who's worked 41 years, and maitre d' Brian Ellis, who's been here 42 years but started off as a backroom waiter under Bolduc.
Chef Juan Castaneda said he is in awe over the way "these gentlemen keep doing what they are are doing." He's been in charge of the kitchen for only 38 years.
Stories? They've got stories
"Nothing bothers Bobby. The place could go up in flames, and he'd keep cooking his steak Diane," said Ellis, shaking his head of still-thick hair.
"Let me tell you about what happened right over there at Table 32."
In 1990, John Compton Harvey — a man police later would describe as silver haired and distinguished looking — was having dinner at his regular table.
Suddenly, undercover law enforcement agents planted around the dining room jumped up and drew their guns. Bolduc was table-side, cooking. An agent held a gun to his head.
The way Ellis tells it, Bolduc kept cooking.
"I was pouring a glass of Dom Perignon when they put a gun on me because they didn't know what I would do," Bolduc corrected.
He said he was cooking the steak while they handcuffed and took away Harvey — who turned out to be wanted in 10 counties on a variety of fraud, forgery and embezzlement charges.
Bolduc boxed up the steak Diane and ran after them.
FBI agents paid for the dinner. But they didn't tip.
Harvey always tipped $100, Bolduc said.
By the way, what is steak Diane?
Steak Diane is one of the mainstays of table-side cooking, where a waiter flambées a nice cut of beef within feet of a guest.
On a recent night at Melvyn's, Maggie Valladolid told her niece that she was going to order steak Diane, which costs $31.50.
Bolduc heard her from across the hushed dining room.
"OK, I'm gonna do my number," he said.
When it was time for the women's entrees to be served, he pushed his cart close to the table.
He swirled butter, shallots and parsley in a pan, added mustard, oil, salt and pepper, then laid in thin slices of filet mignon. The sizzling could be heard over the sounds of Nat King Cole's version of "Route 66" drifting in from the piano lounge.
Bolduc then spooned in the diablo sauce. He makes his own. He said he stopped being able to buy a good diablo sauce sometime in the '70s. He won't say what's in it. But a taste suggested a lot of Worcestershire.
He doused the steak with brandy, and flames leaped from the pan.
"He did that for Sinatra, and now he's doing it for us," Vallodolid said.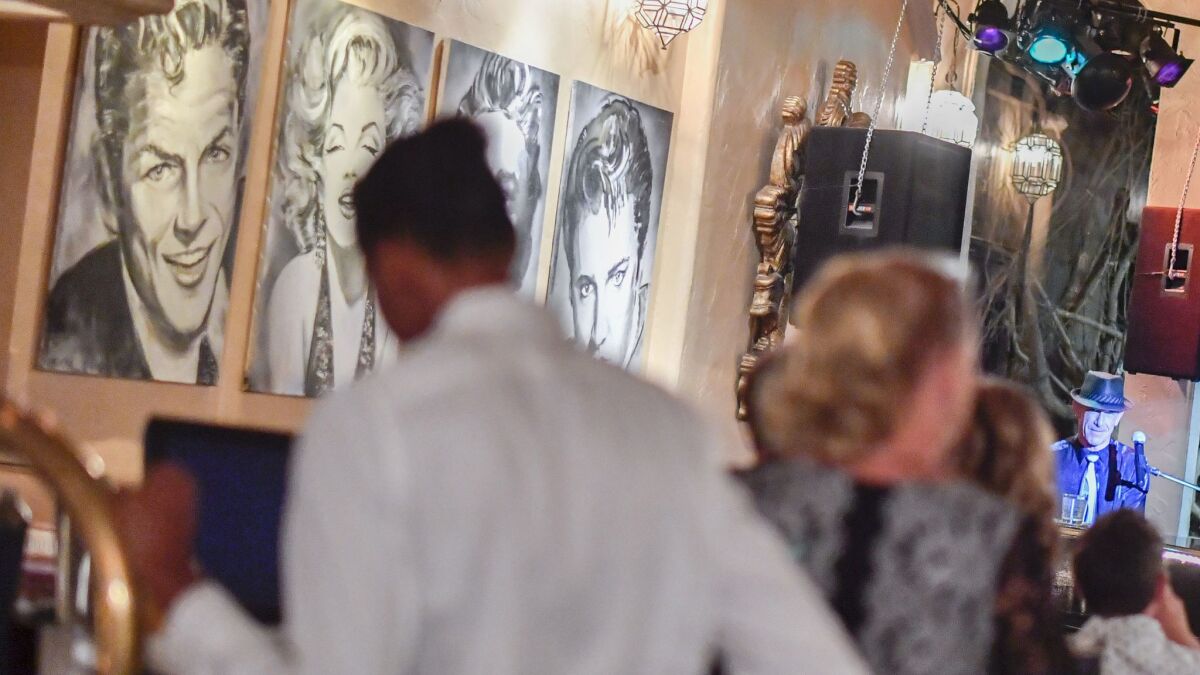 About Frank
There was a time when it was hard to find a restaurant in Palm Springs that didn't tout "Sinatra ate here."
But at Melvyn's, Ol' Blue Eyes was a regular.
When he married Barbara Blakeley in 1976, the reception was here. Dolly Sinatra ate at Table 53 at 5 p.m. every day — putting the dinners on her son's tab. Bolduc had served her just a couple of hours before the 1977 plane crash in which she and three others died en route to a Sinatra show in Las Vegas.
Death gets mentioned at Melvyn's quite a bit, with old friends passing.
"The average age of our customer is dead," Ellis said.
Recently, Bolduc and Ellis tried to offer their condolences to a regular whose husband had died two days before.
She waved them off. She said these things happen every day.
Not retro — vintage
Melvyn's is not a re-creation of a bygone era — like the mid-century-themed hot spots now drawing a younger crowd to the desert resorts — but an authentic remnant of the '70s that worshiped the 1930s.
It moved into the present the way Bobby shuffles across the dining room in a full tuxedo, with his steps showing age.
The carpet was last cleaned never, Ellis said. The greenish-colored bar in the lounge is copper. There is a pay phone in the men's bathroom. Getting to the women's room requires crossing a dance floor surrounded by floor-to-ceiling mirrors.
Ellis, who had a reputation as a ladies man, guards the restaurant's entrance near a "Proper Attire Requested" sign. Do not try to get by him in a pair of cargo shorts.
"I hate them," he said, shuddering and touching his silk pocket square. "When men wear those, they look like riffraff."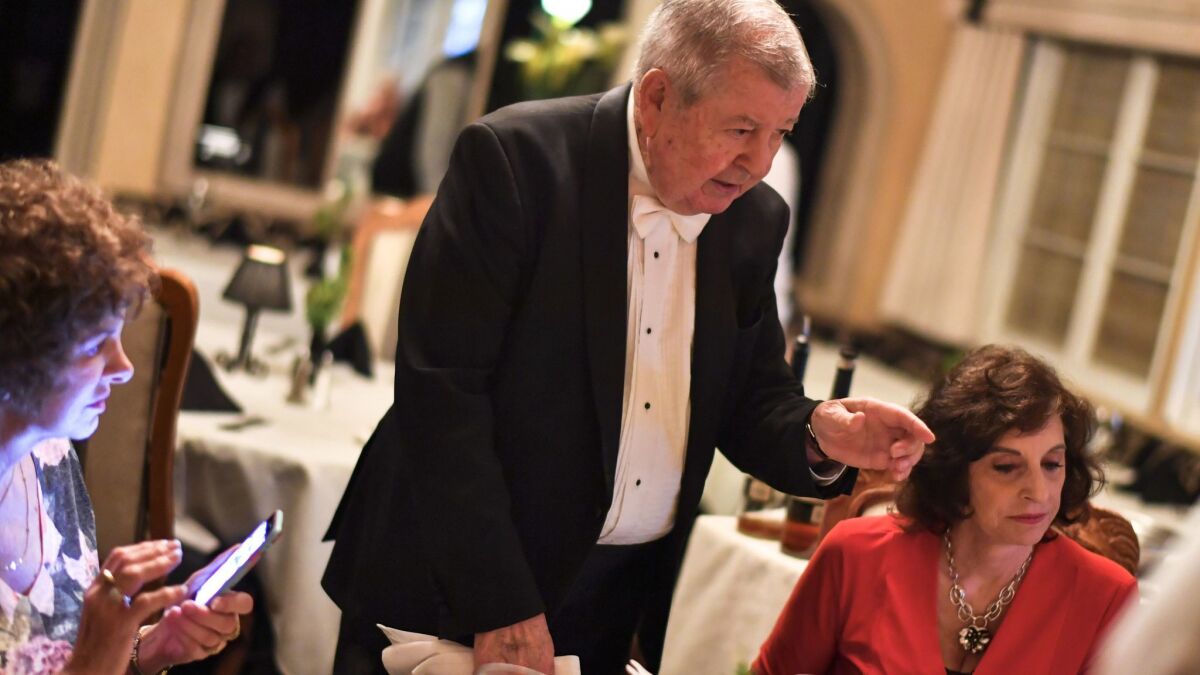 Customer Robert Parrish, 74, in an embroidered linen shirt, said the dress code matters.
"Look, I came from Milwaukee. My father worked in a factory and never missed a day of work. My mother cooked three meals a day for seven kids. But I watched old movies and dreamed of something different."
Parrish, a retired hairdresser, said the first time he came to Melvyn's, 28 years ago, he found "Bobby in his full tuxedo, a piano in the lounge and other people from places like Milwaukee who dreamed of life being elegant."
He celebrated his wedding here. He threw his husband, Richard Steele, a 78th birthday at Melvyn's in January. Steele died a few weeks later.
"I'm old enough now to know that good times matter," Parrish said. "We had a closet full of clothes, and we wore them. We traveled and danced and joked and celebrated our friendships.
"I worry that young people today don't understand that it's important to have fun and try to make life wonderful."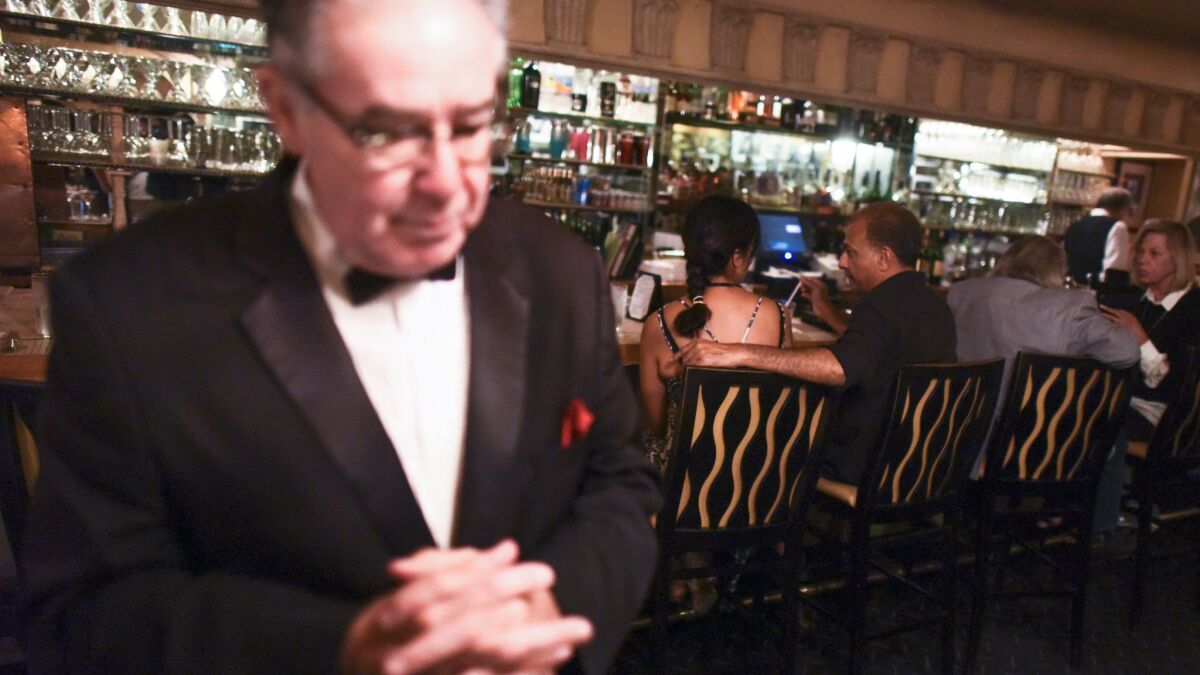 Older is the new retro
Bolduc is Québécois, from a small village in Canada. When he was 15 he suffered from such severe arthritis that he spent time in a wheelchair. Doctors said warm weather sometimes helped.
He arrived in Palm Springs a few years later and got a job at the Chi Chi club.
"Nat King Cole was there the first night, and I thought: 'I'm never leaving this town,'" Bolduc said.
In the early 1970s, Mel Haber — a Long Island businessman who had made his money selling kitsch, dashboard hula dolls and fuzzy dice in the post-World War II economic boom — suffered a self-described midlife crisis.
He bought a dilapidated Palm Springs estate that had been built in 1925 by the owners of the Pierce Arrow Motor Car Company. He poured money into restoring the defunct inn and built a restaurant, which he named after himself.
The crew Haber hired is largely still in place some half-century later.
In Melvyn's lounge, a wall of photos of Haber and the celebrities who dined have here documents the owner's hair changing from black to silver, his tan growing ever deeper and his suits and ties less patterned.
But his wide smile is never changing.
A beloved raconteur and local philanthropist known as Mr. Palm Springs, Haber died last year at the age of 80.
The property, which has been sold to investors, now will be managed by Plumpjack Hospitality Group, founded as a wine company by Gavin Newsom — California's lieutenant governor, who has even higher political aspirations.
Dan Ferrante, the new general manager, said the intention is to restore the property to reflect the glamour of the 1930s.
On a recent night, Richard Everhart, a dining room captain on the patio, tried to calm patrons' worries about change.
"The place just needs a little work, like my face," he joked. "They're going to put money into the place that Mel thought was better off in his pocket."
But privately, he said that the employees are all old enough to know not to count on anything until the dust settles.
The staff at Melvyn's are not the sort who hang out at each other's houses, but they have spent their lives together in mutual respect.
"Manny is my feet," Bolduc said of Castaneda. "He is the soul of this place."
"No, we are all part of the wheel and you direct it," Castaneda said with a bow of his head.
Bolduc — a widower with a daughter who is retired herself — said he might not be able to work much longer because he is beginning to get old.
Ellis doesn't believe him.
"Unless they tell us to go," he said, "we've got no other place we need to be."
The stories shaping California
Get up to speed with our Essential California newsletter, sent six days a week.
You may occasionally receive promotional content from the Los Angeles Times.