Metropolitan Water District backs away from plan to finance both delta tunnels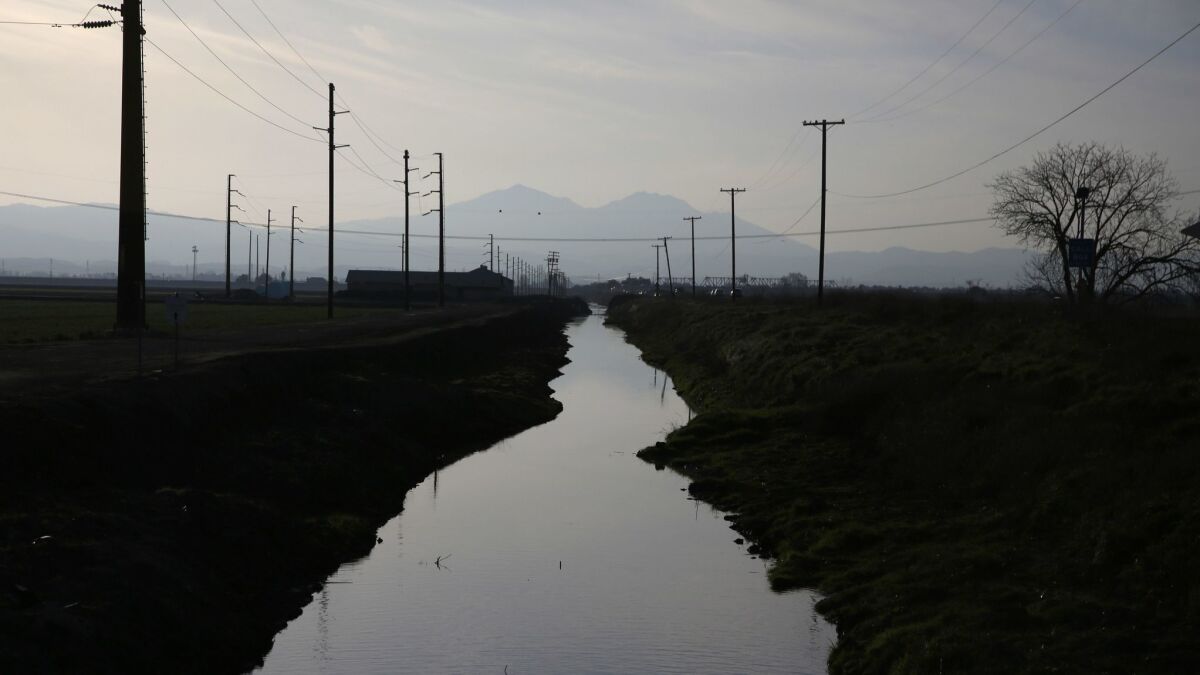 The Metropolitan Water District of Southern California is dropping plans to push ahead with a two-tunnel proposal to revamp the state's water delivery system, opting to pursue a scaled-back version instead.
In a memo to the agency's board on Monday, MWD officials said the decision followed discussions with major agricultural districts that remain unwilling to make any financing commitments for the project, known as California WaterFix.
Rather than fund much of the full project on its own, the staff will ask the board to vote next week to approve $5.3 billion in funding for a smaller capacity, one-tunnel version.
MWD General Manager Jeffrey Kightlinger said his preference had been to build the full project, but it was time to make a decision.
"More important is that we just get going…. We're talking one tunnel for now," he said.
Money has been a major sticking point for the much-debated project, which is intended to sustain water deliveries to San Joaquin Valley agribusiness and urban Southern California.
As originally proposed, the urban and farm districts that rely on deliveries from the southern portion of the Sacramento-San Joaquin Delta were supposed to pick up the $17-billion bill to construct two massive water tunnels under the delta.
MWD and most of the urban districts voted last year to contribute their share. But agricultural districts that had long supported the project said the tunnel water would be too expensive and voted against joining WaterFix.
That prompted Gov. Jerry Brown's administration to downsize the initial construction to a less expensive, one-tunnel project that would be used and financed by the largely urban districts supplied by the State Water Project.
Not long after the state announcement, some MWD board members suggested that the agency consider paying for agriculture's unfunded share so that both tunnels could be built.
The staff analysis of how MWD could do that assumed that agricultural districts would buy in to WaterFix when it was completed. That way, the staff said, MWD would eventually be reimbursed for taking on agriculture's upfront costs.
But by the end of last week, it became apparent that the Westlands Water District and other irrigation agencies weren't willing to sign options or purchase agreements assuring that they would in fact join the project in the future.
Representatives of Los Angeles and the San Diego County Water Authority had also expressed concerns that if MWD boosted its tunnels investment to roughly $11 billion, that would jack up local water rates and divert funds from regional supply programs, such as building recycled water and stormwater capture facilities.
L.A. Mayor Eric Garcetti, who appoints the city's MWD delegates, has also said he opposed two tunnels.
Still, Los Angeles and San Diego together don't have enough votes to stop MWD from taking on much of the twin-tunnel costs.
In remarks to the press Monday, Kightlinger said the staff recommendation to move ahead with one tunnel was based on agriculture's inability to commit to future funding rather than a vote count or L.A.'s doubts.
He said the staff will ask the board at its April 10 meeting to progress with one tunnel by adding an additional $1 billion to the $4.3-billion financing package the board approved last fall.
By partially diverting some supplies from the Sacramento River in the northern delta, the tunnel project is intended to lessen the environmental harm of the massive pumping operations that fill southbound aqueducts.
The powerful pumps now draw entirely from the southern delta, causing water channels to flow backward, confusing migrating salmon and drawing the imperiled delta smelt into bad habitat.
Those effects have triggered endangered species protections that at times limit delta exports.
Although MWD has argued that two tunnels would provide more environmental benefits and more flexibility in export operations than one, some water experts have questioned whether a second tunnel is worth the added expense.
"There are significant improvements even with the one-tunnel approach over the status quo," Kightlinger said Monday. "The bottom line is that we're really looking forward to moving forward with this project."
Twitter: @boxall
---
The stories shaping California
Get up to speed with our Essential California newsletter, sent six days a week.
You may occasionally receive promotional content from the Los Angeles Times.