Nipsey Hussle 'was a protector.' His parents and girlfriend Lauren London speak out
In the days since rapper and community activist Nipsey Hussle was gunned down outside of his clothing store Sunday, his loved ones have taken comfort in each other, huddling, as they have for years, at Hussle's grandmother's house in South L.A.
On Thursday, Hussle's mother, Angelique Smith, paused in the middle of a story about how her son once hounded his school counselor to test him for the gifted program.
"He recognized at an early age his own capability," she told The Times. "His own potential. He has always known."
Here's what those closest to Hussle, born Ermias Asghedom, had to say about him, his legacy and how they are coping with his death: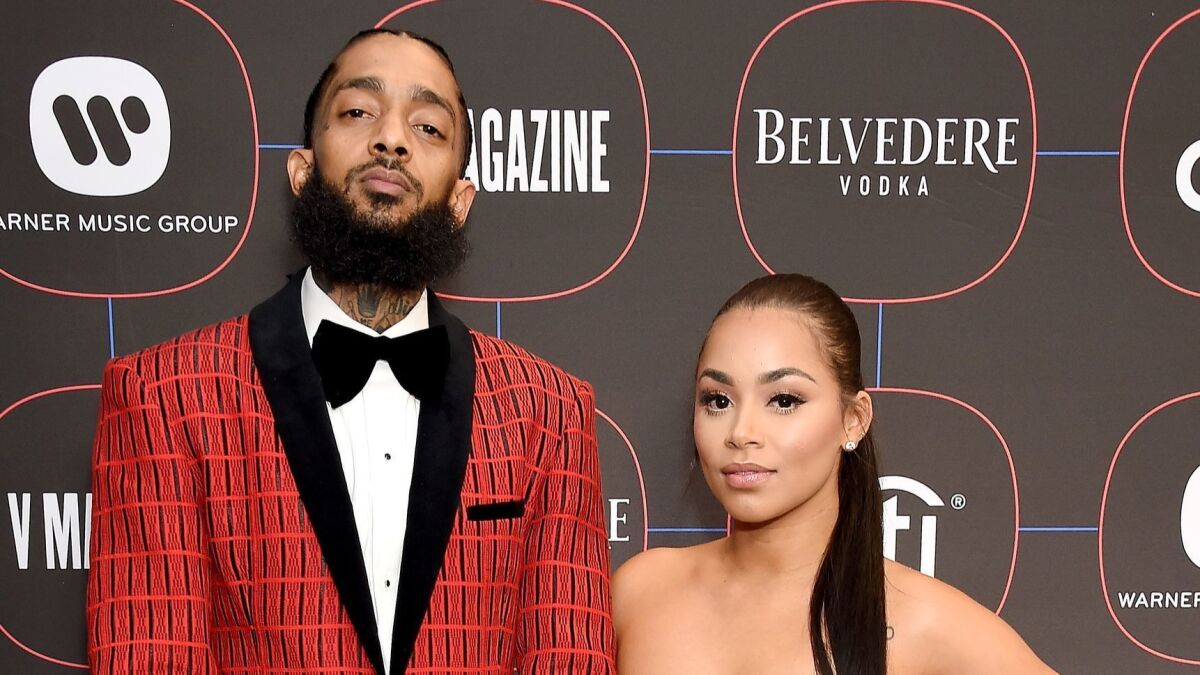 Lauren London, his girlfriend: "He was a protector and wanted us to be our best at all times. He was a truth seeker and truth speaker."
She added: "I'm going to keep my head high and always represent for my king to the fullest. He loved his kids. He was a family man. His family came first."
Dawit Asghedom, his father: "It was like he was sent by God to give some love to bring us together because that's what his lyrics were saying, always. He's not shy to tell the truth even though it might not look good. He wasn't scared of anything. [God] sent him to send a message. It looks like, 'Your time is up because you have completed what I sent you to do.' We all have a plan, but God has his own plan. So he had completed what he needed to be doing and he did it early so [God] probably want to take him early too."
Angelique Smith, his mother: "I would like for him to be remembered as a humble, spirited, respectful man who had, since his childhood, had an extraordinary and unlimited intellectual capacity." Mourners have been arriving since Sunday to offer their condolences, but Smith said she finds herself comforting them and "chasing away the spirit of fear and grief ... retaliation and anger."
"I've been at perfect peace," she said.
Samiel Asghedom, his brother: "There's a lot of politics within the area that we grew up in, but he stayed the course and showed what he was about. He made something work in an area that was run-down, that people were scared to come to, and he turned it into a landmark."
The stories shaping California
Get up to speed with our Essential California newsletter, sent six days a week.
You may occasionally receive promotional content from the Los Angeles Times.