Must Reads: A deadly explosion at an Orange County day spa and a mysterious motive has detectives searching for answers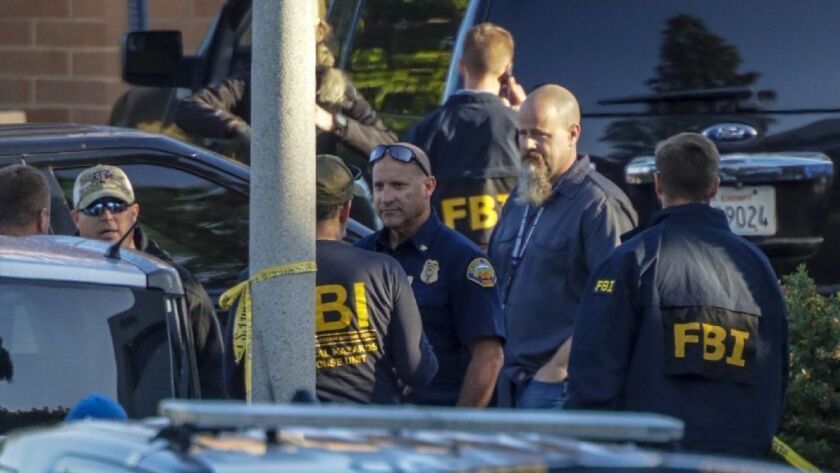 The device had arrived at the Aliso Viejo day spa by Tuesday afternoon — but investigators don't know when or how it got there, or who brought it inside.
About 1:10 p.m., the device blew up, shaking the two-story building so vigorously that people nearby thought it was an earthquake.
The spa owner, Ildiko Krajnyak, was killed in the blast, authorities said. Two customers had injuries that required surgery, and one other person was treated for smoke inhalation.
For hours Wednesday, investigators combed the wreckage, methodically looking for any piece of evidence that could explain what happened. The scraps they found — materials "inconsistent with" what you'd normally find at a spa — were packed up and loaded on a plane for shipment to the FBI's crime lab in Quantico, Va., where they will be tested.
"We do not believe this was an accident," Paul Delacourt, assistant director of the FBI's Los Angeles office, told reporters Wednesday. Investigators ruled out a theory that it was a gas main explosion.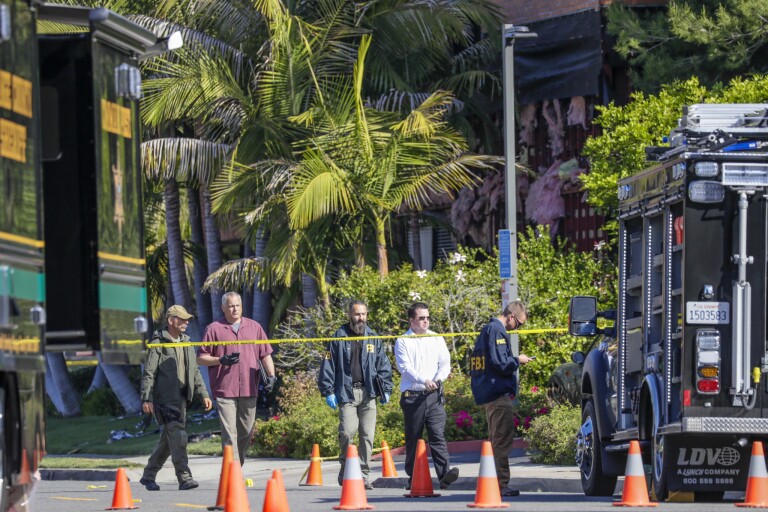 FBI and Orange County sheriff's investigators look for evidence at the scene of an explosion at an Aliso Veijo business that killed one person and injured two others.
(Irfan Khan / Los Angeles Times)
Investigators work at the scene of an explosion at an Aliso Viejo business that killed one person and injured two others.
(Irfan Khan / Los Angeles Times)
Orange County Undersheriff Don Barnes, center, and Paul Delacourt, left, assistant director of the local FBI field office, head for a news conference Wednesday to discuss Tuesday's fatal explosion in Aliso Viejo.
(Irfan Khan / Los Angeles Times)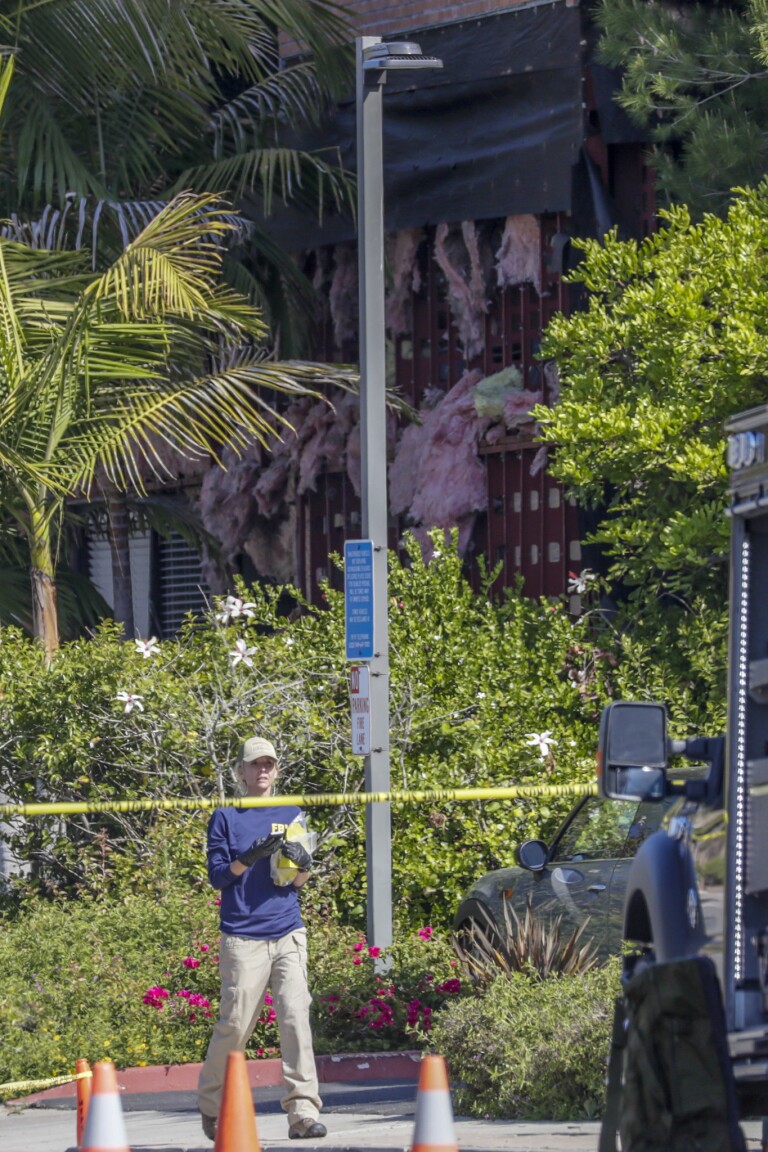 Shredded pink insulation hangs from the exterior wall of an Aliso Viejo commercial building after it was struck by an explosion on Tuesday.
(Irfan Khan / Los Angeles Times)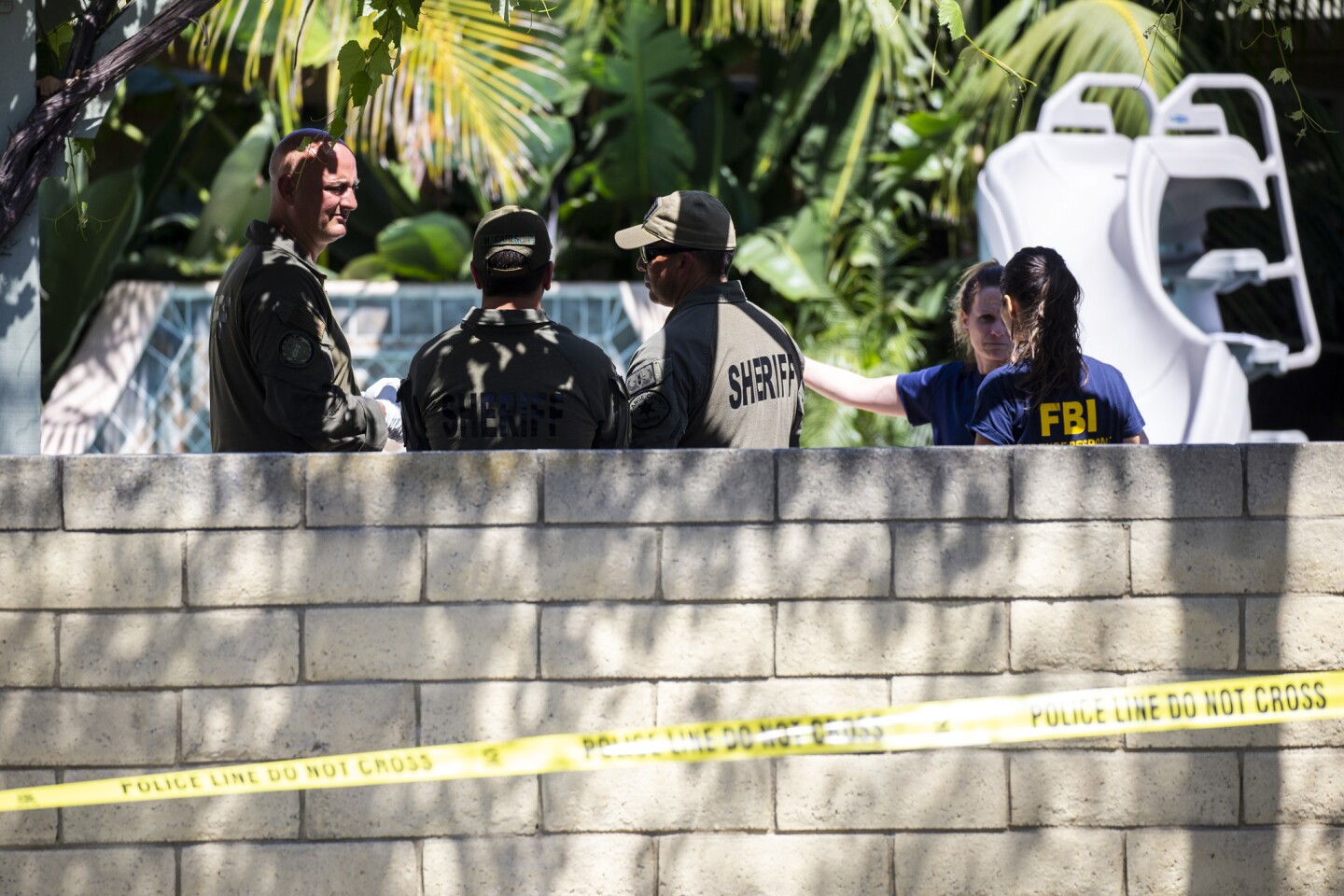 Law enforcement officials search a Long Beach property in connection with the Aliso Viejo explosion.
(Kent Nishimura / Los Angeles Times)
Law enforcement officials search a Long Beach property in connection with the Aliso Viejo explosion.
(Kent Nishimura / Los Angeles Times)
An aerial view shows damage to an Aliso Viejo building rocked by an explosion on Tuesday afternoon.
(KTLA-TV)
Children are wheeled out of the Academy on the Hills preschool in their cribs after a fatal explosion at a nearby commercial building.
(KTLA-TV)
Law enforcement officials searched four locations Wednesday, including the damaged business, Krajnyak's home in Trabuco Canyon and a Long Beach residence of one of her business associates. Authorities are examining the victim's romantic, personal and financial relationships, according to sources familiar with the investigation who were not authorized to speak publicly.
The explosion is being treated as a homicide and investigators were interviewing those who were injured. As of Wednesday evening, no one had been arrested and the motive remained a mystery.
"We have hundreds of investigators of all disciplines working around the clock to get to the bottom of this matter," Delacourt said.
A spokeswoman for the U.S. Postal Inspection Service said the device that caused the explosion did not travel through the U.S. Postal Service mail system. It didn't go through FedEx or United Parcel Service, either, according to a law enforcement source.
Delacourt said there was no indication of other threats or of secondary devices in the community.
For much of the day Wednesday, TV news vans lined the curb of Drover Court in Trabuco Canyon, where the victim lived with her family.
Neighbors described Krajnyak, 48, as a vivacious world traveler. She worked two jobs and "could talk to everyone," said Tiffany, a neighbor who declined to give her last name. Krajnyak worked for three decades as an aesthetician, according to public records and her LinkedIn account.
"She worked so, so hard, always trying to make money to support her family and sent her son to private school," Tiffany said. "She would go on trips, come back home and 45 minutes later, walk back out, heading to work."
The victim had lived in the neighborhood for at least 12 years, along with her mother, her husband and her son, who attends college in Washington state. Neighbors have launched a GoFundMe campaign to raise money to fly him home after his finals.
"This poor family, no one is prepared for anything like this," Tiffany said, adding that they were trying to contact other family members in Hungary.
On Wednesday evening, Krajnyak's cousin, Eva Boni, and a family friend, Irene White, emerged from the victim's Trabuco Canyon home to speak with reporters.
"Family always came first for Ildiko," White said. "We would like to privately mourn a mother, a wife, a daughter and a friend."
The blast rattled the suburban Orange County community and sparked a massive response from law enforcement.
Andrew Dyjak, the owner of a massage business inside the building, said he realized it wasn't an earthquake when he saw the devastation outside.
"There was one part of the building that was destroyed, like really destroyed," he said. "No windows, glass, and we noticed a small fire."
Glass was everywhere, and part of the building's walls were damaged, Dyjak said.
Augustine Tolar had been driving to lunch along Moulton Parkway, passing Oso Parkway, when the explosion caused him to stop.
"I knew right away there would be a fatality. No way in hell could someone survive that big of a hit," said the customer service clerk from Laguna Niguel.
Laguna Niguel retiree Judith Hoel was sitting in a dental chair inside the Ocean Valley Dental Center across the street from the building, about to get her teeth cleaned, when she heard a "huge boom" and the clinic shook.
"It's terrible to say, but I hoped it was an accident and not something that would be worse," she said. "It's a frightening world today."
Times staff writer Richard Winton contributed to this report.
alene.tchekmedyian@latimes.com | Twitter: @AleneTchek
javier.panzar@latimes.com | Twitter: @jpanzar
anh.do@latimes.com | Twitter: @newsterrier
---
The stories shaping California
Get up to speed with our Essential California newsletter, sent six days a week.
You may occasionally receive promotional content from the Los Angeles Times.