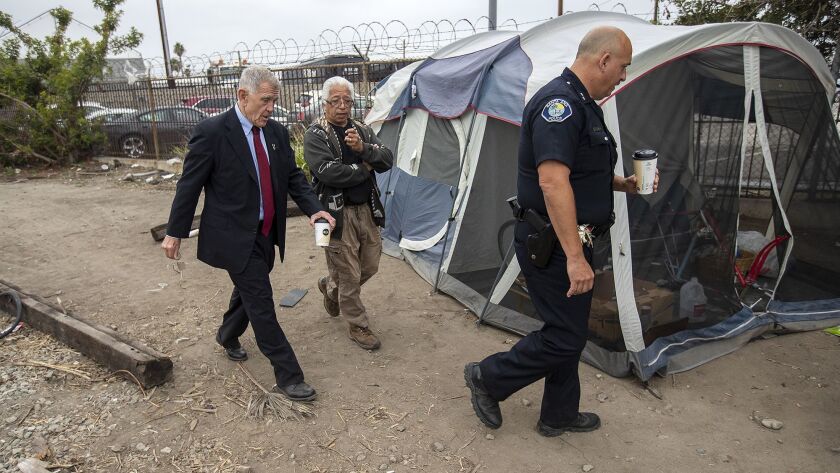 U.S. District Court Judge David O. Carter gathered Orange County leaders together early Tuesday at the Santa Ana Armory to observe what homeless people do when they leave the seasonal shelter.
The tour's aim was to gauge the adequacy of the facility, which along with another in Fullerton has been serving a more prominent role after the closure of two homeless encampments next to the Santa Ana River and the Civic Center.
Carter is overseeing a federal lawsuit filed by homelessness advocates that unsuccessfully attempted to stop the February riverbed eviction. He toured that encampment before it was shut down.
By 5:30 a.m. Tuesday, Carter's group was watching the last of the homeless filter out of the armory on Warner Avenue. Neighbors and surrounding businesses have complained about the spread of homeless people into the community during the day.
Brooke Weitzman, an attorney who filed the civil rights lawsuit against the county in January, argued during the morning tour that the overnight facility could not sufficiently take care of the homeless situation. The two armories have a total capacity of about 400 beds; a point-in-time survey earlier this year in Santa Ana counted more than 1,000 homeless residents.
Because of that, Weitzman said, it's incumbent on cities to refrain from enforcing anti-camping and loitering ordinances.
The county has been attempting to find a place for its uprooted homeless population to go, but a proposal to place temporary shelters in Irvine, Laguna Niguel and Huntington Beach was rescinded amid community protests.
After observing the armory, Carter led the group to the Mental Health Assn. of Orange County on Main Street, where he spoke with a representative about the clients it deals with from the armory.
A bit farther down Main, Carter turned down a gravel road bordering train tracks. Wearing a black suit, he walked the uneven ground, stepping over abandoned railroad beams.
A man emerged from a tent as the group passed. Trash lay about the area.
Orange County Executive Officer Frank Kim said he has witnessed the flow of homeless people in the community surrounding the armory. The facilities "function quite well," he said, pointing out that the county offers a morning bus to ferry homeless people to the Courtyard shelter in Santa Ana.
"Like any community dealing with homeless challenges, we can always design more programs," Kim said.
Anaheim Mayor Tom Tait also said more needs to be done to rectify the homeless situation in the county.
"There needs to be more permanent housing and more shelter beds that don't dump the homeless out in the early morning," Tait said.
The mayor said he valued the way Carter was dealing with the homelessness issue.
"The county owes him a debt of gratitude," Tait said. "He's unorthodox, but that's what it takes to get everybody working together."
Brazil writes for Times Community News.
---