Accused serial killer on trial in deaths of four women in Orange County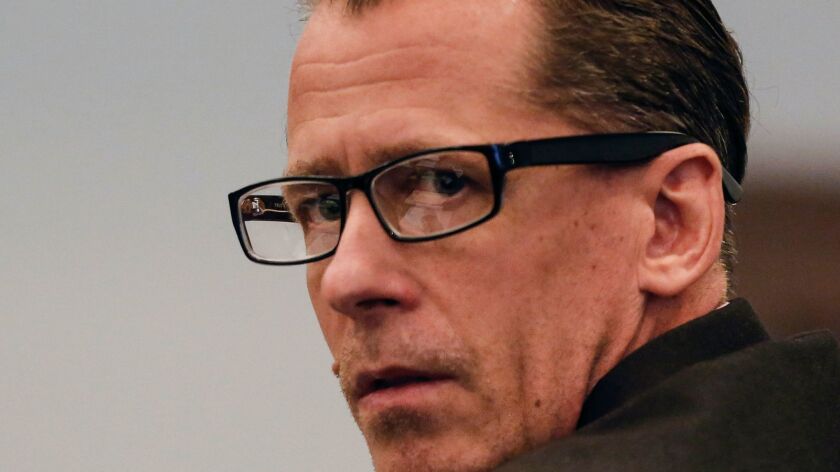 When a recycling plant worker in Anaheim spotted a pair of feet protruding from the debris on a conveyor belt at a vast indoor warehouse, he thought at first they might belong to a mannequin.
Detectives arrived and discovered it was the badly damaged body of a young woman, with a tattoo on her neck that said "Jodi." It matched records in a police database for Jarrae Estepp, 21, who had recently arrived by bus from her home in Oklahoma and was working locally as a prostitute. The tattoo was her mother's name.
The discovery of Estepp's body at Republic Waste Services in March 2014 launched the investigation that led to the arrest of Steven Dean Gordon, a registered sex offender who stalked her and other victims with an accomplice, a prosecutor told jurors Wednesday during the first day of Gordon's trial in Orange County Superior Court in Santa Ana.
Gordon, 47, is charged with murdering Estepp, along with three other women whose bodies were never found. Gordon could face the death penalty if convicted. He has pleaded not guilty. Gordon's alleged accomplice, Franc Cano, is expected to go on trial next year.
In his opening statement, Deputy Dist. Atty. Larry Yellin said Gordon and Cano hunted women who worked the prostitution corridors in Santa Ana and Anaheim in late 2013 and early 2014.
Former Anaheim Police Det. Bruce Linn told jurors that when he was called to the recycling plant where Estepp's body was found, he climbed onto the conveyor belt and stepped shin-deep in trash.
Linn said the debris around the body – wood, door trim, window trim, and blue plastic drop cloth – looked to him like the remnants from a residential remodeling job.
The key clue, however, was a discarded caulking tube bearing the fingerprint of a window installer who worked at an industrial park in Anaheim, which led to the location of the industrial trash bin where Estepp's body had been discarded.
Gordon worked at the paint-and-body shop next door and lived nearby in an old RV. The prosecutor said detectives studied the last known locations of Estepp and three other women who had gone missing in recent months, based on pings from their cellphones.
In the case of three of the victims, the locations matched Gordon's whereabouts at the time, as captured by ankle monitors he wore as a registered sex offender, the prosecutor said.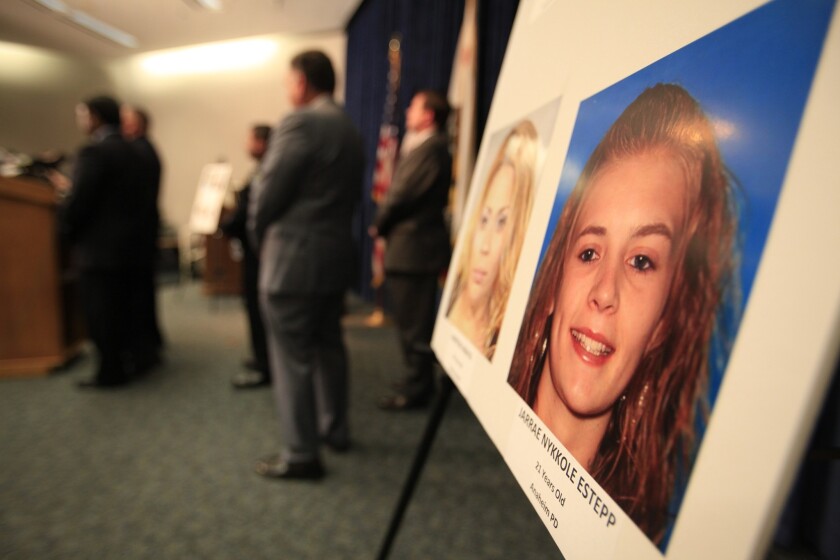 Yellin said an examination of Estepp's body determined that she had been strangled and that Gordon's semen was inside her.
The other victims were Kianna Jackson, 20, of Las Vegas, Josephine Vargas, 34, of Santa Ana, and Martha Anaya, 27, of Santa Ana.
Jackson's mother, Katherine Menzies, testified that she called or texted her daughter every day, multiple times, and that they last spoke Oct. 3, 2013, as her daughter was traveling from Las Vegas to Santa Ana.
When her daughter abruptly stopped replying to her messages, she said she became worried.
"I called jails to see if she was there," Menzies said. "I even called the morgues."
She finally called Santa Ana police, who took a missing persons report. She learned her daughter had never checked out of the Costa Mesa hotel where she had been staying.
Yellin showed jurors a series of texts between Gordon and Cano. The men used the word "cats" to refer to their victims, the prosecutor said, and in one case Cano used the phrase "happy hand," which Yellin said referred to strangling a victim.
Gordon, who is representing himself, did not make an opening statement Wednesday and asked few questions of witnesses. Testimony is scheduled to resume Thursday.
To read the article in Spanish, click here
christopher.goffard@latimes.com
ALSO
11-year-old girl's kidnapping and rape solved by DNA from a discarded water bottle, police say
A 16-year-old mystery over the disappearance of a Long Beach woman takes a dark turn
Los Angeles tops the nation in chronically homeless people, federal report finds
---
The stories shaping California
Get up to speed with our Essential California newsletter, sent six days a week.
You may occasionally receive promotional content from the Los Angeles Times.