A beach behind lock and key is turning into a fight over social justice in California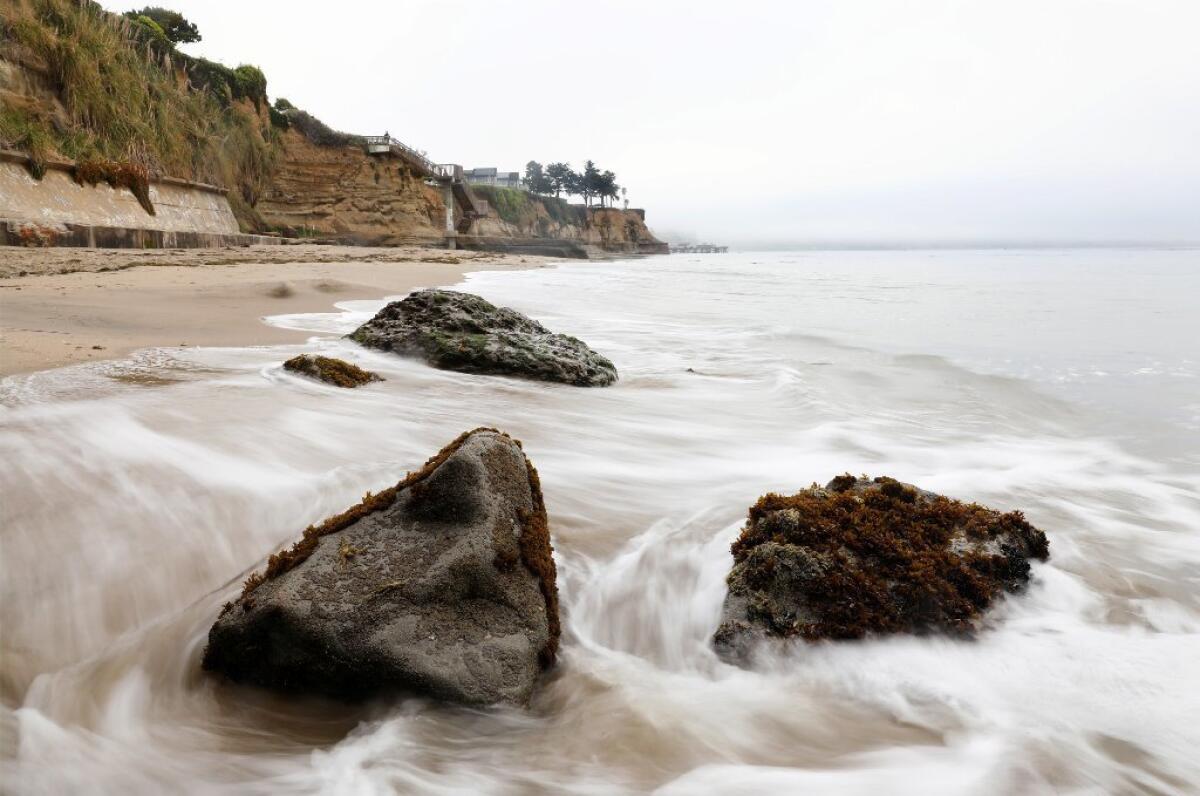 Reporting from Santa Cruz —
Tucked along a stretch of famous surf breaks and crowded beaches, down a winding road dotted with multimillion-dollar homes, a wrought-iron gate guards this little community's not-so-secret secret.
Locals call it Privates Beach, though technically it's a county park. A "gate ambassador" — or security guard, depending on which side you're on — greets the regulars of Opal Cliff Drive. All are welcome, they say, with a $100 gate key that can be purchased each year at a family-run surf shop. Proceeds go toward keeping the beach safe and clean.
Many out-of-towners don't bother because they can't justify the cost as a visitor. Others find the area intimidating.
For decades, county regulators let residents have their way. They even have the local sheriff's blessing.
But the California Coastal Commission, armed with a newly bestowed power to demand social justice for all, has now overruled the county permit and declared the fees illegal. The gate operation, if allowed to continue, would be the first time a public beach in California was granted the right to charge for access to the beach itself.
"It's like a private beach club," said Patrick Veesart, who oversees enforcement of the state's coastal law in Northern California. "You're using money to filter out people who are not local, who don't live in multimillion-dollar homes right by the ocean… This is a case that could set really bad precedents."
At Privates Beach, residents say they've been unfairly lumped together with the billionaires as the California Coastal Commission hones in on environmental justice.
(Christina House / Los Angeles Times)
Flowers bloom along Opal Cliffs, also known as Privates Beach, in Santa Cruz.
(Christina House / Los Angeles Times)
A beachgoer climbs the steep steps at Opal Cliffs, also known as Privates Beach, in Santa Cruz.
(Christina House / Los Angeles Times)
A man fishes at Opal Cliffs. The area is secured by a fence and the public must buy a $100 gate card to gain access.
(Christina House / Los Angeles Times)
A few men paddle past Opal Cliffs. The California Coastal Commission is starting to use environmental justice as a reason to fight back on projects, gates and developments along California's coastline.
(Christina House / Los Angeles Times)
A surfer bikes through the Opal Cliffs neighborhood in Santa Cruz.
(Christina House / Los Angeles Times)
All are welcome to Opal Cliffs, locals say, with a $100 gate key that can be purchased each year at a family-run surf shop. Proceeds go toward keeping the beach safe and clean.
(Christina House / Los Angeles Times)
Environmental justice has become the topic du jour since a new state law explicitly authorized the commission to consider not only impacts to the environment when making decisions, but also impacts on underrepresented communities.
Officials, more used to dealing with plants, animals and coastal habitats, now can consider human inequities along the coast. When a gas-fired power plant was proposed in Oxnard, the commission in 2016 argued the project could harm an already overburdened community.
Environmental justice also pushes the commission to think deeper when it comes to beach access for all — a core tenet of the state's Coastal Act. Is ordering a beach open really increasing access for lower-income families if there's nowhere to park or if they still feel unwelcome?
The commission, which reconvenes Thursday to decide the fate of Privates Beach, will make its choice as high-powered interests across the state are fighting to keep beaches to themselves. At Hollister Ranch, the public was outraged that coastal officials had quietly agreed to give up their only shot of public access by land after a decades-long battle with wealthy owners. At Martins Beach, a Silicon Valley billionaire is trying to bring his fight to the U.S. Supreme Court.
At Privates Beach, residents of Opal Cliffs say they've been unfairly lumped together with the billionaires as the commission homes in on environmental justice.
"They're chasing ghosts and fighting a problem that doesn't exist," said Mark Massara, a coastal advocate who fought against the Martins Beach owner and is now representing the Opal Cliffs Recreation District. "The commission has enormous social justice issues up and down the coast — this isn't one of them."
In 1949, the county gave residents the authority to manage this beach by recognizing them as a special district composed of elected volunteers. Citing "vandalism, litterbugging and traffic congestion," the district in 1963 locked the gate and issued keys for $1, according to a newspaper report at the time. A 1991 deed restriction states the district can set the cost of keys based on what it deems "expenses necessary to maintain the public areas."
Massara makes an argument often heard in access battles: Unfettered public access must be balanced with protecting the environment from overuse. Because the beach is so secluded, he said, it became a popular spot for "raves and parties."
The fence was 6 feet tall, but people often jumped it and vandalized the park, he said. Pieces of the wooden staircase to the beach were hacked off and burned in bonfires.
So district leaders put up a 9-foot wrought-iron gate, cleaned the park and rebuilt the stairs. In 2008 they raised the gate fee from $20 to $100. Residents paid $50 and a property fee that the district deemed a fair balance.
About 800 key cards are usually sold each year, he said, 70% of them to people outside the district.
"We've never tried to do anything but maximize beach access here," he said. "Now here comes the commission, 30 years later, going, 'Oh, this beach is elitist and it's rich people keeping out the poor.'"
One recent afternoon, famed surfer Robert "Wingnut" Weaver and Michael Allen, who runs the local children's surf club, greeted a young gate attendant, preoccupied with her homework, and made their way down to the water. They admired the amount of sand and the way one of the waves swings out as it tumbles in.
The longtime residents recalled the graffiti they had to scrub off the cliffs and the "gnarly parties" that left needles in the sand. They examined the stairs, eroding away by the rising sea. They hope there will be enough funding this year to fix the concrete base, and perhaps the fountain, which has been reduced to a dribble.
"Buy a key and support the community and the beach," Weaver said. "If you don't respect how special this is and want it for free, that just seems unfair."
They point to nearby Sunny Cove Beach, which gets trashed by parties, and a letter of support from the sheriff, who said these beaches are difficult to patrol at night. His deputies responded to 605 calls at Sunny Cove one year, compared with nine at Privates.
Though other Santa Cruz beaches attract big crowds, Privates can almost feel, well, private. That word has caused some grief among key-holders, who are quick to say Privates earned its name because it was a nude beach once upon a time.
The commission, Allen and Weaver said, is hammering down on a group of teachers, coaches, a firefighter, a dentist — "a lot of down-to-earth people" looking out for the safety of everyone's kids.
"This isn't a couple of billionaires saying, 'I want this beach to myself,'" Allen said. "This is the whole community here saying, 'We love this place.'"
On the other side of the gate, many say Privates is Exhibit A of the growing disparity in Santa Cruz — a county grappling with homelessness and a priced-out working class.
Half a mile down the road, by the public bathrooms at the Hook, four grizzled surfers, one on Social Security, grumbled that $100 would buy quite a few weeks of groceries.
The gate's gotten taller, the fees higher, the rules stricter — of course there's local resentment, they said.
John Carter, who lives in San Ramon and sells construction clothes for a living, said he surfed there for 30 years by hopping in behind someone whenever the gate opened. Then, one day, he got kicked out.
Outraged, he called the sheriff, coastal officials, anyone who would fight this on principle. For every beach that gets away with this, he said, it gives others the idea that they can too.
"If we listen to their justifications, we can charge people to go to every beach in the world," he said. "I can just feel people in Malibu, at Martins Beach, just looking at this issue and seeing which direction it's gonna go to see what they're going to do."
Veesart, the enforcement officer, says he hears that message loud and clear. If allowed to continue — even at a $5 daily rate, which the district has offered as a compromise — Privates Beach would set the precedent of charging for access to the beach. Doing so is very different from a parking fee at a state park, he said, where visitors can still walk in at no cost or bike or get dropped off.
He questions how much money is necessary for beach maintenance. The district budget says about $56,000 annually — more than $30,000 of it going toward paying someone to stand by the gate. The money raised from property fees from the district's 460 homes amounts to about $6,000 a year.
The district also had a history of sloppy accounting: A county audit determined that in fiscal year 2010-2011, $11,090 was unaccounted for. Other budget items, such as a $337 bar tab and a $772 bill from a Chinese restaurant, made local headlines. (District leaders said it was a thank-you party for the surf shop that sells the keys.)
With the gate's future in limbo, the district has taken steps to appease its critics. It began opening the beach free of charge last year from Memorial Day to Labor Day, at an estimated loss of $30,200 in revenue. The district also increased the price of residents' keys to $100.
"The commission wants this free, but they're not funding the park," Massara said. "They're not coming back to pick up the trash."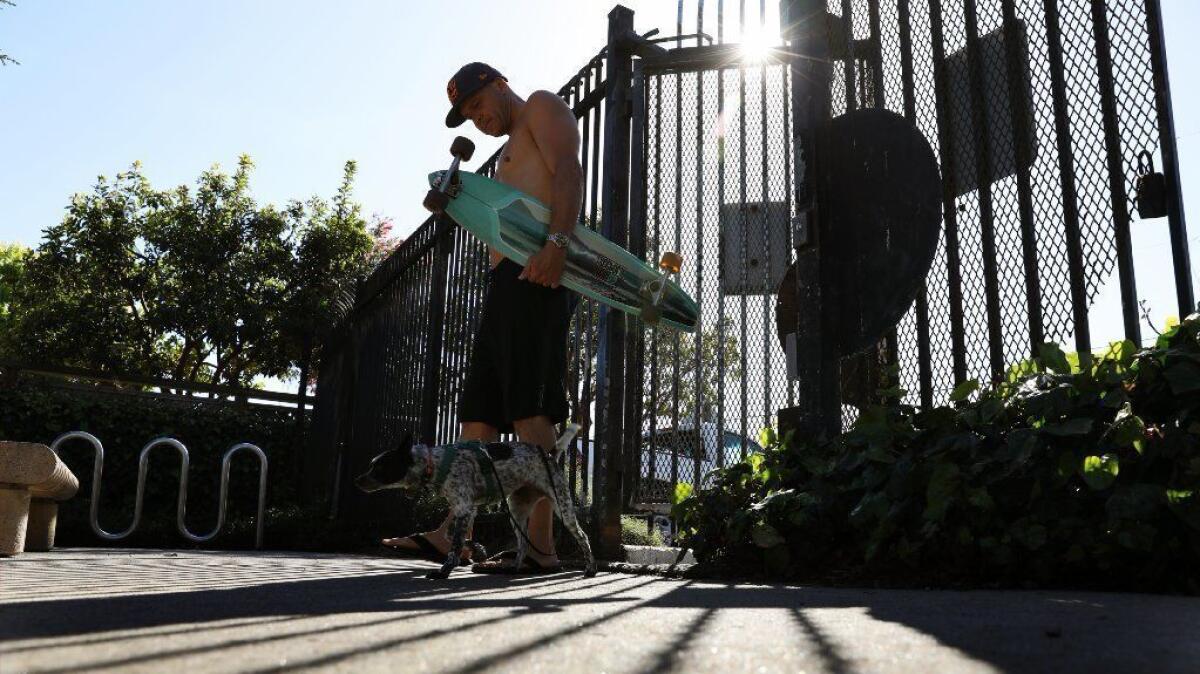 Environmental justice stands to shape future decisions across the California coast, but still uncertain is how exactly it will be put into practice.
The commission is developing its formal environmental justice policy, but for now it's taking on issues case by case. A draft will be circulated later this year for community input and final approval.
Marce Gutiérrez-Graudiņš of Azul, a group that supported the law and aims to bring more Latino voices to coastal issues, is heartened by the fight at Privates but cautions that without a clear definition and a vision for what environmental justice looks like, the argument could be abused.
"I'm optimistic that we now have the tools to bring environmental justice forward," she said, "but we have a lot more work to do."
Farther up the coast at Pleasure Point, where the beach is free and the surf is good, Buck Pruitt marveled at the view.
A retired welder from San Jose, he says he once got to spend an afternoon at Privates and feels as if he's been excluded all these years because he doesn't have a key.
He thinks back on the coastal battles of the 1970s, which focused on saving seals and cleaning up the shore.
"The next step," he said, "is letting everybody enjoy it."
Interested in coastal issues? Follow @RosannaXia on Twitter.
---
UPDATES:
9:40 a.m.: This article was updated to clarify what year the Coastal Commission argued against the proposed power plant in Oxnard.
This article was originally published at 3 a.m.
Sign up for Essential California for news, features and recommendations from the L.A. Times and beyond in your inbox six days a week.
You may occasionally receive promotional content from the Los Angeles Times.