Water under Oroville spillway probably caused February collapse, state consultants say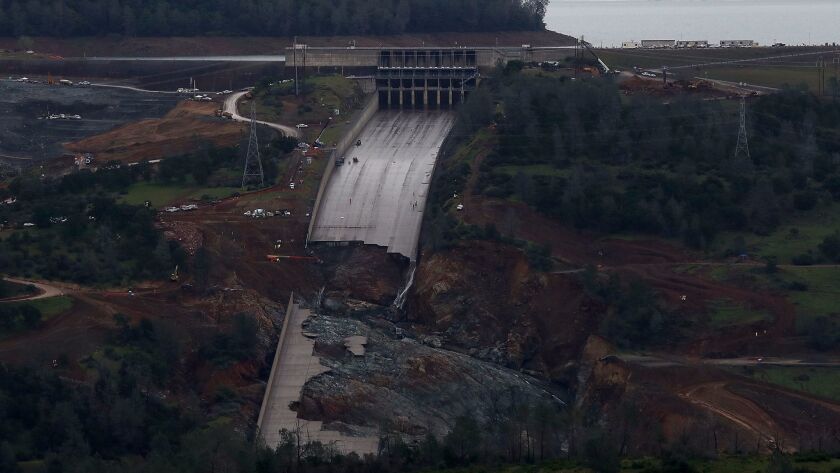 Official reports released Monday say the catastrophic damage to Oroville Dam's main spillway probably stemmed from swift water flows under the concrete chute, which was cracked and of uneven thickness.
The observations, contained in consultants' reports prepared for the state Department of Water Resources, echo much of an independent assessment made for UC Berkeley's Center for Catastrophic Risk Management.
An official verdict on the cause is not due until the fall, when a separate forensics team investigating the February spillway break will submit its report.
But a Board of Consultants reviewing the state's repair plans noted several problems with the spillway's original design and construction.
The failure, the board said in one of two reports the state released Monday, "likely occurred as a result of high velocity flow … penetrating under the slab, causing a strong uplift force and causing the slab to lift, eventually causing all or part of the slab to break away. Subsequent erosion of foundation material caused progressive failure both upstream and downstream."
The reports noted that numerous repairs had been made to cracks and spalls in the spillway. "Some of these holes were quite large and extended as deep as the reinforcing steel. The hole that triggered the failure was probably of the latter type."
Moreover, "the thickness of the original concrete chute slab appears to vary widely from the specified thickness," the board reported, adding that the lack of water stops between the spillway slabs "was no doubt an important factor in the February failure."
The state just signed a $275-million contract to begin repairs on the main spillway and the eroded emergency spillway as soon as spring runoff declines.
Twitter: @boxall
ALSO
Gone in 30 seconds: Mob of up to 60 juveniles robs passengers on BART train, officials say
Man sentenced to 15 years for starting massive Da Vinci blaze in downtown L.A.
Republican students sue to allow Ann Coulter's speech this week at UC Berkeley
---
The stories shaping California
Get up to speed with our Essential California newsletter, sent six days a week.
You may occasionally receive promotional content from the Los Angeles Times.