Gone in 30 seconds: Mob of up to 60 juveniles robs passengers on BART train, officials say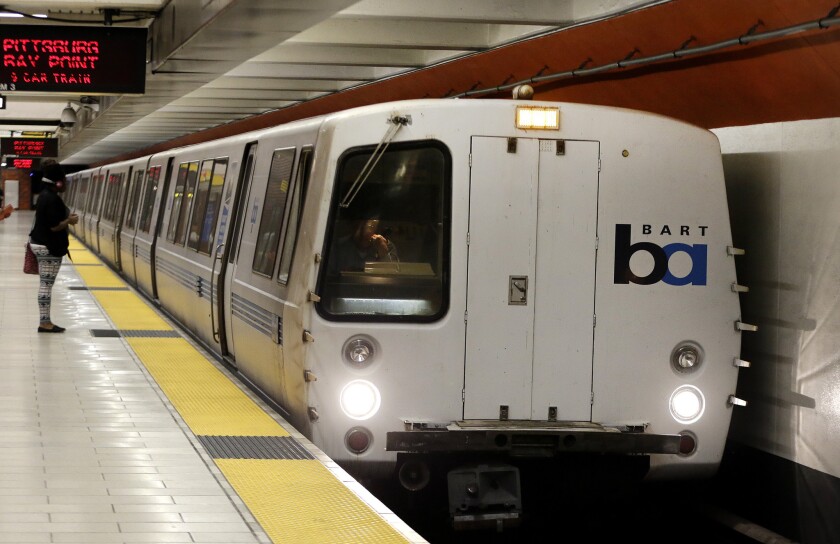 Authorities said it happened in 30 seconds: A throng of up to 60 juveniles mobbed a Bay Area Rapid Transit train Saturday in Oakland and mugged passengers. At least two people were injured and required medical attention.
The youngsters were spotted by witnesses hastily jumping over fare gates before boarding a Dublin-bound train just after 9:20 p.m. at the Coliseum Station on San Leandro Street, according the BART Police Department.
Once the minors entered the train, police said, they swarmed passengers and robbed six people by force. Another passenger was robbed on the railway platform. Authorities said a purse, duffel bag and five cellphones were taken during the robberies. At least two passengers were treated by paramedics for face and head injuries, police said.
"It all happened pretty quickly – it was about 30 seconds," BART spokeswoman Alicia Trost said.
After robbing passengers, police said, the juveniles ran into the surrounding neighborhoods before officers could arrive at the scene. The train remained at the station for 15 minutes as officers investigated the robberies.
On Monday, the Police Department was gathering surveillance video of the train robberies, Trost said. The video footage will be shared with Oakland Police Department, Oakland Unified School District and Oakland Housing Authority to help identify the minors, she said. Photographs of the suspects will not be released because they are minors, Trost said.
"We have had success with sharing images of juveniles with this group and identifying and making arrests in the past," Trost said.
Authorities have arrested groups of teens for similar robberies at train stations in the past, she said. But those groups were not as large as Saturday's, Trost said.
"The 40 to 60 is definitely a lot of people," she said. "We don't usually see that."
It's unclear if the BART crowd was a so-called "flash mob" group and organized through social media.
In 2013, a similar fast-moving group of mostly young people menaced the streets of Hollywood. At the time, police said, the group ran in and out of traffic, knocked pedestrians over and snatched belongings along Hollywood Boulevard. Some stole tchotchkes and food as they moved along the famous thoroughfare.
More than 100 officers descended on Hollywood and searched for hours for the young people, many of whom arrived in Hollywood by subway, police said. Eventually, police arrested 11 juveniles and an 18-year-old man on suspicion of robbery.
To read the article en Spanish, click here
Twitter: VeronicaRochaLA
ALSO
At the corner of Florence and Normandie, marking causes of L.A. riots: 'It's important to remember what started it'
Ann Coulter, free speech and UC Berkeley: How a talk became a political bombshell'
Driver shot and killed by police during high-speed pursuit in Bellflower
---
The stories shaping California
Get up to speed with our Essential California newsletter, sent six days a week.
You may occasionally receive promotional content from the Los Angeles Times.