These dogs and cats survived the deadly Camp fire. Will they ever reunite with their owners?
A volunteer tries to coax a dog rescued in the Camp fire to go for a walk at a temporary animal shelter. Many residents are devastated over the loss of their pets.
(Gina Ferazzi / Los Angeles Times)
A cat rescued from the Camp fire reaches out to a woman who was looking for her lost feline at the temporary animal shelter at the Chico Municipal Airport.
(Gina Ferazzi / Los Angeles Times)
A psoter board displays missing and found animals at the shelter set up at the Chico Municipal Airport. Animal control workers and volunteers care for some pets that remain inside homes that survived the fire.

(Gina Ferazzi / Los Angeles Times)
A dog stands in his cage at a temporary animal shelter set up at the Chico Airport for animals rescued from the Camp fire.
(Gina Ferazzi / Los Angeles Times)
Paradise, Calif., evacuee Nancy Garoppo, left, searches for her lost cat at a temporary animal shelter at the Chico Airport. Garoppo left her mobile home for a day trip to Fresno the day of the fire. Her neighbor was supposed to retrieve her cat, but the fire moved in too fast and the neighbor was unable to locate her cat before evacuating herself.
(Gina Ferazzi / Los Angeles Times)
Paradise, Calif., evacuee Nancy Garoppo leaves the shelter after not being able to find her cat.
(Gina Ferazzi / Los Angeles Times)
A cat curls up on warm fleece blankets at a shelter at the Chico Airport for animals rescued from the Camp fire.
(Gina Ferazzi / Los Angeles Times)
Reporting from Chico, Calif. —
Alison Woodman sees the same faces every time she tours the cat cages.
The gray and white one looks promising — but no, it lacks the nick on the left ear that her Lightning had.
True to his name, Lightning bolted as Woodman was packing her car to flee the Camp fire as it devoured the town of Paradise.
At the Chico Municipal Airport, the lost animals of Paradise, from chickens to cats and dogs, are housed in a temporary shelter.
Owners stop by often, hoping against hope that their furry or feathered friends will turn up. Not many new animals are arriving. As time passes, the chance of a reunion grows slimmer.
More than three weeks since the deadliest fire in California history raged through Butte County, people are still coming to grips with the loss of homes and loved ones. The death toll stands at 88, with 49 still missing.
Many also remain devastated over the loss of their pets. In a town where home lots are large, it's not uncommon for residents to have multiple dogs and cats. But as embers flew and flames spread on Nov. 8, terrified animals ran away or refused to get into the car. In other cases, owners were away from home and could not get back to their homes.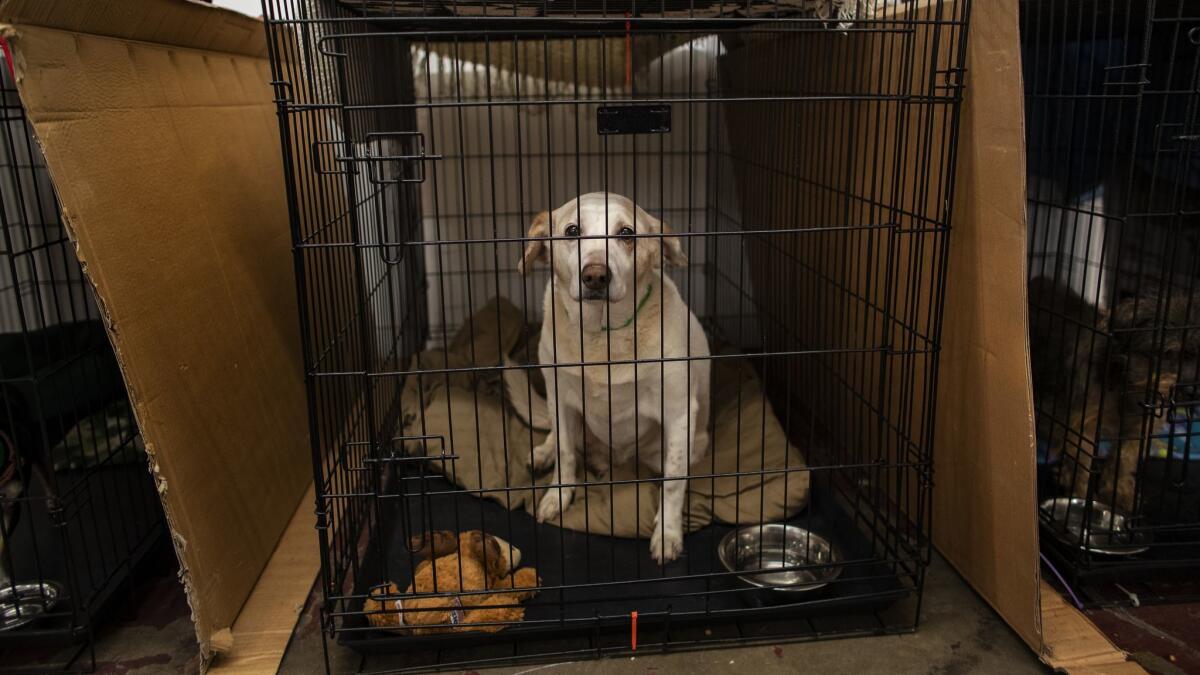 There are about 30 dogs, 80 cats and 60 chickens and ducks at the airport shelter, said Patrick Karcher, an animal control officer from San Luis Obispo County who came to Chico to help.
Butte County officials have launched a web page, CampFireRescuedAnimals.com, with photos of animals that were found in burn areas in the days after the fire. Some animals, including horses, goats and pigs, are staying at other locations.
Yet others remain inside homes that survived the fire, said Lisa Almaguer, a spokeswoman for the Butte County Public Health Department. Animal control workers and volunteers visit them regularly and leave food and water.
Stray cats are a frequent sight in the restricted areas of the fire zone, but they usually scatter when people approach.
Paradise officials announced recently that residents in the southern and eastern parts of the town will probably be allowed back to their properties this week. For others, the wait will be longer.
At the airport shelter, Nancy Garoppo showed a worker a photo of her tabby, Mini.
"She's got green eyes, and she does have distinct markings — that bit of black and white hair," Garoppo said.
Garoppo had already walked through the cat area, as she has many times since the fire. There, the cats paid their visitors absolutely no mind. A frisky gray kitten batted and chased a toy mouse. Two orange-striped kittens and one black kitten slumbered together in their cage.
Mini was not in the isolation ward either, the worker said.
When the fire erupted, Garoppo was driving home from Fresno, where she had dropped off her mother. There was no way she could get up the mountain.
A neighbor broke a window to rescue Mini, but the cat hid. With flames closing in, the neighbor fled.
The mobile home park for senior citizens where Garoppo lived was reduced to ashes. She heard that three people died there. She is hoping that Mini somehow survived.
Three years ago, Mini showed up on Garoppo's doorstep. Her owner, who arrived to claim her, was surprised to see that Mini was calm, instead of attacking people as she usually did.
Mini stayed. Soon, she was ruling the house, waking her owner at 6 a.m. each day and demanding to be fed.
"I didn't care about my house," said Garoppo, 62, a flight attendant, who is staying with her sister in Chico. "All I wanted to do was to get up there and rescue the cat. I felt guilty that I wasn't there for her."
Woodman was preparing to leave her Paradise home when there was a loud explosion. Lightning took off. If she looked for the cat, she would die. She drove off with her two dogs.
Meanwhile, her husband, Kirt Woodman, a teacher at Paradise High School, was with his students. When it became clear that a bus was not coming, he told them to flag down drivers who were stuck in the traffic jam to get off the mountain. He left with four freshman boys packed in his car.
"Another five minutes and we wouldn't have made it," he said.
From a photograph, the Woodmans saw that their home of 21 years was gone. So was the house next door, which belonged to Alison Woodman's 88-year-old mother. Their daughter lost her house, too.
Now, the whole family, including four dogs, is crammed into an Airbnb.
"Oh my God, little pusses, poor things," Alison Woodman exclaimed as she scanned the cat cages. "It's hard when a whole town loses its kitties and dogs."
Would the cats be available for adoption for people like herself who couldn't find their own? she asked a shelter worker. She was told they might go to other shelters.
She is not ready to give up on Lightning, 13, who drools when he is petted and is as big as a little dog.
She regrets that she did not microchip him, as she did her dogs.
"She was a really resourceful outdoor cat. I'm holding out hope," said Woodman, who persists in calling him a "she," though he is male.
For the Woodmans, replacing the things they lost is a way of moving forward.
They are close to purchasing a house in Chico. The Christmas angels Alison Woodman's grandmother gave her are irreplaceable — but she must celebrate the holiday without them.
"When I think of something I've lost, I go, 'OK, I'll get new Christmas ornaments, new stockings,'" Alison Woodman said.
Maybe, someday, that will include a new cat.
For more news on the Los Angeles Police Department, follow me on Twitter: @cindychangLA
Sign up for Essential California for news, features and recommendations from the L.A. Times and beyond in your inbox six days a week.
You may occasionally receive promotional content from the Los Angeles Times.