In a Walmart parking lot, a tent city of Camp fire refugees takes shelter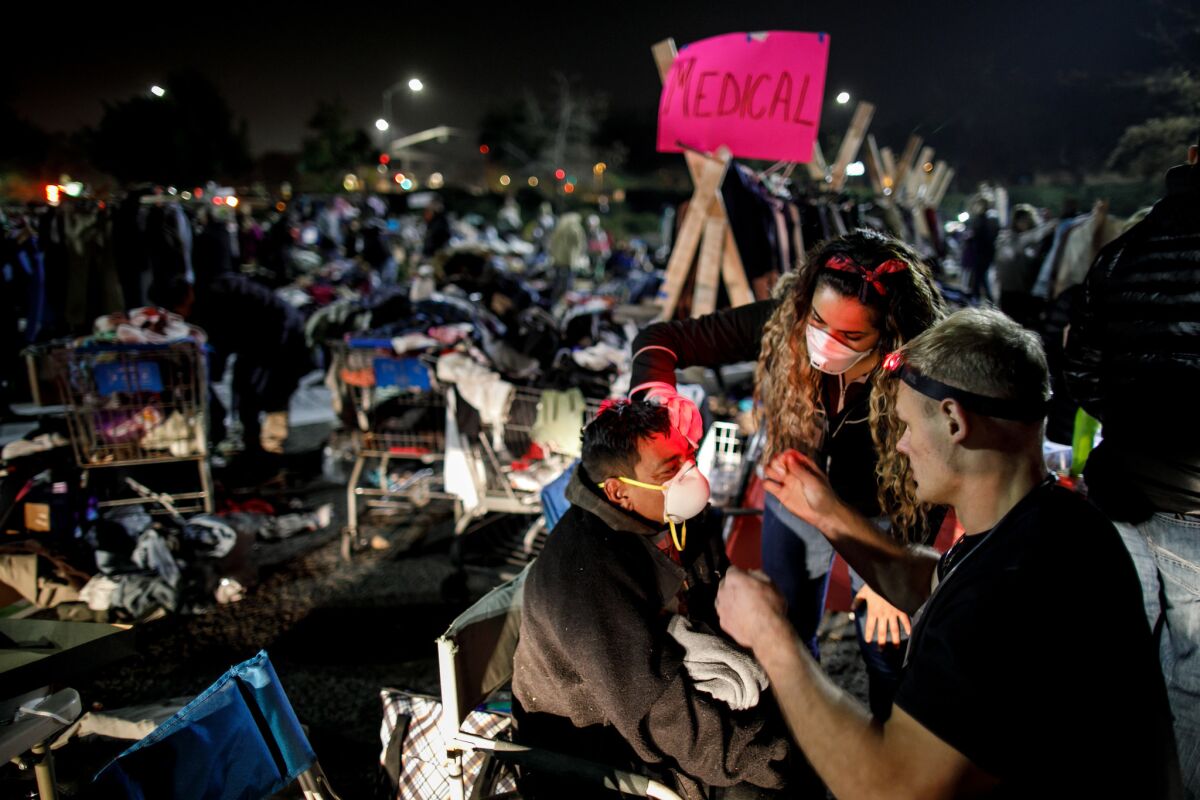 DeAnn "Dee" Miller had just found a home before the Camp fire broke out.
Miller, 57, was living in a 16-foot travel trailer parked at the Paradise Pines RV Park after being homeless for a year and a half.
Now she fears she's homeless again with nothing but the clothes she was wearing when she evacuated last week. On Wednesday, she was one of more than 100 people who sought refuge in the parking lot of a Chico Walmart. Dozens of tents had been set up in a vacant lot next to the store, and part of the parking lot had been filled with donations, from food to toys.
Two women passed out homemade muffins. A woman gave out warm washcloths. People came to the camp to help those they thought might be in need.
The east end of the lot had turned into a full-blown outdoor resource center by Wednesday. People from churches and residents in the area brought food — from enchiladas to pastries. A man made patties out of a large tray of ground beef to cook hamburgers. Another served minestrone he had made at home. There was an area for pets, with food piled high and dog beds.
LIVE UPDATES: California fires »
Rob Busick, who owns a local food truck, first came to the parking lot after he heard people were evacuating here. He thought that evacuees in the lot could use some food. Then the donations started coming. "People kept coming at a rapid pace," he said. "And now it's a makeshift store."
Busick said he's been in the parking lot for six days for nearly 15 hours a day helping to coordinate the effort. He knows it's not permanent but said he's hoping to help the people in tents transition to their next place. He wanted people to know that the Walmart camp wasn't the "black sheep of the shelters."
While Laura Whitaker's daughter took her 8-year-old son for a donated haircut, Whitaker hung out with her dog, Sadie, outside her tent.
Whitaker couldn't go to a shelter with the large dog, a rescued Rottweiler, so here she was, camping instead.
"I love her to death," Whitaker said of her dog. "I'm not going to put her in a kennel."
Whitaker has been through this before. When she was 5, her home was struck by lightning, she said. She's used to living in fire-prone areas, but this time she didn't know if she'd make it. As she evacuated from Paradise, she drove down the highway, flames on each side of her, trees creating balls of fire around her.
"I kept thinking I was going to pass out," she said. "I thought that was it."
When she got to the camp last Friday, she said it "felt like family" because everyone had been through the same thing. But it's changed with more evacuees moving in. Some people were selling drugs out of a car, and others complained that items had gone missing from their tents.
Whitaker said she hoped the police would keep the settlement safe, at least until she could go back home and rebuild.
"I love Paradise. If it were safe to be there, I'd be there, on the property, pitch a tent right now."

— Laura Whitaker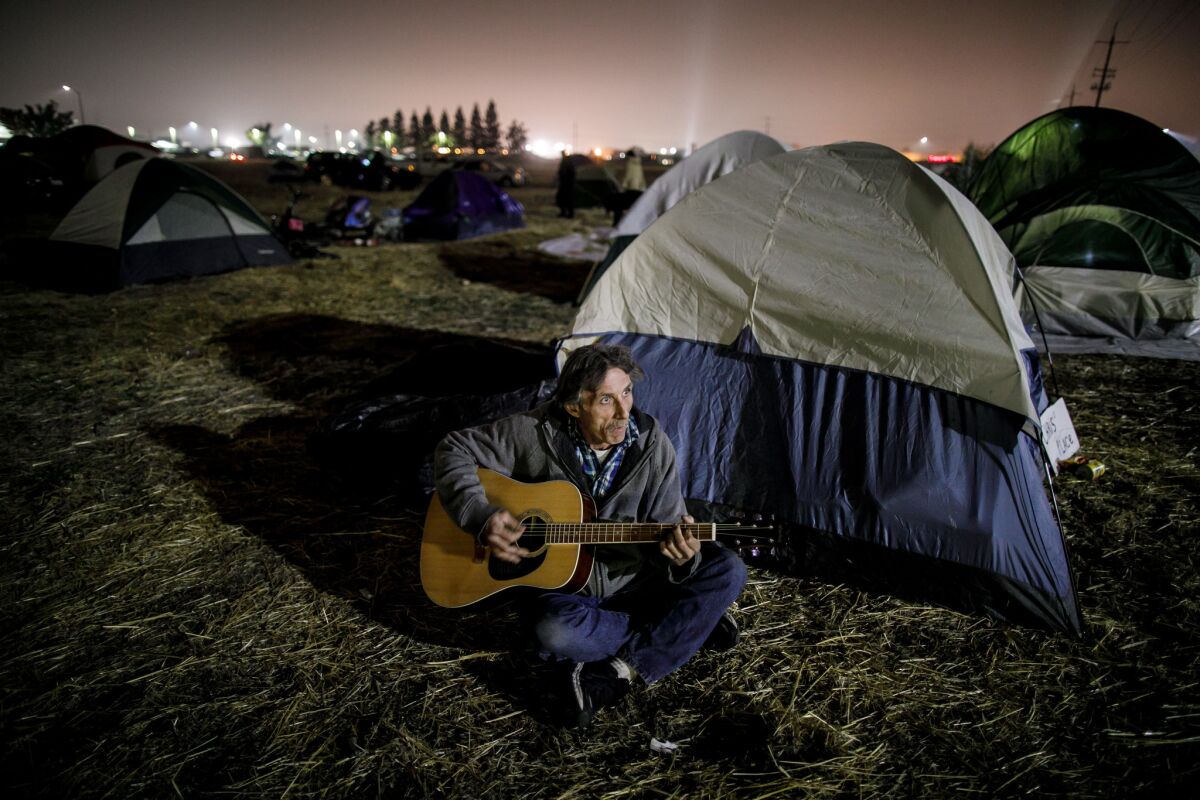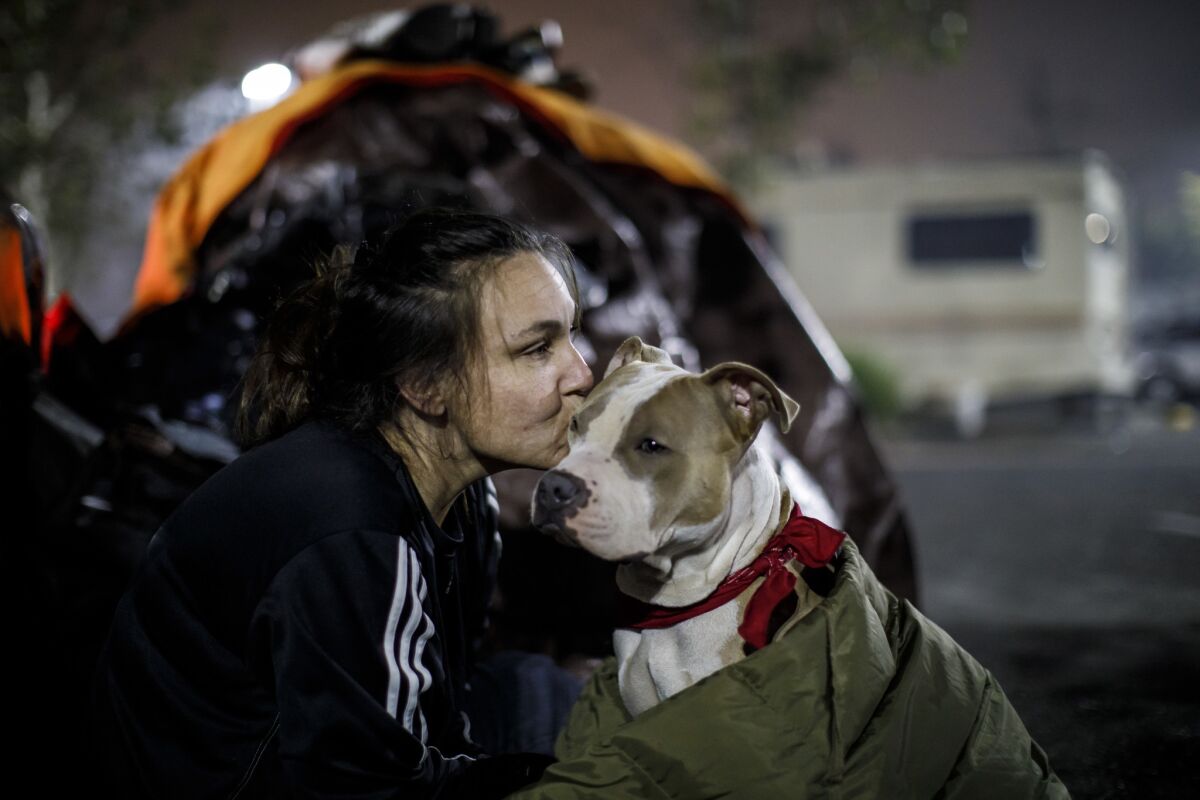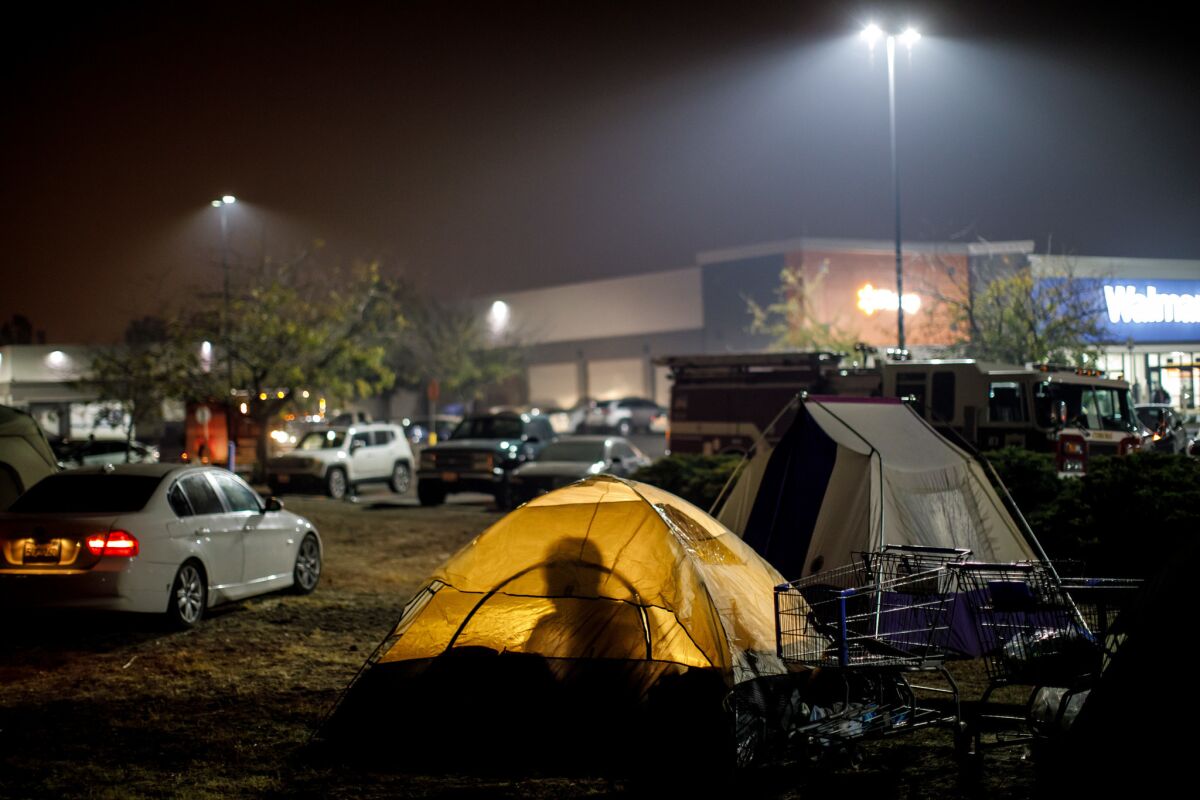 "I love Paradise," she said. "If it were safe to be there, I'd be there, on the property, pitch a tent right now."
As Whitaker spoke, Sean Wright walked up with a plastic bag full of items from Walmart. He had bought about $30 worth of toiletries — and some toys — for the people staying at the tent city.
"I'm hoping I can put a smile on your kids' face," Wright said. His daughter, who is 8½ months pregnant, lost her home in the fire. Wright said she had just gotten a crib for the new baby.
Matthew Flanagan, 55, ran an antiques booth in Paradise. He set up camp in the Walmart lot with about five tents in a half-moon shape. In the center were chairs and a 45-gallon plastic bin that was being used as a table. A puppy named Nell wearing a pink sweater lay nearby.
A woman walked up to Flanagan and gave him a $25 gift card to Walmart. "I might give it to someone else who needs it," he said.
Flanagan met Daryl Merritt at the camp and realized they had lived a block away from each other in Paradise. On Tuesday night, the men tried to think of names for the tent city.
"This is Wal-y-hood right here," Merritt said.
Denise Chester, 44, was nearby, placing donated toys on a yellow blanket while children ran around, playing in the area.
Chester, of Magalia, left her home with her two children, ages 13 and 11, and her husband. She reminded her kids to keep checking in with her as they roamed the camp while she organized a pile of crayons, markers, coloring books, playing cards, blankets and stuffed animals.
"I don't know my situation yet," she said. "I don't want to know."
Maggie Missere, 61, and her partner, Michael Crowder, 64, spent five days sleeping in their truck at the Burger King parking lot with their dog, Coco.
Missere, who has heart problems, had difficulty sleeping in the truck, so Monday night the couple headed to Walmart to buy a tent but met a pastor who set them up with donated supplies.
By Wednesday afternoon, Missere and Crowder sat outside their red tent clutching warm mugs of coffee while their dog slept on a new bed beside them. A man walked up and gave Crowder $60 in cash, sending him into tears; the couple had spent most of the little money they had on fast food.
Luckily, a friend got word to them that the couple's home in Magalia is OK. Now, they just have to wait until they can go back home.
"I feel relieved that we have a home," Crowder said.
---
The stories shaping California
Get up to speed with our Essential California newsletter, sent six days a week.
You may occasionally receive promotional content from the Los Angeles Times.