PG&E says private power line might have sparked deadly wine country fire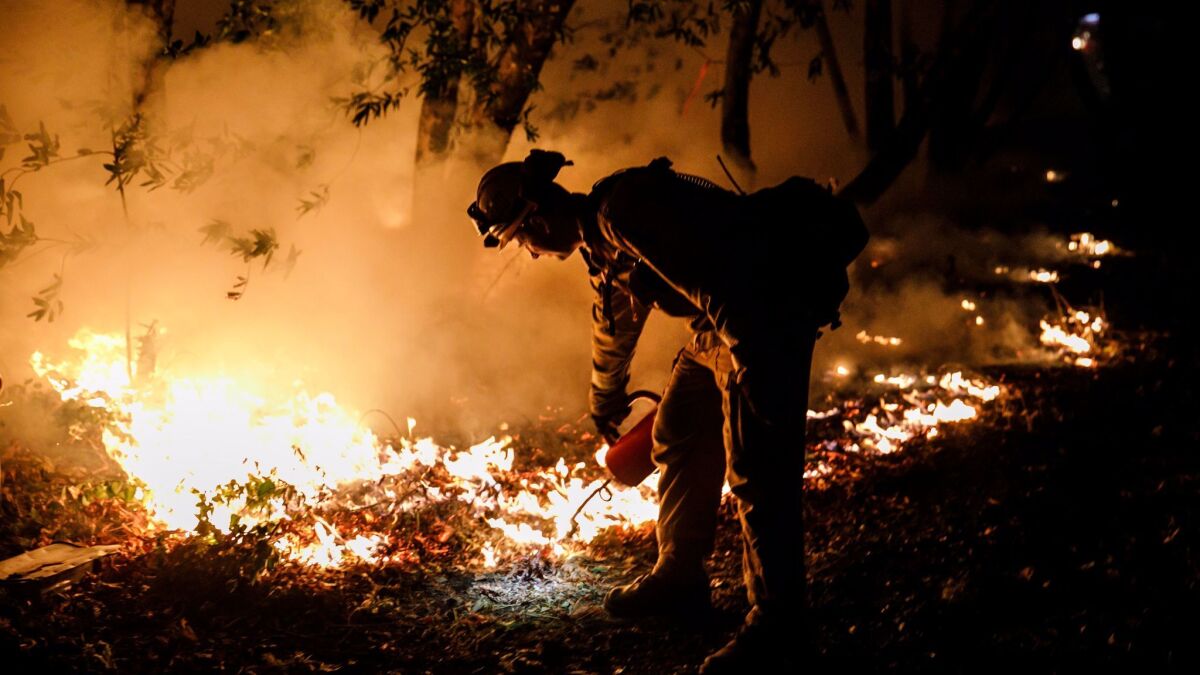 The deadliest of last month's wildfires in California's wine country may have been started by electrical equipment not owned or installed by Pacific Gas and Electric Co., the utility said in a court filing.
PG&E said in a legal filing Thursday that a preliminary investigation suggests that a private power line may have started the blaze that killed 21 people and destroyed more than 4,400 homes in Sonoma County. Another 22 people were killed and at least 4,500 more structures were destroyed in Northern California wildfires that began Oct. 8.
Although the cause of the fire that decimated a Santa Rosa neighborhood has not been determined, "preliminary investigations suggest that this fire might have been caused by electrical equipment that was owned, installed and maintained by a third party," PG&E attorneys wrote in the filing with the Judicial Council of California, the policymaking body of California courts.
PG&E did not name the third party, but referenced a location in neighboring Napa County that investigators from the California Department of Forestry and Fire Protection have zeroed in on as they try to determine the cause of the blaze.
Lynn Tolmachoff, a Cal Fire spokeswoman, said she couldn't comment on the filing due to the ongoing investigation, "but we'll take anything that PG&E submits to us as part of that investigation."
The filing comes in response to 15 wildfire-related lawsuits against PG&E. It gives no supporting evidence other than referring to an electric incident report that the utility submitted to state regulators on Nov. 2 in which it documented 10 cases in Sonoma and Napa counties of toppled trees, downed lines and other damaged equipment. The report does not say whether those incidents may have caused or contributed to the fires.
In that report, the utility noted Cal Fire investigators took possession of equipment at a fire-damaged home near Calistoga, including a "secondary service line that had detached from the fire-damaged home."
"Cal Fire also took possession of multiple sections of customer-owned overhead conductor that served multiple pieces of customer-owned equipment on the property," PG&E said.
Earlier this year, the California Public Utilities Commission fined PG&E $8.3 million for failing to maintain a power line that sparked a massive blaze in 2015 in Amador County that destroyed 549 homes and killed two people. A state fire investigation found the utility and its contractors failed to maintain a gray pine tree that slumped into a power line, igniting the fire.
ALSO
Burned up and priced out: Santa Rosa fire evacuees fear they can't afford to return
Warning sirens stayed silent the night deadly wildfires swept into Mendocino County
Highway 1 was buried under a massive landslide. Months later, engineers battle Mother Nature to fix it
---
Life is stressful. Our weekly mental wellness newsletter can help.
You may occasionally receive promotional content from the Los Angeles Times.