L.A., Long Beach ports adopt plan to slash air pollution and go zero-emissions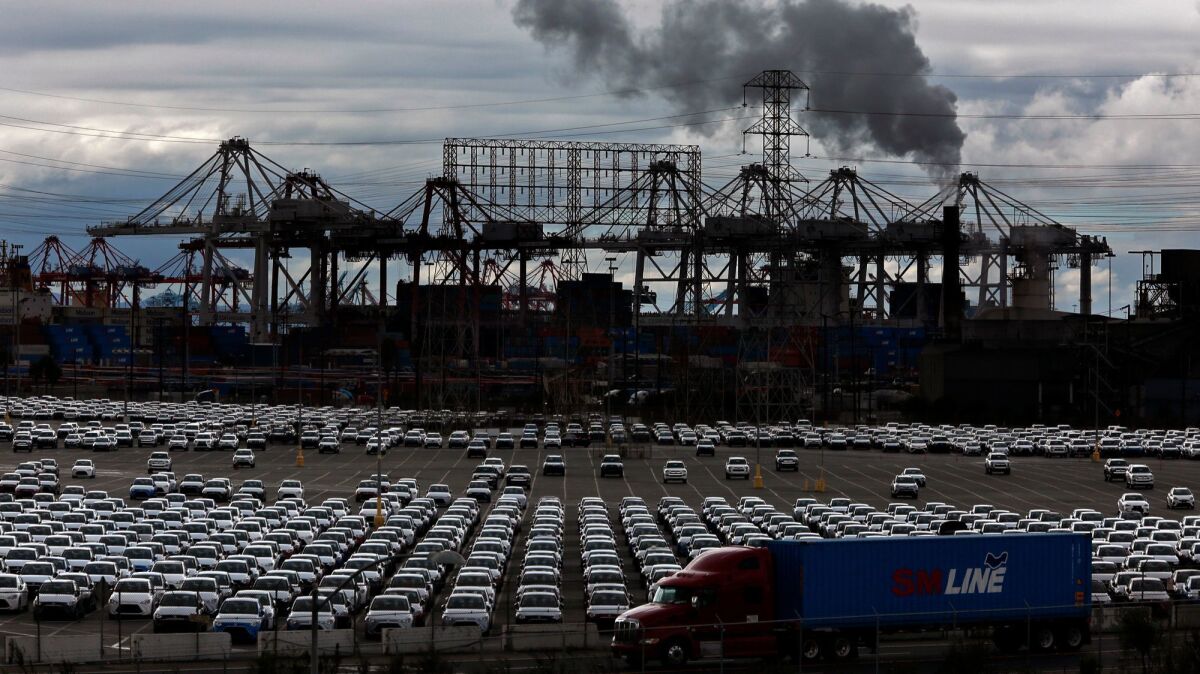 The nation's largest port complex approved a plan Thursday to slash air pollution by encouraging the phase-out of diesel trucks in favor of natural gas and, ultimately, zero-emissions trucks and cargo-handling equipment over the next two decades.
The Clean Air Action Plan, unanimously adopted at a joint meeting of Los Angeles and Long Beach harbor commissioners, provides a framework for transforming the massive hub for freight-moving trucks, trains and ships to cleaner technologies through 2035. But it leaves many details undetermined, including who will pay for up to $14 billion in cleaner trucks and equipment and which industries will benefit.
The plan is the most significant and expensive environmental initiative yet by the ports, which have sought to distinguish themselves from competitors over the last decade by pioneering air quality improvements, some of which have been replicated by other seaports and enshrined by California regulators.
Despite dramatic reductions in diesel emissions under the port's 2006 clean-air plan, the Los Angeles-Long Beach port complex remains the largest single source of air pollution in Southern California, with progress tapering off in recent years.
State and local air quality regulators say attacking the ports' overwhelmingly diesel-fueled operations is crucial to cleaning the nation's worst smog to meet federal health standards, reducing greenhouse gas emissions and easing asthma, lung cancer and other pollution-triggered health problems from harbor-area communities to the Inland Empire.
Port officials said the plan seeks to accelerate pollution reductions while remaining sensitive to the economic effects of transforming the complex, which handles about 40% of U.S. imports and support hundreds of thousands of jobs across Southern California. Though the volume of shipments moving through the L.A.-Long Beach ports has tripled since the mid-1990s, they face increasing competition from East and Gulf Coast ports, which have less stringent environmental mandates.
By adopting the plan, the ports are expecting businesses and taxpayers to foot the bill. They are also sending a signal to manufacturers that there will be demand for cleaner trucks and freight-moving equipment, and, eventually, models with no tailpipe emissions.
Another question is how quickly the ports' strategies will cut emissions and whether they will satisfy the demands of state and local regulators, who are increasingly targeting port pollution to reduce health risks and smog in time to meet federal deadlines.
While the plan outlines goals to slash greenhouse gas emissions 80% by 2050, it lacks new targets for reducing smog-forming emissions.
Key to the plan is a new Clean Trucks Program that uses fees on trucks entering port terminals and other mandates to phase out the oldest, dirtiest diesel trucks, transition to cleaner natural gas models, and ultimately switch to electric and other zero-emissions technologies.
Projections show most of the 17,000 trucks serving the ports becoming near-zero, or natural gas-fueled, by 2024. Zero-emissions trucks would become the majority by 2036.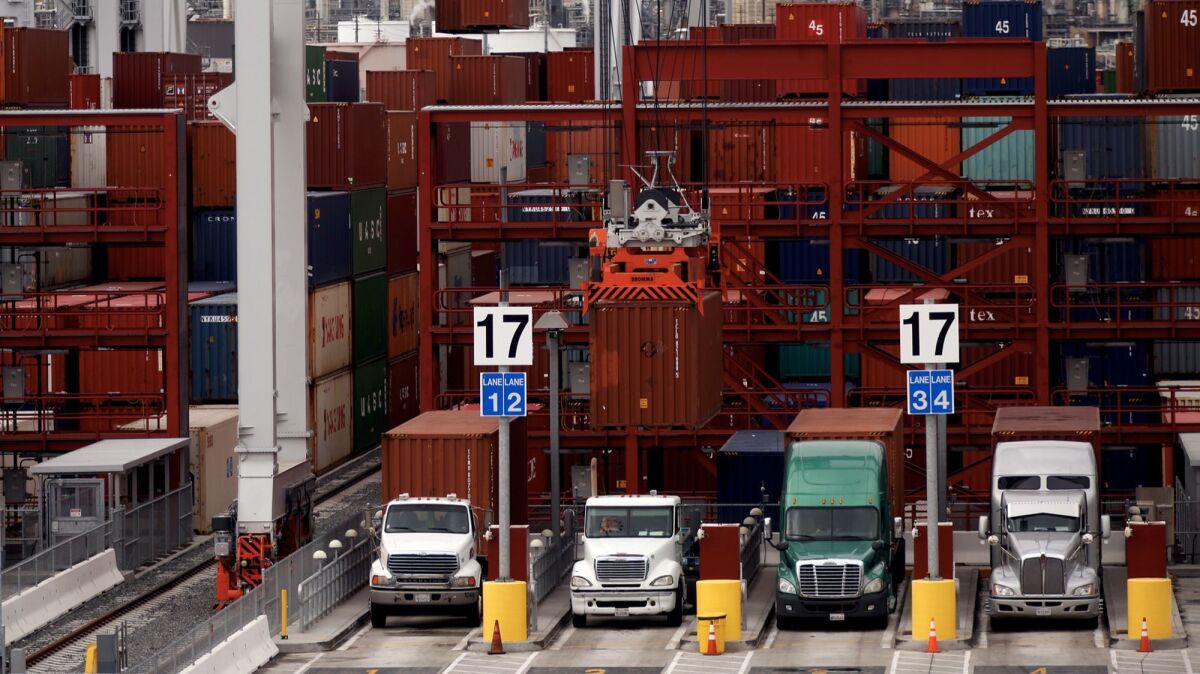 Among other provisions, the plan requires that terminal operators begin deploying zero-emission cargo-handling equipment in 2020 with a goal of making a full transition by 2030. It also calls for expanding the use of emissions-capturing devices to reduce pollution from docked cargo ships.
Before casting votes, commissioners heard from environmentalists, community groups and elected officials, some holding their asthma inhalers, who expressed disappointment. They said the plan does not go far enough to mandate the cleanest technologies and to ease the pollution-triggered illnesses suffered by residents in the shadow of the ports.
Urging accelerated deployment of near-zero-emissions trucks was the natural gas industry, which in the short term is expected to reap the benefits of the rollout of such technologies.
Commissioners also heard from Tesla Motors Inc. and other manufacturers that said heavy-duty electric trucks would be commercially viable sooner than expected.
Some environmental groups criticized the plan as a windfall to the natural gas industry and said it lacks clear milestones to force the adoption of zero-emissions trucks.
"It's not a path to zero-emission trucks. It's a natural gas plan," said Morgan Wyenn, an attorney for the Natural Resources Defense Council. "And it's a very expensive distraction from where we need to go."
Port officials defended the plan as a balance between near- and long-term goals, and between economic and health concerns. They called it a "technology neutral" plan that doesn't mandate any fuel in particular, but leaves it to industry to decide how to comply.
Business groups, cargo-moving industries and truckers have criticized the estimated price tag of up to $14 billion, which they say could cause more shippers to divert cargo to other ports.
John McLaurin, president of the Pacific Merchant Shipping Assn., told commissioners he fears the cost "and its potential negative impacts on port competitiveness and the one in nine jobs in the Southern California region that are reliant on the ports."
The projected price dwarfs the nearly $2 billion in public and private funds spent implementing the 2006 clean-air plan. That has stoked worries among truckers that they will shoulder the cost of expensive, and perhaps less reliable, natural gas-fueled rigs, then battery electric and hydrogen fuel cell models.
The plan includes assurances that "it should not fall solely on the drivers to fund the transition to a new truck fleet to serve the ports." But labor and community groups said it lacks sufficient safeguards for drivers.
Mayor Eric Garcetti suggested that expected advances in technology will create a market for electric vehicles that will eventually reach a "tipping point," even without firm benchmarks by the ports.
"We will get to zero emissions, make no mistake," Garcetti said.
Garcetti urged regulators to secure the funds needed to make that transition and expressed confidence in officials "to hold our feet to the fire and to implement this the right way."
Twitter: @tonybarboza
ALSO
Trump's pick as EPA air pollution chief won't pledge to maintain California's authority
Gubernatorial candidate John Cox calls for repeal of California's Environmental Quality Act
Remarkable dinosaur discoveries under threat with Trump plan to shrink national monument in Utah, scientists say
More zero-emission vehicles will mean better air quality, Gov. Jerry Brown promises while signing new laws
---
UPDATES:
3:45 p.m.: This article was updated with additional details about the plan, including goals for zero-emission cargo-handling equipment.
This article was originally published at 2:20 p.m.
The stories shaping California
Get up to speed with our Essential California newsletter, sent six days a week.
You may occasionally receive promotional content from the Los Angeles Times.