How Riverside County became California's death penalty leader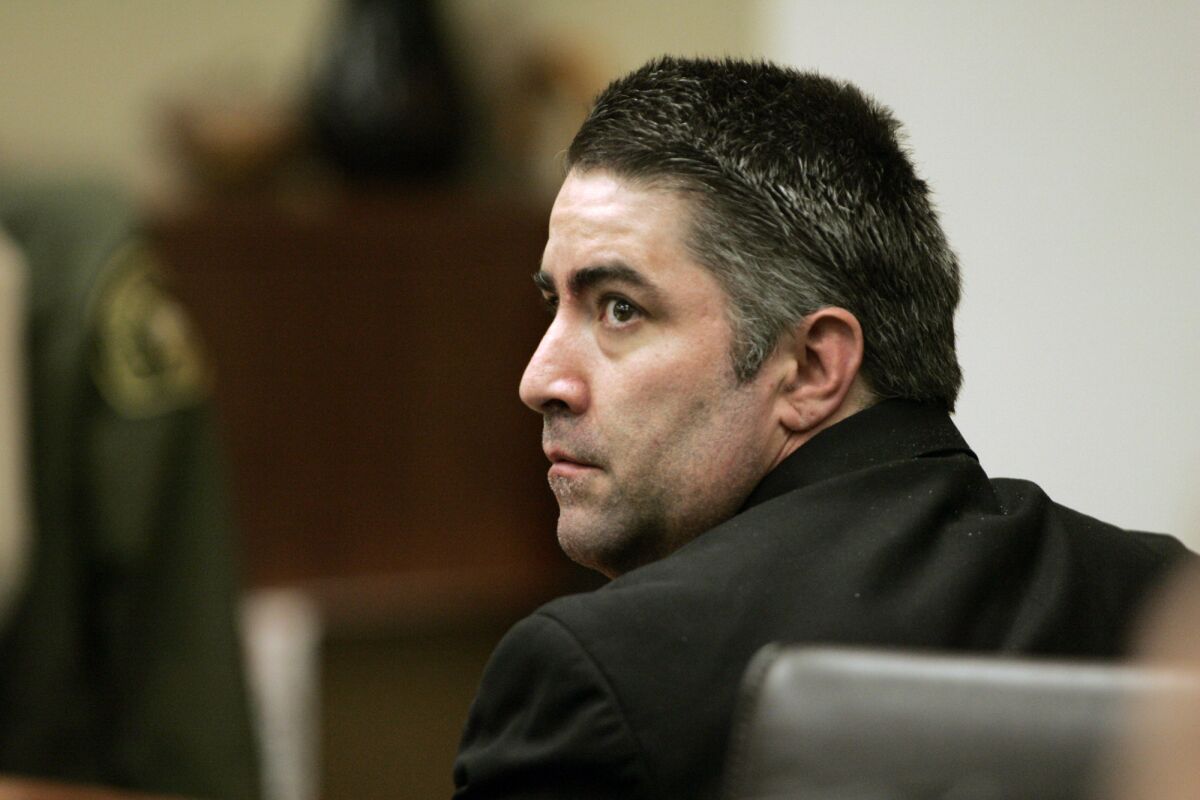 California voters next week will consider the fate of the death penalty, and in few places are the stakes as high as Riverside County.
Ten years into a state moratorium on executions, many prosecutors have stopped seeking capital punishment altogether. Riverside, however, is condemning killers at the highest rate in the country. The county has sent 22 people to death row in the past five years, the same number as Los Angeles County — where more than six times as many murders were committed.
Whether a crime merits execution, according to both legal experts and public officials, is a matter of geography as much as anything.
"That's how it should be," Riverside County Dist. Atty. Mike Hestrin said, contending that how the death penalty is used in each county should reflect the local sentiment.
There are two measures on the ballot Tuesday: one calling to repeal the death penalty and the other seeking to narrow the time frame from sentencing to execution.
Since capital punishment was put on hold a decade ago over questions surrounding lethal drug protocols, prosecutors in 33 California counties have not condemned a single person. Half a dozen counties recently have taken inmates off death row, abandoning legal appeals to keep them there.
But in Riverside, death sentences increased after the freeze.
"I know we are seen as the death penalty center," said Hestrin, a Republican. But capital cases are reserved for what he said he views as the most horrible crimes — and are essential to defining community values.
"It creates a common feeling that we seek and deliver justice. ... It expresses outrage at heinous acts."
He cited the death sentence given last year to Tyrone Harts, who shot his girlfriend and then set her on fire, leaving four of her children to try to douse the flames with small cups of water.
In deciding to seek capital punishment, Hestrin said, he measures "evil" — whether the killing involved "a predator, stalking, planning."
The prosecutor attributed Riverside County's meting out of the death penalty to a crime rate he said is relatively high. California Department of Justice reports, however, show Riverside ranked in the bottom fourth for violent crime in 2015.
Moreover, Hestrin said, a majority of the voters he serves supports capital punishment. In 2012, almost two-thirds of them voted against a ballot initiative to repeal death sentences.
"We are a county that wants law and order," he said. "I don't shy away from that. … I feel we seek and deliver justice."
These are literally the worst of the worst of the worst.
— Susan Schroeder, chief of staff for the O.C. district attorney's office
California's execution freeze also plays a part. Hestrin said Riverside voters would be less supportive if those death sentences were not "symbolic."
According to death row rosters across the nation, 25 people have been sentenced this year — a dramatic fall from the 49 death penalties handed down in 2015, which was a 41-year low.
At its peak in 1996, the nation condemned 315 individuals.
Death penalty opponents say the sentencing decline reflects shrinking public support for capital punishment.
"They carry those doubts with them into jury deliberation rooms," said Robert Dunham, executive director of the Death Penalty Information Center.
Supporters instead see more selective prosecution, with fewer questionable outcomes.
"That is how it should be," said Kent Scheidegger, director of the Sacramento-based Criminal Justice Legal Foundation, which has gone to court to force California to resume executions.
The discretion county prosecutors have in deciding to seek a death sentence is wide, so often it depends on who is making the call.
Hestrin said there were 22 pending death penalty cases in Riverside County when he took office.
He removed seven from the list, including a homicide that involved a love triangle, deciding execution would be an inappropriate outcome. Cases he has added for trial include a man who killed his father, uncle and a bystander after being discharged from a psychiatric facility and another accused of killing two Palm Springs police officers.
Other defendants who could face the death penalty in Riverside County if convicted include a woman accused of shooting her husband to take his money, a man charged with kidnapping and killing a teenager on her walk home from school and a gang member accused of firing into a house, killing a 6-year-old.
Four pending cases in Orange County, by contrast, involve three accused serial killers and a man charged in the mass murder of eight people.
"These are literally the worst of the worst of the worst," said Susan Schroeder, chief of staff for the Orange County district attorney's office. The death penalty, she said, should be reserved for crimes in which "the only just punishment available to us in a civilized society is death."
The disparities have led some defense lawyers to argue that it is as wrong to condemn a person by geography as it would be by race.
Appellate lawyer Mike Clough — whose clients include the serial arsonist who started the Esperanza wildfire that killed five firefighters — said the rate at which the death penalty is handed out in Riverside does not follow crime trends, demographics or even voter leanings.
"There isn't any answer but politics," Clough said, adding that Riverside's judicial system is tilted to favor a death verdict.
Three-fourths of the county judges who have upheld death sentences since 2011 previously worked as prosecutors. And seven judges presiding over trials in which 39 defendants were condemned had been death penalty prosecutors.
"It becomes a self-replicating system at that point," Clough said.
Prosecutorial discretion also has left some crime victims struggling to comprehend when the death option is taken off the table.
Sometimes, the reason is purely financial.
In an appeal that took 13 years for a hearing, the state Supreme Court in 2015 ordered a new sentencing trial for a man condemned in the torture slaying of a 20-year-old woman in Shasta County.
Her brother, Jason Sinner, said county officials told him a new sentencing trial would cost $2 million — and introduced him to the woman prosecuting child abuse cases who could use the money instead.
"My sister was just as good as anybody," Sinner said.
"All I wanted them to do is stand up a little bit and say the death penalty is messed up. Get rid of it, or embrace it and get it working."
For updates and more, follow @paigestjohn.
ALSO
What happens if both death penalty measures are approved by voters on Nov. 8?
Will ending the death penalty save California more money than speeding up executions?
'I am 25 and still afraid of the dark': Victims' families wrestle with grief as they weigh the death penalty on the ballot
The stories shaping California
Get up to speed with our Essential California newsletter, sent six days a week.
You may occasionally receive promotional content from the Los Angeles Times.