Southwest L.A. loves 'Obama Boulevard' proposal but wonders: 'Why not a major street?'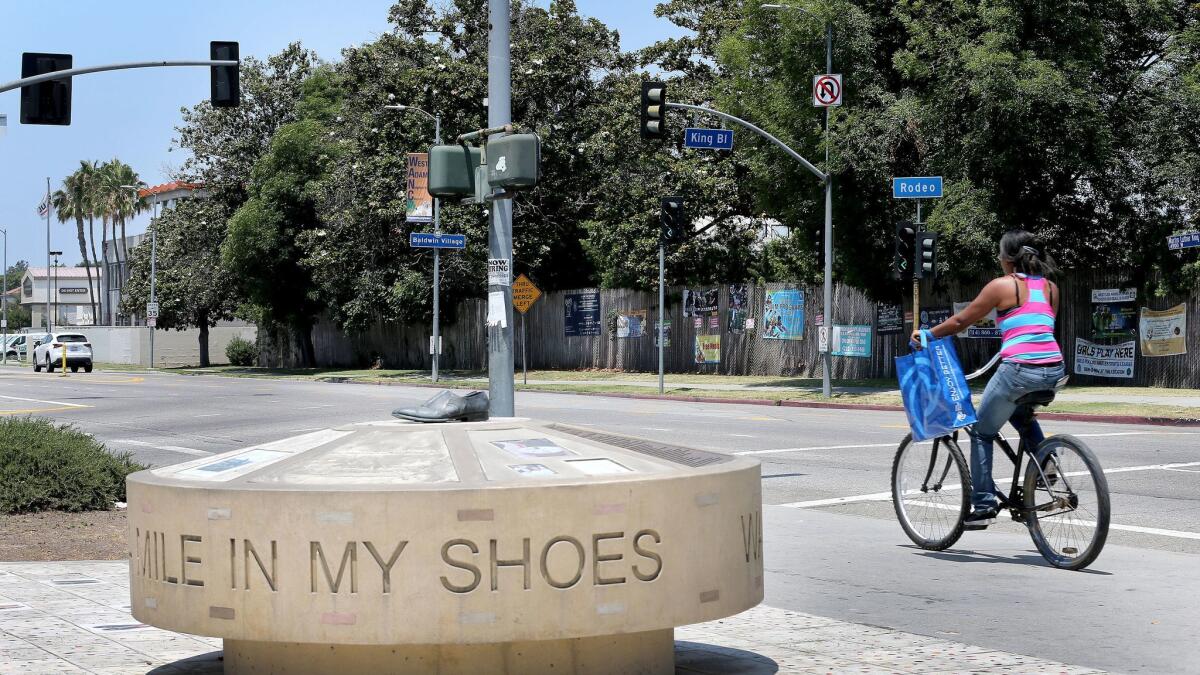 Even though it runs through the heart of L.A'.s Baldwin Hills/Crenshaw neighborhood, most Angelenos would be hard-pressed to locate Rodeo Road on a map.
In fact, they'd probably point to its ritzy doppelganger — Beverly Hills' Rodeo Drive — instead.
That may change very soon, however.
On Wednesday, the Los Angeles City Council voted unanimously to direct the city engineer to begin the process of renaming the 3½-mile strip "Obama Boulevard."
Council President Herb Wesson, who proposed the change last week, is also urging Angelenos to sign an online petition in support of the new name.
"All of the homeowners will be contacted. We will find out what their thoughts are," Wesson said of the process. "We have had preliminary conversations with the two neighborhood councils in the area; they seem to be supportive and I should also say we informed the president's people and his office responded back within 8 hours to give us a contact person to work with."
Many Crenshaw district residents say they like the idea of renaming the asphalt thoroughfare in honor of former President Obama, who visited when he was a U.S. senator.
"I'm so happy, that would be wonderful," Robbi Work said recently.
A retired former prosecutor, the 60-year-old was even wearing a shirt emblazoned with the former president's face when she learned of the proposal to rename the road Obama Boulevard.
"They were wonderful, he and Michelle," Work said.
The street, a residential strip in a predominantly African American community, is flanked on both sides by one- and two-story houses and gated communities. The road is also home to Dorsey High School, Baldwin Hills Elementary School and Rancho Cienega Sports Center and Park — where Obama held a campaign rally when he was running for president.
"At one point, Martin Luther King Jr. Boulevard used to be called Santa Barbara Avenue," said Admee Aguierre, 33, a locker room attendant at the sports center who was present for the rally. "So that will be kind of cool, because Martin Luther King ends right here where the park is and then to have Rodeo called Obama, it's like we have these streets being named after our own."
There are also several other streets named after presidents in the area, including Washington, Jefferson and Adams.
The street would not be the first in the state to be named after the nation's first black president, however. In May, a plan to rename a stretch of the 134 Freeway after Obama moved forward with approval from the state Senate. The freeway is near Occidental College, which Obama attended from 1979 to 1981. Seaside, in Monterey County, named a street after Obama several years ago.
Changing the name of a major street is not without controversy. In 2003, there was a proposal to rename Crenshaw Boulevard after Tom Bradley, L.A.'s first black mayor.
Bradley, the grandson of a slave, forged political coalitions and presided over the construction of the downtown skyline, the start of the subway system and the rise of Los Angeles as a center for international trade. He died in 1998.
Still, some residents were uneasy about changing the name of a street that was so associated with black life in L.A. The proposal eventually died.
There was less controversy, but still some opposition, when city and county officials renamed Brooklyn Avenue in East Los Angeles and Boyle Heights after famed labor leader Cesar E. Chavez.
When it comes to Obama, many in the community are receptive.
"Obama! I like that," said 8-year-old Kory Gable. "Then there will be only one Rodeo which is Rodeo [Drive]."
"I think that's a great idea," agreed 10-year-old Golden Wilson. "Because it teaches you the presidents and it can teach you the streets and it'll be easier ..."
"What about Donald Trump Road?" Kory asked.
"No one wants a Donald Trump Road," Golden responded. "Jeez."
Though residents were receptive to having a street named after Obama, some asked why they didn't choose a more significant thoroughfare.
"Change La Brea, change Sepulveda," said Taylor Strong, 21, a parks and recreation assistant at Rancho Cienega. "Sepulveda is the longest street in California. Change a major, major street. I think he deserves more than Rodeo."
"Obama is something we've never had, and in my lifetime we thought we would never see it," said Walter, a retired gardener who declined to give his last name. "He deserves more than a little bitty street."
"Changing the name here won't change anything because it's already a black neighborhood," agreed Shawn Rahman, a cashier at I Smoke 4 Less smoke shop. "Why not take it to Beverly Hills? Why not change Rodeo Drive to Obama Drive? Because it's a white neighborhood? You're changing the street, you're spending the money, might as well change it there."
At Wednesday's council meeting, Wesson addressed those concerns:
"People wanted a longer street, but what I have said to the people, it's not about the length of the street, it's about the significance of the street, it is about what happened on that street," he said.
follow me on twitter @sonaiyak
ALSO
New Wilshire Grand hailed as a 'gorgeous nest' for Los Angeles
Father of South Pasadena boy missing for two months is arrested on suspicion of murder
Weapons cache seized at home of LAPD officer accused of having sex with teenage cadet, sources say
---
UPDATES:
June 28, 4:30 p.m.: This article was updated with details on the City Council vote and comments from Councilman Herb Wesson.
12:40 p.m.: This article was updated with information about past efforts to rename streets after high profile figures.
This article was originally posted at 3 a.m. on June 25.
Sign up for Essential California for news, features and recommendations from the L.A. Times and beyond in your inbox six days a week.
You may occasionally receive promotional content from the Los Angeles Times.