UC Santa Cruz student indicted, accused of developing 'Banana Plug' app to sell cocaine and meth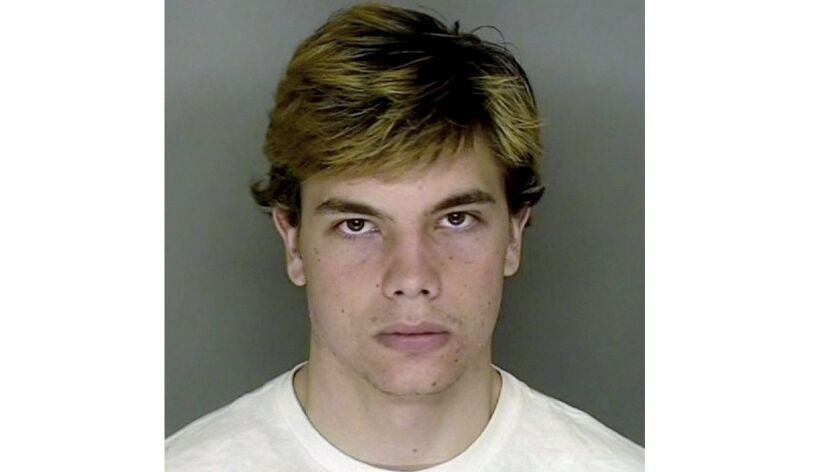 In a drug-peddling scheme that prosecutors say was so brazen that he advertised with posters around campus, an 18-year-old UC Santa Cruz student designed an app dubbed "Banana Plug" and used it to sell cocaine and methamphetamine.
Collin Riley Howard, of Sunnyvale, was indicted by a federal grand jury in San Jose and charged with possessing and distributing cocaine and methamphetamine.
Howard developed an app called "Banana Plug" — an apparent reference to UC Santa Cruz's banana slug mascot — which was advertised on Apple's App Store and sold cocaine, "molly" and "shrooms," the U.S. attorney's office for the Northern District of California said in a statement Tuesday.
Howard also hung posters around campus promoting "Banana Plug," prosecutors said.
Using "Banana Plug" and Snapchat, university police and an undercover Homeland Security agent contacted Howard and arranged to buy marijuana and cocaine — the first of four transactions, prosecutors said. Howard later sold the undercover agent methamphetamine, according to the indictment.
He was arrested by UC Santa Cruz police during the fourth transaction in late November, prosecutors said. "Banana Plug" was still listed on the Apple App Store as of Tuesday.
It was not immediately clear if Howard had a lawyer. He was arrested on the federal charges on Feb. 15, and was released Tuesday after appearing before U.S. Magistrate Judge Nathanael Cousins, according to the U.S. attorney's office.
---
The stories shaping California
Get up to speed with our Essential California newsletter, sent six days a week.
You may occasionally receive promotional content from the Los Angeles Times.