Gov. Brown signs bill that allows state to take over troubled Compton water district
Gov. Jerry Brown signed a bill into law Friday that would allow the state to take over a Compton water district that for years delivered brown, smelly water to its customers.
The governor's action marks the first time that the State Water Resources Control Board would take over a water district. Local officials and community activists have long vowed to get rid of the Sativa Los Angeles County Water District's five-member elected board of directors.
Assemblyman Mike Gipson (D-Carson), who introduced the legislation, said he can breathe a "sigh of relief" knowing that the customers of Sativa are on their way to receiving quality drinking water.
Assembly Bill 1577 will effectively dissolve the board and oust the general manager at Sativa, which provides water to about 1,600 homes in Compton and Willowbrook. The state water board will then start the process of appointing an administrator to manage Sativa's daily operations. That process could take two to three months, officials said.
Two years ago, the state water board was granted the authority to install an administrator at a failing water system. However, the role has to be paid for by the state, and the law did not provide funding.
The governor signed legislation Sept. 17 that appropriates $200,000 for a state-appointed administrator to helm Sativa. The L.A. County Board of Supervisors and the Local Agency Formation Commission have asked the state to appoint the county's Department of Public Works as the interim administrator.
"For years, Sativa mismanaged the delivery of a basic necessity to our communities," Supervisor Mark Ridley-Thomas said in a statement. "With the signing of AB 1577, Los Angeles County is ready, willing and able to step in as interim administrator of Sativa, and ensure that residents of Compton and Willowbrook receive the clean and safe water they deserve."
AB 1577 will do swiftly what others have been trying to do for years: dissolve Sativa.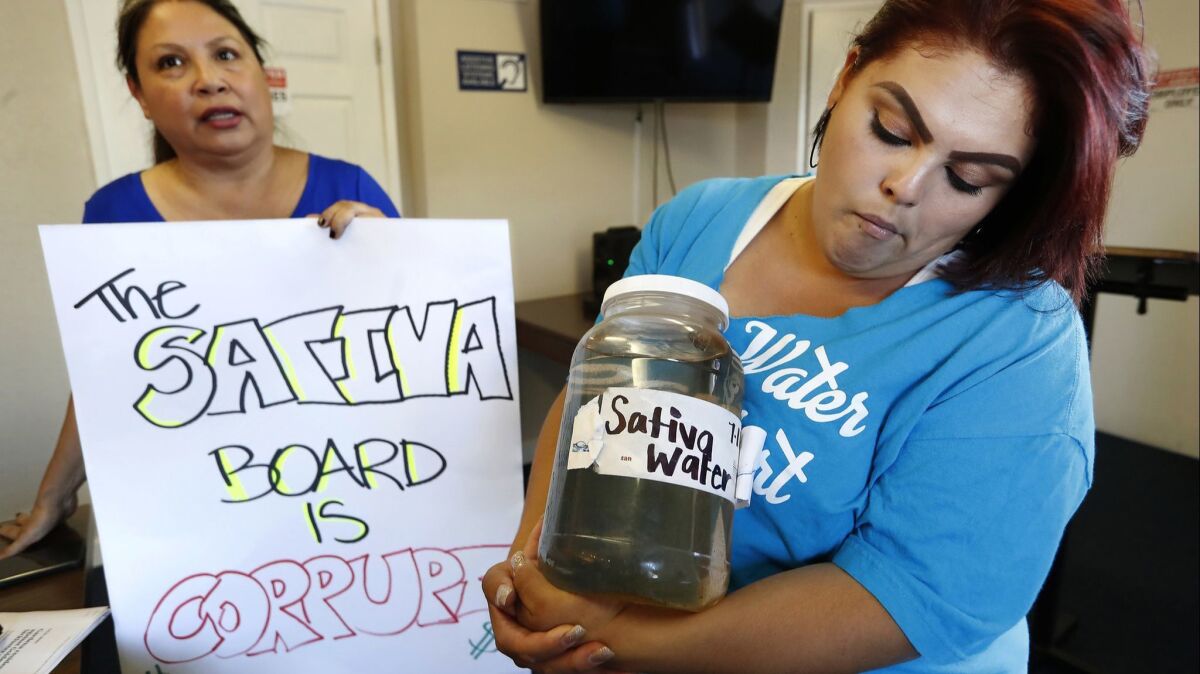 Authorities have long questioned whether Sativa should exist at all. Over several decades, district officials have been accused of giving themselves illegal Christmas bonuses, hiring family members and lacking the funding to replace its aging pipes, which deposit a high concentration of manganese into the water.
Outrage over the handling of the district reached a boiling point when discolored water began flowing from the tap with greater frequency earlier this year. Customers began posting videos online of tea-colored water coming from their faucets.
Then the former general manager, Maria Rachelle Garza, was accused of hiring people to pose as Sativa supporters and getting them to attend a local congresswoman's town hall regarding complaints of dirty water. Garza was suspended and later resigned.
Residents then launched a recall effort to remove the board. In July, LAFCO — which oversees public water agencies such as Sativa — voted to dissolve the district.
It's a rare, slow process that Sativa's board could further delay by suing LAFCO or galvanizing customers to force an election in which the voters would decide the district's fate.
A provision in AB 1577 eliminates voters' right to contest the dissolution, speeding up the process by months, said LAFCO's executive officer, Paul Novak.
Current law requires that LAFCO transfer the services of any public agency it dissolves to another public agency. The bill allows the state-appointed administrator to select a permanent replacement, which could also be an investor-owned utility.
The bill shields the replacement provider from liability and makes it a criminal offense for the board to divert any assets or sell off the system. It also calls for a forensic audit of Sativa's finances.
In recent weeks, Sativa has launched a last-ditch effort for its survival. The board petitioned the governor to veto the bill and paid $20,000 to hire a lobbying firm to gain access to the governor when he did not respond to their written requests. Sativa sent the governor's office a petition with about 300 signatures of customers who wanted to keep the current leadership this week.
On Friday, Thomas Martin, Sativa's interim general manager, said he was "disappointed" that the governor did not hear the people.
"I was hoping it would be a different outcome," he said. "We disagree with the legislators' decision. We wish the best of luck to the customers."
For more California breaking news, follow @AngelJennings. She can also be reached at angel.jennings@latimes.com.
---
UPDATES:
5:05 p.m.: This article was updated with a comment from Assemblyman Mike Gipson (D-Carson).
This article was originally posted at 3:20 p.m.
The stories shaping California
Get up to speed with our Essential California newsletter, sent six days a week.
You may occasionally receive promotional content from the Los Angeles Times.