A lieutenant and detective say they're being punished for reporting perjury and false statements at the San Diego Police Department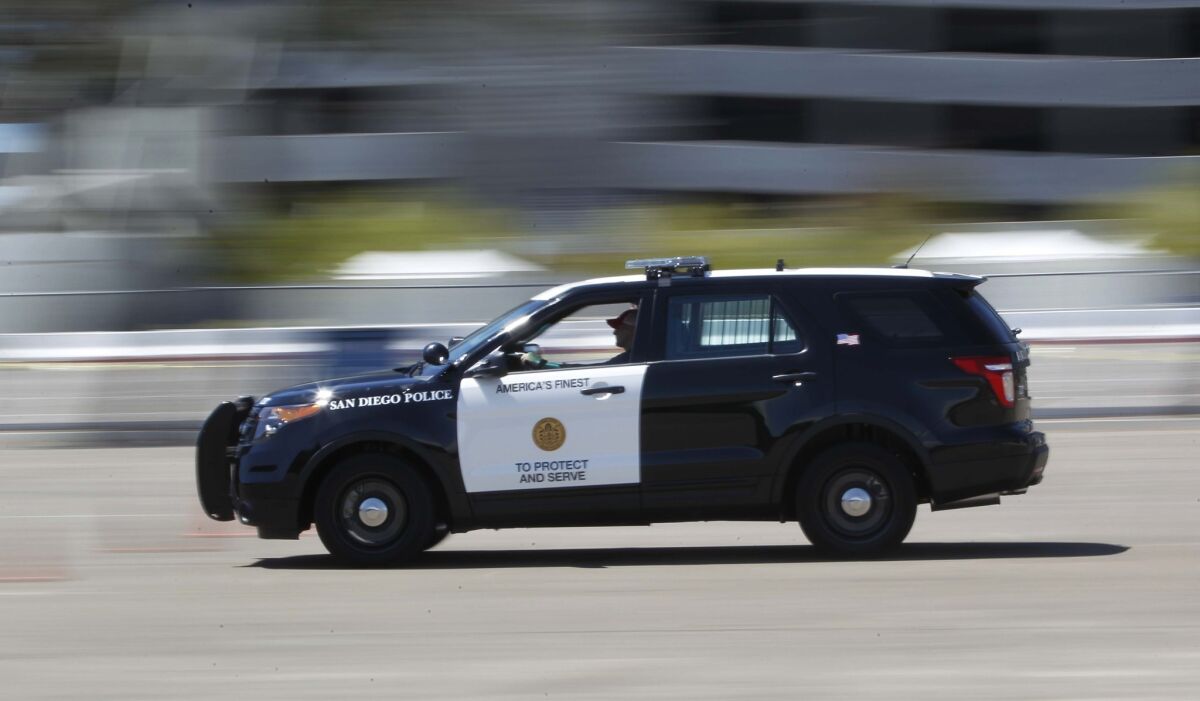 Allegations of perjury and making false statements by San Diego police officers have emerged in separate lawsuits filed by a lieutenant and a detective who claim they've been retaliated against for speaking out about misconduct.
One of the lawsuits includes sworn testimony from two department employees that is diametrically opposed. The discrepancies generated an internal investigation that appears to be ongoing.
The other complaint sparked a pair of subpoenas for additional records sought by the plaintiffs' lawyer. The city attorney's office wants to quash the subpoenas, and a hearing on that is scheduled next month.
Attorney Dan Gilleon filed both cases against the city and numerous police officials.
"Without a doubt, the San Diego Police Department does not tolerate officers who cross the thin blue line," Gilleon said. "They absolutely punish anyone who has the courage and ethics to speak out against wrongdoing, and even criminal acts."
Police officials would not discuss the allegations, but a spokesman issued a statement saying the department has strict rules against perjury or other legal violations.
"The San Diego Police Department does not tolerate employee misconduct at any level," Lt. Scott Wahl wrote. "We have a mandatory reporting policy, requiring immediate action should any member become aware of misconduct."
A spokesman for City Atty. Mara Elliott issued a statement defending the city's attempt to withhold records sought by one of the plaintiffs.
"It is appropriate for the court to quash the subpoenas because they seek information that has no relevance to the claims in the case," the statement said.
The older of the two retaliation lawsuits was filed by Det. Dana Hoover in 2014.
Hoover claimed she was harassed and transferred from her job in the homicide unit after she wrote an email to her supervisors outlining a series of issues within the department.
One of the most serious allegations involved what she called "false statements" another detective made as a witness during a murder trial almost three years ago.
According to Hoover, Det. Steve McDonald did not testify truthfully when he told the jury that the defendant had been picked out of a lineup.
McDonald "testified that the witness identified the suspect at the conclusion of the interview," Hoover wrote in the email to her bosses. "That was not true. The witness did not identify the suspect, at all."
Hoover was referring to a criminal case against Aron Franklin, a suspected gang member accused of shooting a 20-year-old man in Lincoln Park in January 2014.
Handwritten lineup notes included in the court record state: "It's none of them. Number five is the only one that looks almost like the subject, but no. No one is the suspect."
According to Hoover's email to three police officials and a top city prosecutor, the defense attorney noted the discrepancy under cross-examination, but Franklin was convicted anyway.
The district attorney's office, which was served with one of the subpoenas San Diego city lawyers are trying to quash, said there is no reason to reopen the case against Franklin in light of Hoover's allegations.
"People v. Franklin was appealed, and the conviction was affirmed on appeal," spokesman Steve Walker said in an email.
The lineup testimony was not cited as grounds for the appeal, according to the appellate court ruling handed down last year.
Franklin's lawyers had challenged his conviction on a count of receiving stolen property and a gang-enhancement finding. Judges rejected both arguments.
Walker said the D.A.'s office could not comment on the motion by Hoover's lawyers to subpoena additional records because of the pending lawsuit.
The second apparent case of perjury is more recent. It came up in a November deposition taken as part of an unrelated retaliation lawsuit filed by police Lt. Natalie Stone last year.
Stone sued the city, Police Chief Shelley Zimmerman and Assistant Chief Sarah Creighton after reporting bullying by her supervisor at the training division, Capt. Brian Ahearn.
The suit claims that Stone was demoted and denied promotions after filing the complaint, which accused Ahearn of abusive behavior and creating a hostile work environment.
Among other actions, Ahearn was prone to "loud outbursts, yelling, pounding his hands and fists on the desk and flailing hand gestures," the complaint said.
As part of the litigation, Ahearn and Officer Kenneth Kries filed sworn declarations that address an incident between the two men at the training academy in July 2015.
Kries said under oath that Ahearn used both hands to push him in the chest. "I was shocked and embarrassed" by the encounter, but unharmed, he wrote under penalty of perjury.
Ahearn said under oath that the two men were merely demonstrating a control tactic known as the Orcutt Police Nunchaku.
"Kries took a hold of both of my arms to demonstrate," he wrote under penalty of perjury. "Kries and I demonstrated grabbing techniques on each other. Kries leaned into me, and we ended the physical contact with pats on the back as a player and coach would do."
Ahearn wrote that he was subsequently contacted by a lieutenant, who informed him that "Kries had reported that I had pushed him."
"Given the allegations, I advised [the lieutenant] that he needed to brief Asst. Chief Creighton," he wrote.
In a deposition last month, Creighton acknowledged that as an acting chief, she was concerned that an officer or one of her police captains had lied under oath.
See the most-read stories in Local News this hour »
"I wanted a completely independent investigation," she said.
When asked what she was going to do to find out who perjured themselves, the city attorney intervened in the deposition and instructed Creighton not to respond.
The National Assn. for Civilian Oversight of Law Enforcement works to improve police practices across the country. President Brian Corr said it is important that police and sheriff's departments adopt and maintain clear policies that protect whistleblowers from retaliation.
"Any situation where there is real or perceived retaliation against whistleblowers can be very corrosive to relationships between police departments and the communities they serve, as we saw in the LAPD Rampart scandal," Corr said.
He also said it is important for law enforcement agencies to create citizen review boards that are given the authority and disciplinary information they need to exercise independent oversight.
The San Diego Police Department has seen a wave of misconduct cases in recent years. The City Council agreed to pay at least $14 million in recent years to settle various lawsuits filed by victims.
MORE LOCAL NEWS
Battle over defunct brewery's failed relocation deal with City of Industry comes to a head
As illegal warehouse living flourished, Oakland struggled to enforce safety rules — until the Ghost Ship fire
Not quite a full tribute: San Diego officials streamline 'honorary' naming of streets
---
The stories shaping California
Get up to speed with our Essential California newsletter, sent six days a week.
You may occasionally receive promotional content from the Los Angeles Times.