Did the City of Industry put this brewery out of business, or was it poor business management?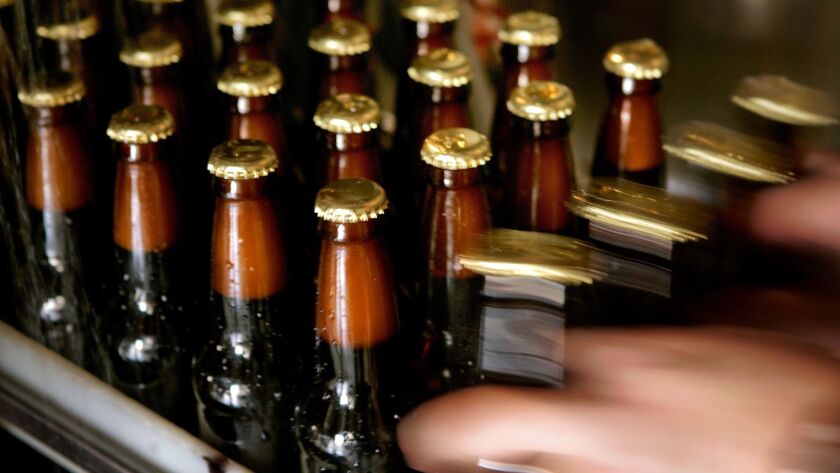 The holidays should be a festive time for Matt Weinberg, co-owner of the once-thriving Skyscraper Brewing Co. But any visions that dance in his head this year likely include his award-winning Lug Nut Lager swirling down the drain, along with the rest of his business.
Weinberg and his company are embroiled in legal battle with the City of Industry, which they accuse of breaking its promise to help them relocate to the San Gabriel Valley town in 2011. Not only did the city effectively put Skyscraper out of business, the brewery's lawsuit alleges, but in August 2015 it also seized its equipment and records, including its proprietary recipes.
"This is something we created, gave birth to as it were, and they're missing," he said in an interview. "I don't know where they are, but we don't have them."
The lawsuit, filed this year in Los Angeles County Superior Court, alleges that city officials induced Skyscraper to move to Industry from El Monte — and then reneged on its pledge to finance the company's $3.2-million purchase of city-owned property at 19835 E. Walnut Drive North.
After the brewery spent more than $500,000 on the move, "the City went back on its promises and refused to finance or approve the sale," the Skyscraper complaint alleges. After repeatedly assuring Skyscraper it would be able to fully operate at the site, city officials abruptly terminated negotiations in July 2015 and a month later locked out the business, the lawsuit states.
We were building the business and then it just stopped.
— Matt Weinberg, co-owner of Skyscraper Brewing Co.
About 25 employees lost their jobs, Weinberg said.
"It was crushing, absolutely crushing," he said. "We were building the business and then it just stopped. It was like a train moving forward, not at full throttle but at a pretty good clip, and then the wheels were taken out from under us."
The lawsuit seeks $32 million in damages for lost revenue from brewing and distribution. Besides making its own micro-craft beers, the company distributed other brands and was servicing 1,400 accounts by 2012, according to the lawsuit.
Industry City Attorney James Casso and City Manager Paul Philips declined to comment on the pending litigation.
In court papers, the city contends that Skyscraper's deal with the Industry Urban Development Agency, or its successor agency, was never signed because the Legislature dissolved California redevelopment agencies in 2011. It also blames the company.
"Plaintiff is victim to its own poor business management, and cannot now seek to remedy its errors by blaming others," the city states in one filing.
The two sides are due in court in Pomona on Jan. 17 for a hearing on the city's demurrer challenging the complaint.
Reviving the specter of corruption allegations in the industrial suburb, home to about 220 residents, Skyscraper's lawsuit ties the city's actions to "extortionate fees" charged by Valley Vista Services, a trash-hauling company owned by former Mayor David Perez and his family.
Weinberg said Valley Vista charged the brewery thousands of dollars for services it did not provide. When Skyscraper's owners complained and refused to pay, the lawsuit contends, the city retaliated by scotching the relocation deal to "further the private interests" of the Perez family.
In 2015, the Los Angeles County district attorney's office said it had opened an investigation into the financial dealings between the city and Perez's companies. That probe was triggered by a city-commissioned financial review by auditing firm KPMG that found Perez's companies had reaped $326 million from city contracts over two decades.
In January 2016, state auditors examining Industry's finances reported that the city had paid tens of millions of dollars to contractors without tracking how the money was spent and what services were provided. Questionable spending included expensive meals, wine tastings, massages and a 65-inch television charged to city credit cards.
Prosecutors did not respond to a request for comment made through the district attorney's office spokesman Greg Risling.
The district attorney's office also launched an investigation of Industry in 2009 — the same year The Times detailed the family's grip on contracts for trash hauling, street sweeping and other services — but ultimately filed no charges.
Industry has instituted reforms, including reviewing contracts and invoices and hiring former state Atty. Gen. Bill Lockyer to monitor its efforts.
"I think we are really doing well," Philips said, noting "an awful lot of internal changes" have been made, including new checks and balances.
The Skyscraper lawsuit names Curtis Fresch, a former City of Industry employee, as a defendant.
Fresch, while working for an engineering firm under contract to the city, "forcibly entered" Skyscraper's offices in August 2015, changed the locks and removed the business' property, the complaint states. Skyscraper attorney Oleg Stolyar said Fresch gave his clients "zero notice" of the eviction, "no legal process, nothing."
In 2010, The Times reported that Fresch was paid more than $300,000 that year as a $160-an-hour renewable energy consultant in the industrial city of Vernon, where his late brother, Eric Fresch, made as much as $1.6 million a year as city administrator.
While working for the contracted engineering firm, Fresch was in charge of selling city properties. In August, he moved onto the city payroll as interim utility administrator, at an annual salary of $175,000, according to documents released to The Times in November through a public records request.
He has since resigned, effective Dec. 4, other city records show.
Neither Fresch nor his attorney in the Skyscraper lawsuit responded to messages seeking comment.
MORE LOCAL NEWS
Series of earthquakes hits near California-Nevada state line
1 dead, 17 injured in Anaheim crash involving car and transit bus
Perjury and retaliation allegations hit the San Diego Police Department
As illegal warehouse living flourished, Oakland struggled to enforce safety rules — until the Ghost Ship fire
---
The stories shaping California
Get up to speed with our Essential California newsletter, sent six days a week.
You may occasionally receive promotional content from the Los Angeles Times.