How we reported the story: A team of deputies stops Latino drivers at a disproportionate rate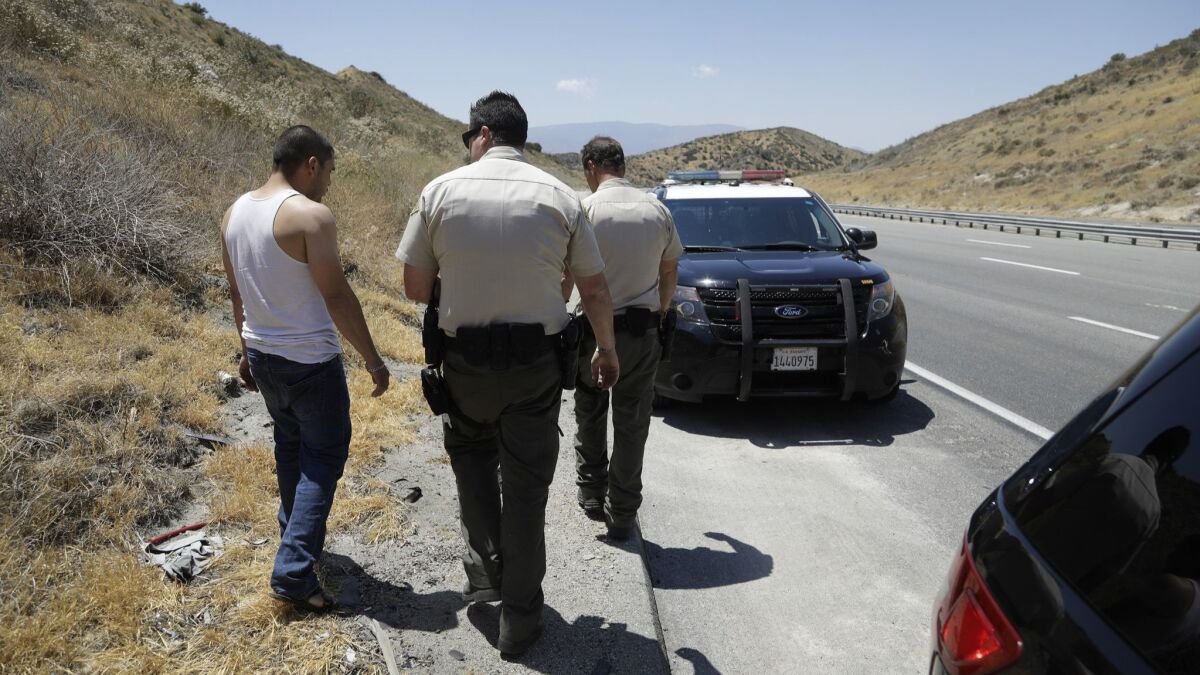 In response to a public records request, the Los Angeles County Sheriff's Department provided The Times with data on traffic stops that the Domestic Highway Enforcement Team made from its start in 2012 through 2017. The data included information on the race or ethnicity of people stopped and the results of vehicle searches.
Hundreds of traffic stops that ended in arrests were missing from the data, so The Times made additional public records requests to compile data on all recorded stops. The Sheriff's Department said it provided The Times with all of the data it had for the team's stops.
About 60% of stops made by one deputy did not include information on vehicle searches, so The Times excluded that deputy's stops when analyzing the team's searches.
Along with the race or ethnicity of drivers who were stopped and searched, The Times looked at how often deputies discovered drugs or other contraband during vehicle searches.
Using a statistical method called logistic regression to analyze the data, The Times found that the rates at which the team found contraband in vehicles driven by people of different races or ethnicities were not statistically different from one another. The analysis showed that although Latino drivers had much higher odds of being searched, the odds of deputies finding illegal items in their vehicles were in the same statistical range as black and white drivers.
To compare the team's stops with another law enforcement agency patrolling the same area, The Times also analyzed data on nearly 378,000 stops officers from the California Highway Patrol made on the same stretch of the 5 Freeway during the same six-year period.
Times staff writer Ryan Menezes contributed to this report.
Twitter: @bposton
Twitter: @joelrubin
---
The stories shaping California
Get up to speed with our Essential California newsletter, sent six days a week.
You may occasionally receive promotional content from the Los Angeles Times.