Must Reads: L.A. County Sheriff Alex Villanueva tells hundreds of top staff to hand in résumés and temporarily remove rank insignia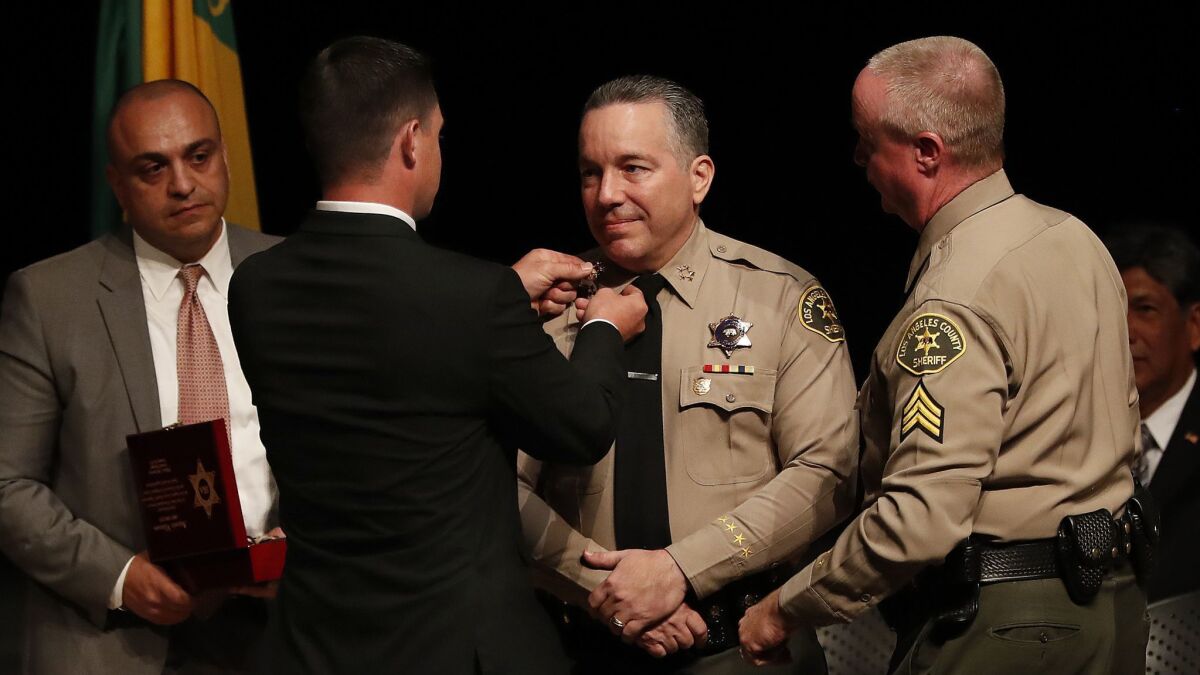 Alex Villanueva began his term as Los Angeles County sheriff by immediately removing 18 top executives.
Now he has told nearly 500 other supervisors on his staff that their jobs too are being reevaluated.
In a massive review, all lieutenants, captains and commanders have been asked to hand in forms that detail their years of experience. The fill-in-the-blank résumés will be used to determine whether the officials will remain in their positions or be reassigned, including to lower levels for a set period of time, Villanueva said.
But in what some describe as an even more jarring move, Villanueva also told all the supervisors on Tuesday to temporarily remove a part of their uniforms some of them worked decades to earn: the gold pins on their collars that indicate their rank.
Villanueva said the move is intended to shake up conventional thinking among the top brass. His sweeping review is part of the house-cleaning he promised on the campaign trail. Describing himself as a reformer, he pledged to get rid of corrupt managers and those who were promoted based on their connections rather than their accomplishments as peace officers.
But the removal of rank insignia is an exercise that some in the department say is not only demoralizing but potentially dangerous.
"If we had a riot ... there would be chaos. There would be no leadership. There would be confusion about who's in charge," said Lt. Brian Moriguchi, president of the Professional Peace Officers Assn., the union that represents sergeants, lieutenants and other department staff. The group opposed Villanueva in the election.
Moriguchi said that in critical situations, the rank insignia quickly identifies those who issue orders and whom to report to if there is a problem. In a vast organization that often joins forces with other public safety agencies, not everyone working on a critical incident knows one another.
Lieutenants in the Sheriff's Department wear a rectangular bar on their collars, while captains have two bars. Commanders wear a single star, chiefs get two stars, assistant sheriffs have three stars, the undersheriff wears four stars, and the sheriff, five.
Villanueva wore a five-star pin at his swearing-in Monday. But he said he took off his brass too, adding that he and his staff will keep the pins off until Sunday as part of an exercise.
"People need to not rely on the metal on their collars to be influential leaders, but know that it's their actions that count," he said. "The obsessions with rank and self-centered behavior is what got us into trouble over the past two decades. Ranking members of the department were treating their subordinates like crap. And that was considered acceptable."
Villanueva acknowledged that the rank insignia could be crucial in a major crisis and said he could reverse his order if there is a large deployment, allowing everyone to put their brass back on.
Throughout his campaign, Villanueva often said he was discriminated against when he tried to advance in rank, having passed the lieutenant's test four times before being promoted.
"Ninety-five percent of the department has always been on the outside looking in, and only about 5% of the organization enjoyed all the perks and benefits of cronyism," he said.
Villanueva's approach to the uniform signals a departure from his predecessor Jim McDonnell, who was ridiculed for spending thousands of dollars to change deputies' belt buckles from silver to gold. McDonnell, who wore a Sheriff's Department dress jacket at his swearing-in, earned the nickname "McBuckles" among some deputies for his focus on the style of a specific piece of the uniform.
Villanueva opted not to wear a dress jacket at his swearing-in. And he chose to have his five stars arranged in a circle, not in a line, as worn by previous sheriffs. He said he thought the five stars in a row represented hierarchy and looked like something a "banana republic general" would wear.
Some experts in police management said the removal of supervisors' brass, even if temporary, is troubling.
"It creates upheaval and fear among the supervisors as to their future professional career, and quite frankly, that is the command staff you expect to run all your day-to-day activities," said Sheriff Grady Judd of Polk County, Fla., who also serves as president of the Major County Sheriffs of America.
Judd said he agrees that everyone in a department, including someone at his level, needs to have an "all hands on the oars" mentality. But he said the way to build that camaraderie — and win reelection — is to make your employees feel trusted, not off-balance.
Stephen Nasta, a former longtime New York Police Department official who teaches police management at John Jay College of Criminal Justice, said he's never heard of a law enforcement leader implementing actions similar to Villanueva's.
"What could happen is you could lose control of the organization," Nasta said of the changes.
Rapid shifts can be demoralizing, which in turn can create other problems, such as arrests not being made, he said.
Some supervisors, who did not want to speak on the record for fear of retribution, said they felt the sheriff's moves were vindictive.
Capt. Darren Harris, a spokesman for the department who is affected by the change, was more receptive, saying the effort "seemed to be more of a symbolic way of saying that we don't necessarily need the rank insignia in order to lead the right way."
Villanueva said he realizes his approach will inspire some naysayers but insisted that most of his department is energized by his effort.
Villanueva's move doesn't directly affect rank-and-file deputies, whose union, the Assn. for Los Angeles Deputy Sheriffs, supported his campaign. And he hasn't made any announcements about other major staff shake-ups.
However, a letter from the PPOA, the supervisors' union, that was sent to its members Friday raised concerns that the sheriff's comments and actions signal that some people could be demoted.
"Sheriff Villanueva, like all sheriffs, must follow the civil service rules for removal of rank or demotions. We will fight against any unjust or retaliatory demotions that are brought to our attention," the letter said.
Villanueva said any reassignments to lower ranks would be a temporary way to allow someone to gain experience they lacked, and would not affect their pay or benefits.
Civil service rules bar protected employees from being demoted without cause, such as for disciplinary reasons. Exceptions can be made if the transfer to a lower rank is done in order to avoid laying off the employee. Removal from an assignment, if accompanied in part by a bonus, is not considered a demotion under the rules.
Villanueva said any reductions in rank would be accompanied by documentation showing that the person was incapable of doing the job as assigned.
Twitter: @mayalau
The stories shaping California
Get up to speed with our Essential California newsletter, sent six days a week.
You may occasionally receive promotional content from the Los Angeles Times.