Storm brings record rainfall, little damage to Southern California. But the worst may be yet to come
Wood and debris from a 100 foot tall pine tree lays across the 4200 block of Bluebell Ave. after work crews cut it into smaller sections for removal in Studio City. The tree fell Wednesday afternoon damaging one home and a vehicle on the street.
(Brian van der Brug / Los Angeles Times)
Pier walkers take in the view at dusk in between rain showers while walking at the end pier in Huntington Beach.
(Allen J. Schaben / Los Angeles Times)
A woman carrying a baby crosses E. Caesar E. Chavez Avenue at Soto Street in Boyle Heights as rain falls.
(Jay L. Clendenin / Los Angeles Times)
With a classic Boyle Heights neighborhood mural along Soto Street as a backdrop, Angelenos deal with a lingering rain storm in Los Angeles.
(Jay L. Clendenin / Los Angeles Times)
A man rides his bike along E. Caesar E. Chavez Avenue in the Boyle Heights as rain falls.
(Jay L. Clendenin / Los Angeles Times)
A shopper walks into the Numero Uno Market in South Los Angeles during a downpour.
(Glenn Koenig / Los Angeles Times)
Mud fills the street off La Tuna Canyon Road as heavy rains caused street flooding and debris flows in Sun Valley.
(Gina Ferazzi / Los Angeles Times)
Los Angeles county worker Brian Miller inspects the drainage flow on a culvert in the 8300 block of La Tuna Canyon as heavy rains caused street flooding and debris flow.
(Gina Ferazzi / Los Angeles Times)
Reporting from Montecito, Calif. —
A powerful storm moved into Southern California on Wednesday, drenching fire-ravaged neighborhoods and setting several new rainfall records for the day but so far not causing the damage and destruction that some officials feared.
The storm marked a direct hit by an "atmospheric river" system but has proved to be less powerful than forecasters initially predicted. Still, they warned that the heaviest downpour is yet to come on Thursday and urged residents to stay vigilant.
"We want to get the word out that, yeah, there's still a danger," said Joe Sirard, a meteorologist with the National Weather Service in Oxnard. "People still need to be aware that we could get some mud and debris flows out of this thing."
A flash-flood warning remained in effect for recent burn areas despite scaled-back total rainfall projections. Forecasters are now expecting 2 to 4 inches of rain on the coasts and in the valleys of Santa Barbara and western Ventura counties, and 4 to 8 inches in the foothills and mountains across the region, Sirard said.
The heaviest rainfall is expected Thursday morning, when there's a slight chance of thunderstorms over charred mountains that could drop up to an inch of rain an hour, the weather service said.
In Los Angeles County and eastern Ventura County, the storm is expected to dump 1 to 2 inches of rain on the coasts and in the valleys, and 3 to 5 inches in the mountains, Sirard said.
Officials said that several areas set new rainfall records for this date, including Oxnard, Santa Barbara and Palmdale.
Evacuation orders were still in effect for thousands of residents in Santa Barbara County. Among them was Mike Wyran, who was staying at a downtown Santa Barbara hotel Wednesday evening with his wife, daughter and dog.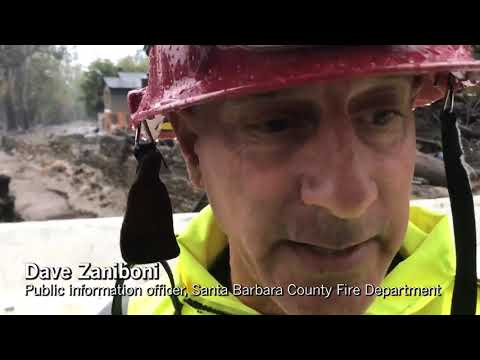 Mike Eliason, public information officer for the Santa Barbara County Fire Department, gives updates on flooding conditions in the area. (Video by Robert Gauthier and Al Seib / Los Angeles Times)
During the deadly January storm, the Montecito family didn't evacuate and were stuck in their home for days. Since then, they've taken evacuation warnings seriously and are pleased that officials have been communicative.
"It's given us time to find a hotel that will accept our pets," Wyran said. "As long as we are together and our dogs are safe, we are good."
Still, their life has changed since January. Their neighborhood hiking trails are gone, and they feel the constant threat of mudslides.
"It's a setback, but we will get through it," he said.
Montecito resident Jaime Giffen, 52, decided not to evacuate. At the very worst, she said, she'd be without power and water, something she dealt with in January.
She's learned since then to keep her phone charged and to stock up on nonperishable food.
On Wednesday afternoon, mudslides had forced Amtrak's Pacific Surfliner train to stop south of Carpinteria as Union Pacific maintenance crews removed debris from the tracks. The railway was cleared after a roughly 45-minute delay, Amtrak said. The rain also triggered road closures near Ojai and along the coast.
In Montecito, where at least 21 people died in massive mud and debris flows on Jan. 9, crews were keeping close watch on debris basins, creeks and roadways for potential mudflow and debris.
"Right now, we are seeing a light, steady rain, and the water in the creeks is chocolate milk color," said Scott McGolpin, director of public works for Santa Barbara County. "There isn't a lot of debris. This is what we want."
Robert Lewin, director of the county's Office of Emergency Management, said that boulders have been reported moving along San Ysidro Creek but that so far they have remained within the channel.
"Our hope is that the debris basins can capture the material that comes down from the mountain," he said.
Back in Los Angeles County, residents who live from the 8300 to 9000 blocks of La Tuna Canyon Road were still under a mandatory evacuation order because of debris flows.
All other mandatory evacuation orders were lifted. Residents of Kagel Canyon, Lopez Canyon and Little Tujunga were allowed to return home, though shelters will remain open for residents who feel unsafe returning home, said Helen Chavez, a spokeswoman for the multi-agency response to the storm.
"People can go home," Chavez said. "Given current rainfall, there's no need for that action at this time."
alene.tchekmedyian@latimes.com | Twitter: @AleneTchek
melissa.etehad@latimes.com | Twitter: @melissaetehad
ruben.vives@latimes.com | Twitter: @LATvives
Tchekmedyian reported from Los Angeles, Vives and Etehad from Montecito. Times staff writers Joseph Serna and Sarah Parvini in Los Angeles contributed to this report.
Sign up for Essential California for news, features and recommendations from the L.A. Times and beyond in your inbox six days a week.
You may occasionally receive promotional content from the Los Angeles Times.