Hundreds rally in Sacramento after Stephon Clark autopsy raises new questions in police shooting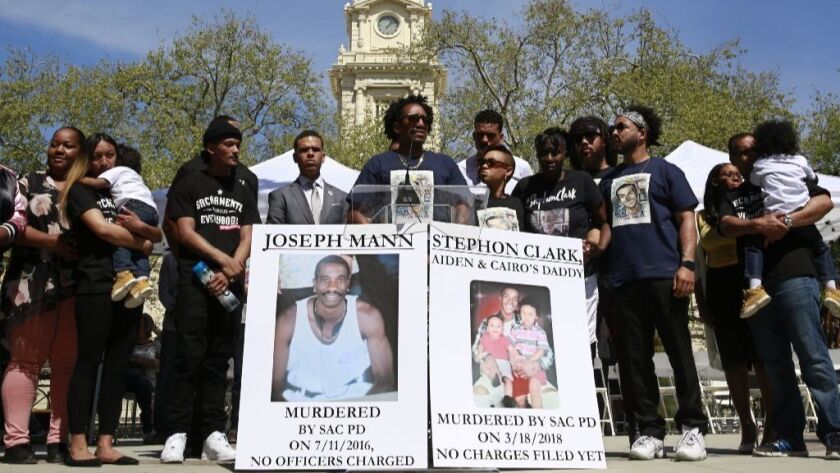 Reporting from sacramento —
Former Sacramento Kings player Matt Barnes led hundreds of demonstrators in a peaceful rally in downtown Sacramento on Saturday to protest the police killing of Stephon Clark, one day after an independent autopsy concluded that the unarmed black man was shot six times in the back.
"It's more than color. It's about wrong and right," Barnes told the crowd gathered in Cesar E. Chavez Plaza in what was a largely motivational rally. He called for police to get out of their cars and walk the neighborhoods they patrol, to reduce their fears and the likelihood of using excessive force.
"Learn the community that you're out here patrolling," said Barnes, a Sacramento native who retired from the NBA this season. The Rev. Shane Harris of the National Action Network and members of the Clark family also attended.
Holding Clark's two sons, ages 3 and 1, aloft, Harris and Barnes announced a college scholarship fund.
It is intended "to make sure these boys go to college," Barnes said, "but like we mentioned earlier, this is not a Sacramento problem, this is a nationwide problem, so once we get [the scholarship fund] up we are going to carry it nationwide to provide kids who have lost their fathers with stuff like this a chance to become productive men."
Barnes, a former Laker, said that he has 9-year-old twin sons and that Clark had two young sons and so he wanted to do his part to support his community and to talk about the escalating tensions with police. Saturday's event was called Rally for Unity and Action.
"People fear what they don't know," said Barnes, who attended Clark's funeral on Thursday. "We don't know these cops, so we fear them. They don't know us, so they fear us."
Members of Clark's extended family also appeared at the rally, and a few of them spoke, giving voice to their grief and continued shock.
"Nothing seems to change," said Curtis Gordon, Clark's uncle, speaking without a script. This "situation seems to happen quite often, that someone who looks like me isn't going to go home. You really can't internalize that unless you live it."
He noted that those in the park rally included people who fought the same civil rights battles generations before, "when my mother was young, when her mother was young. You really don't know the pain we are going through here."
He called out police "who look at us like something is wrong with us," and made a plea for love, and recognition that "we are all from the human race."
Gordon also raised questions about police training, noting that officers are trained to decide when to shoot and when to stand down. The officers who shot his unarmed nephew "must become accountable. You must own your responsibility."
Clark's aunt, Jamilia Land, rose to the defense of Clark's brother, Stevante, who has been a visible if not sometimes disruptive presence at public rallies and a City Council meeting, demanding attention to his brother's death.
"You don't know the damage inside," Land said. "We are living in communities that look like war zones. You don't know what it is like to go to the home that you grew up in and hear from the ones you love that your brother was murdered in his grandmother's backyard. You don't know the pain that his grandfather feels for hearing him knock on the window for help!"
Family members have consistently said that it was their practice to keep the front door locked, and to rap on a back window to ask those inside the house to open a side door. Police video shows Clark was near that back window when police opened fire on him.
Sacramento Mayor Darrell Steinberg issued a statement urging the community to work together through nonviolent civil action "as we pursue justice and demand reform."
"We have an obligation to everyone involved, including the family of Stephon Clark, to wait for the full findings and results from the official autopsy and investigation," Steinberg said. "As the mayor of our city, I assure the community and the public that we will aggressively seek answers to all of the questions the community is rightfully asking. As important, we will aggressively seek appropriate change to the protocols and training that led to this unacceptable outcome."
Saturday's rally also drew campaign workers for Democrat Noah Phillips, who is challenging Sacramento County Dist. Atty. Anne Marie Schubert in the June election. Schubert must decide whether to prosecute the two officers involved in Clark's killing.
Schubert decided last year against charging two other officers who fatally shot another black resident, Joseph Mann, a mentally ill man whom the officers had earlier tried to run down with their patrol car.
"If we don't prosecute and we continue to allow this to go by the wayside … I am struggling to find the words, but by opening this door we could eliminate so many problems," said Phillips campaign supporter Allan Leri. "There's only one person who can hold persons accountable in certain situations."
Derrell Roberts, a local activist who runs a youth mentoring program in South Sacramento, said people need to be patient until the Police Department and other agencies complete their investigations into the Clark shooting.
"We expect that to take more time than we will be happy with," he said. "But it's part of the process we have to go through."
He said the community feels "that police over-police our neighborhood, thus causing confrontations that lead to the death of a young black man in this case, or in the case of Joseph Mann, or nationally the killing of Tamir Rice, or the killing of Treyvon Martin. All of that is a result of over-policing, or people feeling they need to over-police the communities we live and work in."
Hours before the noon rally, hundreds of protesters took to the streets late Friday and early Saturday morning.
The demonstration moved through the downtown area and was generally peaceful. At one point, the group appeared headed toward Interstate 5, which marchers had blocked in an earlier protest, but did not enter the highway.
It was the latest of numerous demonstrations in support of Clark.
Dr. Bennet Omalu conducted an autopsy days after Clark was killed by police on March 18. He told reporters Friday that his examination showed that Clark was hit by eight bullets, and all but one entered while his back was turned toward the two officers who fired at him.
One bullet entered Clark's left thigh from the front and was probably fired while he was on the ground and had already been shot multiple times, Omalu said.
The independent autopsy finding raises new questions about Clark's shooting, which is now the subject of investigations by both local and state officials. The county coroner's official autopsy results are not expected for several weeks.
Clark, 22, was fatally shot in his grandmother's backyard by police looking for a vandal in the neighborhood. More than 20 shots were fired. Clark was found with a cellphone. No weapon was recovered.
Sacramento authorities did not immediately comment on the autopsy results. Police have released videos showing the incident but have urged the public not to pass judgment on officers until the investigation is complete.
Among the unanswered questions that have fueled anger in the wake of Clark's shooting is why officers muted their body cameras after firing 20 shots at the unarmed black man.
After the shooting, a police sergeant arrived on the scene and appeared to take charge. He asked the two officers how many shots were fired and in what direction. He brought the officers to the street and is heard saying, "Hey, must" as he reached for his body camera.
The audio of both of the officers standing with him went silent.
Betty Williams, president of the Sacramento branch of the NAACP, said Saturday that her organization is pushing for law enforcement reforms because of the Clark shooting. She said it wants legislation that would automatically require the state attorney general's office to provide oversight or conduct its own investigation of such controversial police shootings.
In addition, she said, the organization wants new protocols for muting police audio recordings.
"If you're looking for accountability and full transparency, keep it on the entire time," she said. "Even if you're discussing your children's birthday party. It doesn't matter. Leave it on."
The shooting has sparked days of protests in the state capital and made national headlines.
Clark was buried after a funeral Thursday attended by hundreds of mourners, including the Rev. Al Sharpton.
Steinberg has called Clark's death "wrong," but said he cannot pass judgment on the officers' actions until the investigation is complete.
On Wednesday, a police spokesman said Clark remained the sole suspect in break-ins of vehicles and what a sheriff's deputy said was the attempted break-in of a home. It was a call about those incidents that sent police to the neighborhood the night Clark was shot.
A Sacramento County Sheriff's Department helicopter spotted a man in a backyard and directed police toward him, authorities said. Deputies told officers that the man had picked up a "toolbar" and broken the window of a home.
The man was seen running south, toward the front of the house, where he stopped and looked into another car, police said. Police body camera footage shows that officers intercepted Clark in the backyard of his grandmother's house, and one of them yelled, "Gun!" as he turned a corner and saw Clark. The officer ducked back momentarily, then looked around the corner again and, shouting "Gun! Gun! Gun!" began firing rapidly. His partner then joined in the shooting.
The officers told other police who arrived on the scene they thought Clark was pointing something at them. "It looked like a gun from our perspective," one said.
The object found when they rolled over Clark's bleeding body was a white cellphone.
Clark was pronounced dead at the scene. Police video shows that several minutes passed until officers approached Clark's body. They then handcuffed him before appearing to attempt resuscitation.
St. John reported from Sacramento, Serna and Winton from Los Angeles.
To read this article in Spanish click here
---
UPDATES:
3:35 p.m.: This article was updated with more comments from rally participants.
2:20 p.m.: This article was updated with more comments from rally participants.
1:15 p.m.: This article was updated with additional comments from rally participants.
12:40 p.m.: This article was updated with new details from Saturday's rally and comments from Mayor Darrell Steinberg.
11:50 a.m.: This article was updated with comments from former Sacramento Kings player Matt Barnes.
9:10 a.m.: This article was updated with information about a rally scheduled for Saturday.
This article was originally posted at 7:45 a.m.
---
The stories shaping California
Get up to speed with our Essential California newsletter, sent six days a week.
You may occasionally receive promotional content from the Los Angeles Times.