Hollywood tower, empty for years, is approved at City Hall a second time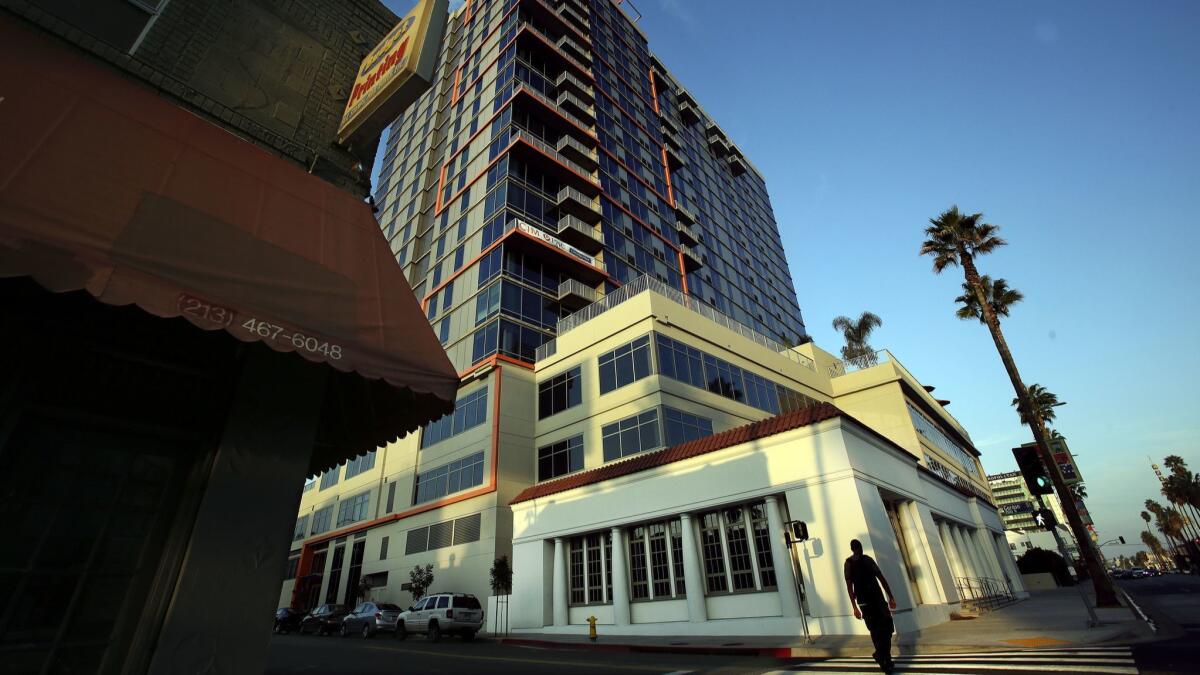 Four years ago, a judge dealt a huge blow to the owners of a 299-unit apartment tower on Sunset Boulevard, striking down the project's permits and, ultimately, forcing the building's residents to move out.
Since then, the 22-story Sunset and Gordon tower has stood empty, a larger-than-life symbol of the dysfunction surrounding planning and zoning decisions in Hollywood.
The City Council voted Wednesday to approve the apartment building for a second time, saying it's long past time for tenants to be living there. Foes contend the city is continuing to bungle the project — and say they may go to court again.
The Coalition to Preserve L.A., a group funded by the Hollywood-based AIDS Healthcare Foundation, criticized the city's environmental review of the tower, saying traffic counts on local streets are off by about two-thirds. The city's review overestimated the number of residents who will rely on public transportation, said Mitchell M. Tsai, the coalition's lawyer.
"When you bring higher-income residents into these areas, they tend to drive," he said.
Councilman Mitch O'Farrell, who represents part of Hollywood, said he believes the city will prevail if there is another lawsuit. In addition, he said, city officials have ensured that 45 apartments in the tower will have below-market rents.
When the project was originally approved, all of the units were market-rate, O'Farrell added.
"It's a big empty building and it's been empty for almost four years," he said. "We have a housing crisis. We don't have enough housing, and so it's time to move on."
Shaul Kuba, co-founder and principal at building owner CIM Group, said he looks forward to reopening the tower, along with a nearby public park that was built as part of the project. Nyla Arslanian, who owns and edits the magazine Discover Hollywood, said she too welcomed the council's decision.
"This was a good project when it was approved" the first time, she said. "Now it's a better project."
The council first approved Sunset and Gordon in 2012, when the neighborhood was represented by Eric Garcetti, now the city's mayor. As part of that decision, the developer was required to preserve the facade of a one-story building on Sunset Boulevard that had previously housed an Old Spaghetti Factory restaurant.
While preparing for construction, property owner CIM Group concluded that the 1924 structure was too damaged to save and secured permission from city building officials to tear it down and build a replica instead.
That move sparked a legal challenge from the La Mirada Avenue Neighborhood Assn., which argued that the developer had failed to comply with the original provisions of the council's decision. By agreeing to preserve the building, the developer received permission to build fewer parking spaces on the site — a valuable concession worth millions of dollars, according to opponents of the project.
Sunset and Gordon is one of several planning decisions in Hollywood that have run into legal trouble in recent years.
In 2014, a judge struck down the city's decision to permit a Target shopping center after it was partly built. That forced city officials to spend years securing a new zoning change for the project — and led to a second, unsuccessful legal challenge.
A year after that ruling, a different judge invalidated the council's approval of the Millennium project — two skyscrapers near the Capitol Records building.
That project was relaunched earlier this year, with developers announcing plans for several buildings, including skyscrapers reaching 46 and 35 stories.
Twitter: @DavidZahniser
Sign up for Essential California for news, features and recommendations from the L.A. Times and beyond in your inbox six days a week.
You may occasionally receive promotional content from the Los Angeles Times.