Rancho Tehama gunman targeted wife, neighbor before attacking passersby at random
Reporting from Rancho Tehama, Calif. —
The shooter's wife was nowhere to be found.
In the wake of a rampage in which Kevin Janson Neal had already killed four adults and sprayed bullets into an elementary school, authorities pinged his wife's cellphone, to no avail. They assumed something had happened to her.
When detectives searched the couple's residence on Bobcat Lane late Tuesday night, their fears were confirmed. The wife's car was still there. Her body, shot several times, was hidden beneath the floor.
"We believe that's what probably started this whole event," Tehama County Asst. Sheriff Phil Johnston told reporters Wednesday.
The death of Neal's wife, who has not been named by authorities, brings to five the number of people fatally shot in this rural Northern California town. At least nine others were injured, including seven children, one of whom remains in critical condition, Johnston said. Neal was fatally shot by officers pursuing him on a country road.
At a news conference Wednesday, Johnston held up a prior booking photo of Neal, his hair wild, his eyes wide, his mouth agape. Johnston called him a "madman on the loose."
Sheriff's officials said Neal, 44, likely killed his wife on Monday and cut a hole in his floor, placed her body inside and covered it up.
At 7:54 a.m. the next day, authorities said, Neal went on a 25-minute tear through the community of 1,500 and killed four people, including a female neighbor he had previously been accused of attacking during an ongoing dispute.
Key locations in Rancho Tehama shootings
Tuesday's assault started just down the gravel road from Neal's home, where he killed his neighbor and two men, then stole a Ford F-150 pickup truck, Johnston said. He drove north, firing a semiautomatic rifle at random from the vehicle.
Neal fired eight rounds into a Ford F-250 occupied by a mother and her son who were headed to school. The boy suffered non-life-threatening wounds, but the mother was seriously injured, Johnston said. The mother, who had a concealed carry permit, pulled out her own handgun but was unable to fire it before Neal drove away, Johnston said.
By the time Neal arrived at Rancho Tehama Elementary School, authorities said, teachers had already placed students and staff on lockdown after hearing gunshots a quarter-mile away when Neal began shooting.
Determined to get onto the property, Neal barreled the stolen truck through the school's front gates and steered into the quad. He stepped out and fired randomly at the rooms around him.
One bullet pierced a wall and hit a boy, who is expected to survive. The boy, Johnston said, was the only student shot at the school.
Aly Monroy of Corning told the Los Angeles Times that the boy was her cousin, 6-year-old Alejandro Hernandez. On Wednesday morning, he was at UC Davis, awaiting surgery to remove a bullet from his chest.
Other children were injured by broken glass, Johnston said.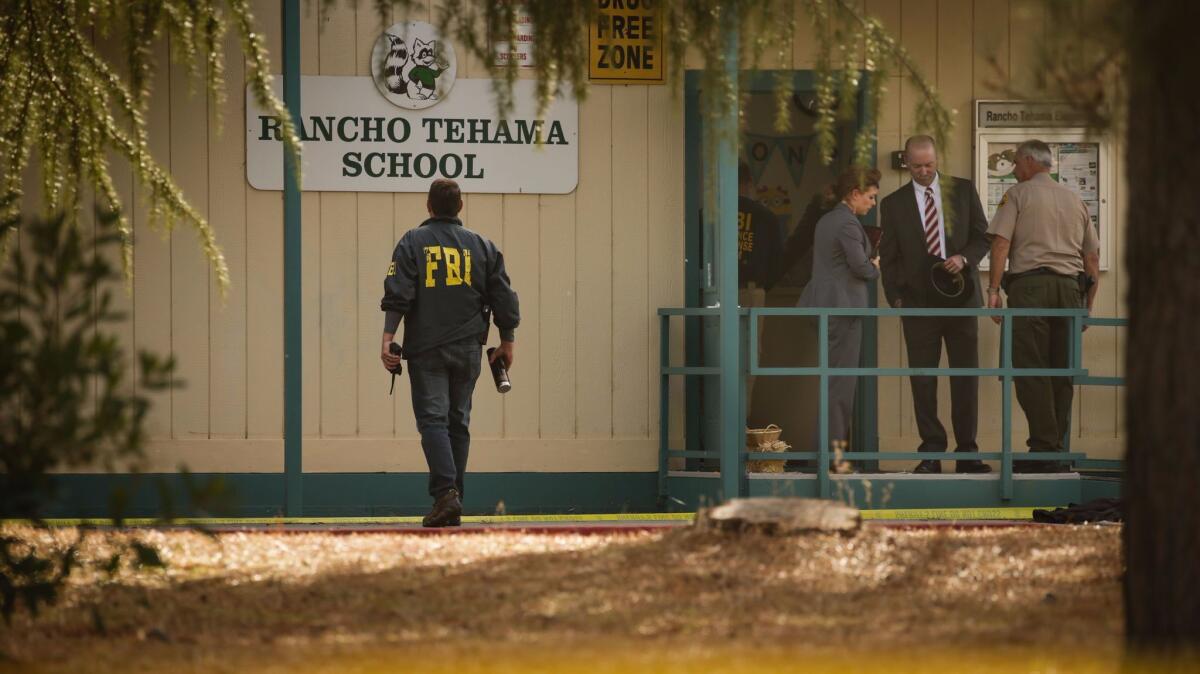 Johnston, who said he had watched video of the shooting at the school, said Neal appeared agitated that he could not get inside the school.
"He became frustrated. 'I'm here too long.' There's no doubt that he did not want to give up," Johnston said. "So he elected to find other targets."
Back on the road, according to the Sheriff's Office, Neal focused on a couple in another car, chasing them down and deliberately crashing into their vehicle. Neal shot them when they exited their car, Johnston said. The woman was killed, but the man survived.
A man who saw the crash pulled over to help, Johnston said. Neal shot at the man, who ran off, then stole his car.
Neal was chasing another vehicle and firing at it when two police officers spotted him. They began pursuing Neal, who fired at them. The officers rammed the car, forcing it off the road, then engaged in a shootout with Neal.
By 8:19 a.m., Neal was dead.
Neal was well-known to local authorities. His neighbors, on multiple occasions, reported shots coming from his house. At least twice, Johnston, said, officers put the house under surveillance.
"We can't anticipate what people are going to do," Johnston said. "We don't have a crystal ball…. We wanted to make contact. He is not law enforcement friendly, and he [knew] not to come to his door."
Authorities, Johnston said, believe fighting between Neal and his wife was "a very common thing with this couple."
A woman told The Times that she summoned officers a week ago after hearing screaming, followed by gunfire, from near his house.
At the time of Tuesday's shootings, Neal was out on bail for charges stemming from a January attack in which he was accused of stabbing a female neighbor in the abdomen. The charges — which include assault with a deadly weapon and second-degree robbery — were pending, and the neighbor was among the first to be killed Tuesday.
Leo Barone, a Red Bluff attorney who said he was hired by Neal after his arrest, said Neal and the neighbor would often call the authorities on each other. Barone said Neal frequently made strange comments but never hinted at violence.
"He was making bizarre statements, and I confronted him about it, and he didn't like being confronted," said Barone, who stopped representing Neal several months ago.
According to court records, the neighbor, 33-year-old Hailey Suzanne Poland, in February sought a civil restraining order against Neal, writing that he "attacked me and my mother-in-law stabbing me with a knife and beating her and myself."
Neal, she wrote, threatened the household with a gun. She described being stabbed with a 7-inch knife and being punched in the face. Without naming her, sheriff's officials confirmed that the woman seeking the protective order was killed by Neal.
A Tehama County judge then ordered Neal to surrender all firearms. Court records show that he turned in one gun in February and claimed he didn't own any more.
Court records show that Neal and his wife, Barbara Glisan, obtained a protective order against a male neighbor, whom they accused of threatening them with a gun and manufacturing methamphetamine.
Authorities this week said that Neal was armed with one semiautomatic assault-style rifle and two handguns and that a second rifle was later discovered during a search.
He did not legally own any of the guns, Johnston said. The two rifles were "manufactured illegally by him in his home" and unregistered, and the pistols were registered to another person, he said.
Johnston gave a grim directive to residents of the rural town: Check on your neighbors. Because Neal was "literally going up and down the road shooting at random," he said, there could be victims who have not yet been found by authorities.
On Wednesday morning, the doors to Rancho Tehama Elementary were locked. Classes are canceled until after Thanksgiving.
"Our beautiful little school," said Jayne Barnes-Vinson, whose grandchildren attended. "Just babies…. I have never loved a school more in all my life."
She showed a reporter a photograph of children taken at the school last year. They stood with their teachers in a heart shape, forming small hearts with their hands. They stood on the same spot on the playground where Neal stood and fired into their classrooms.
St. John reported from Rancho Tehama and Serna, Vives and Branson-Potts from Los Angeles.
ALSO
Judge ordered gunman to surrender weapons before he killed wife and hid body under their Rancho Tehama home
Terror in Northern California town as gunman goes on rampage, kills 5
Family of Rancho Tehama shooting suspect: 'Our hearts are broken for that community and the families'
As gunman sprayed school with bullets, quick action prevented mass bloodshed
Sign up for Essential California for news, features and recommendations from the L.A. Times and beyond in your inbox six days a week.
You may occasionally receive promotional content from the Los Angeles Times.