Tennis umpire seeks payback for arrest in husband's death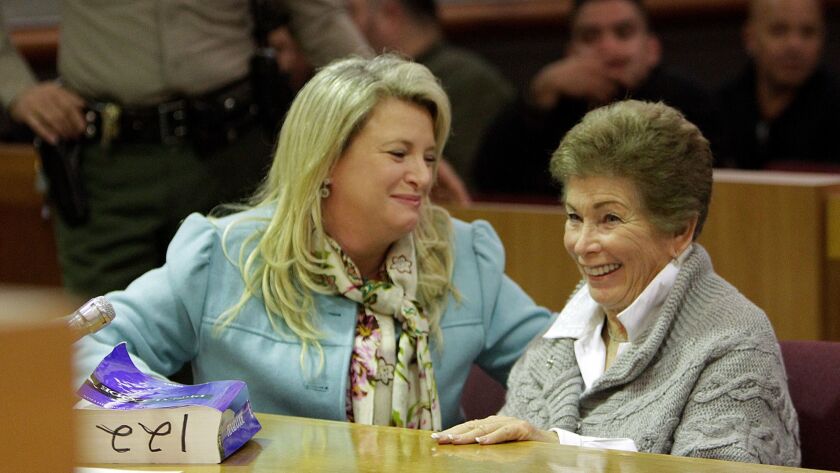 Six years ago, Lois Goodman stood in court accused of murder for allegedly bludgeoning her elderly husband with a coffee mug. On Wednesday, she was the accuser, blaming a medical examiner for what she says was a faulty autopsy report that led to her arrest.
Goodman, a tennis umpire who was on her way to officiate a U.S. Open match in New York in 2012 when police handcuffed her in front of news cameras, wants at least $100,000 to compensate her for legal expenses and the ordeal she suffered for months before prosecutors dropped the charges.
Attorney Todd Thibodo told jurors in federal court Wednesday that Yulai Wang, a deputy medical examiner in the Los Angeles County coroner's office, provided no justification when he determined Alan Goodman's death was a homicide rather than an accident. Wang had omitted important elements about the death and ignored the office's rules about including evidence of other possible causes of death in his report, he said.
"Mr. Goodman's death was an accident," Thibodo said in his opening statement. "The autopsy report left out all the facts and circumstances it was an accident."
A lawyer for Wang, however, said the pathologist had impeccable credentials and did not back down from the conclusion that Goodman was killed. "Mr. Goodman's death was bloody and was violent," attorney Rickey Ivie said.
Lois Goodman told investigators she returned home from umpiring a tennis match and getting a manicure April 17, 2012, to find a trail of blood leading from a landing on the stairs, where a coffee mug was shattered, to her bedroom. Her husband was face-up, covered in blood, on his bed and his body was cold.
The pillows and his T-shirt were bathed in blood, and paramedics determined he had been dead a couple of hours.
Thibodo said paramedics and police concluded Goodman died from an accidental fall down the stairs after they investigated the scene, spoke with his wife of half a century and interviewed neighbors. The coroner's office and L.A. police declined to send investigators to the scene.
Four days later, a coroner's investigator was sent to a mortuary for what was expected to be a routine exam before signing the death certificate.
Investigator Mario Sainz said he'd never seen anything like it, Ivie said. There were 17 cuts on Goodman's head, but no broken bones or injuries typically found when elderly people fall.
Wang and another pathologist who conducted the autopsy didn't think the injuries were caused by a fall, but they deferred reaching a conclusion pending more investigation. Three months later, Wang conferred with 32 colleagues and concluded the death was a homicide caused by multiple sharp force wounds.
"There's not one falsehood, one misstatement in that autopsy report," Ivie said, adding that Wang never had anything to do with determining who killed Goodman.
Lois Goodman was arrested about a two weeks later.
The charges were dropped in December 2012 after two other experts retained by prosecutors reviewed the autopsy report and concluded the death was an accident.
Dr. Frank Sheridan, chief medical examiner for San Bernardino County, found parts of Wang's autopsy report extremely "below standard," according to court records.
Goodman, 76, originally sued Los Angeles police detectives who investigated the case, along with the coroner's office and Wang. A federal judge threw out that lawsuit, but the U.S. 9th Circuit Court of Appeals reinstated the case against Wang because police relied on the conclusion of the coroner.
---
For reporting and exclusive analysis from bureau chief John Myers, get our California Politics newsletter.
You may occasionally receive promotional content from the Los Angeles Times.