With more than 8,500 firefighters doing battle, this is California's largest wildfire response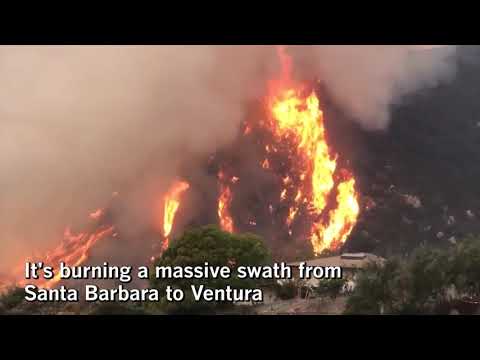 Firefighters took advantage of light winds in Santa Barbara County late Sunday, mounting an aggressive attack directly on the massive Thomas fire's western face a day after powerful gusts pushed flames toward homes along the coast.
As the Thomas fire entered its third week, the scope of the inferno continues to inspire awe and generate horror.
The wildfire had grown to 270,000 acres and spurred 104,607 people to flee their homes, authorities said. More than 8,500 firefighters have battled the blaze, the largest mobilization of fire crews to fight any wildfire in California history. The firefight has cost $130 million.
It's now the third-largest fire in California history but is likely to become the second within the next day or two.
Officials don't expect to have it contained until January, and some experts say it's possible the fire could end up as California's largest.
And the battle is far from over.
Winds are expected to calm down Monday and Tuesday to 10 to 20 mph, which will "look tranquil" compared with the weekend gusts, said Kathy Hoxsie, meteorologist with the National Weather Service. Increased humidity levels and low winds are expected to aid firefighters.
But it will be a short respite, as strong winds and low humidity are expected to return Wednesday in Santa Barbara County and Thursday in Ventura County, Hoxsie said.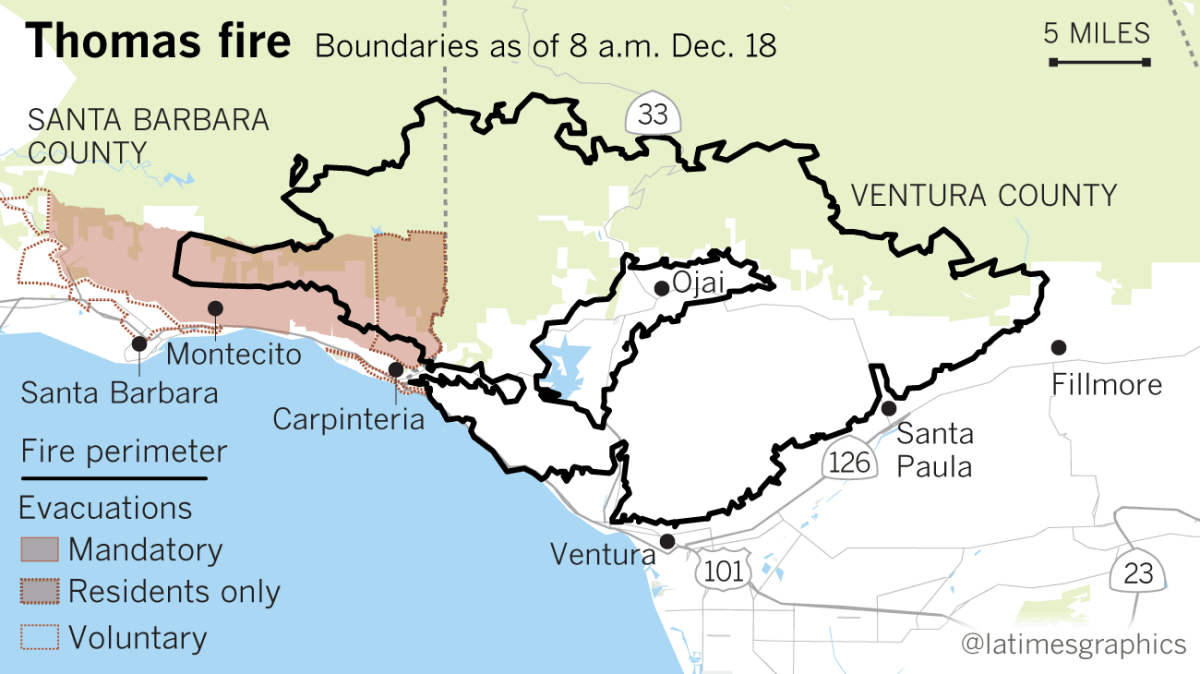 A fire like no other
Many firefighters say they've never encountered a situation like this in their careers. Many are on three-week shifts, so because containment isn't expected until January they know they'll be working on Christmas. One of their colleagues, a fire engineer from San Diego, was killed on the fire lines last week.
For firefighter Jake Illiam, the timing of the fire is bittersweet. He is proud to be able to protect the community and homes, but misses his 1-year-old daughter.
He reflected on it Saturday while protecting homes in Montecito.
"Today was her birthday party. I Face-Timed her earlier," he said.
A monster that keeps attacking
The Thomas fire is notable not just for its destructiveness but also for how it has continued to threaten communities for nearly two weeks, first in Ventura and Santa Paula, then Ojai and now the Santa Barbara coast.
And with winds pushing the flames this weekend, it could ultimately grow larger than the epic Santiago Canyon fire. The 1889 Santiago Canyon fire scorched 300,000 acres in Orange, Riverside and San Diego counties.
"The Thomas fire is still going and it potentially could exceed that 300,000-acre estimate," said Jon Keeley, a research ecologist with the U.S. Geological Survey and an adjunct professor at UCLA. "It could end up being the biggest fire."
The official California Department of Forestry and Fire Protection list of the top 20 wildfires dates back only to 1932, because records before then "are less reliable," the department says. The largest fire on the list is the 2003 Cedar fire, which burned more than 273,000 acres and killed 15 people.
LARGEST CALIFORNIA WILDFIRES
CEDAR (2003, San Diego County) 273,246 acres
RUSH (2012, Lassen County) 271,911
THOMAS (2017, Ventura/Santa Barbara counties) 270,500 (Still burning)
RIM (2013, Tuolumne County) 257,314
ZACA (2007, Santa Barbara County) 240,207
MATILIJA (1932, Ventura County) 220,000
WITCH (2007, San Diego County) 197,990
Winds keep the fire advancing
Winds have been the biggest factor in the Thomas fire's spread.
For all the firefighters on the lines, they say they've been powerless to stop the fire when powerful Santa Ana winds start blowing. Wind gusts have topped 60 mph at several points during the firefight.
The winds have decreased, but then come roaring back, like this weekend. That's when more homes burned in Montecito.
Keeley notes that the Thomas fire is a "real anomaly," because it is tied to an unusually long Santa Ana wind event.
"Normally when we get a strong Santa Ana wind event, it lasts two or three days and then the winds die down and the fire is then contained," Keeley said. "But this fire is occurring during a Santa Ana wind event that apparently isn't even over yet. … The longer the Santa Ana winds blow, the larger the fire grows. That's an important characteristic of the Thomas fire."
Sign up for Essential California for news, features and recommendations from the L.A. Times and beyond in your inbox six days a week.
You may occasionally receive promotional content from the Los Angeles Times.