Trump administration halts plan to end protections for immigrants from Honduras and Nepal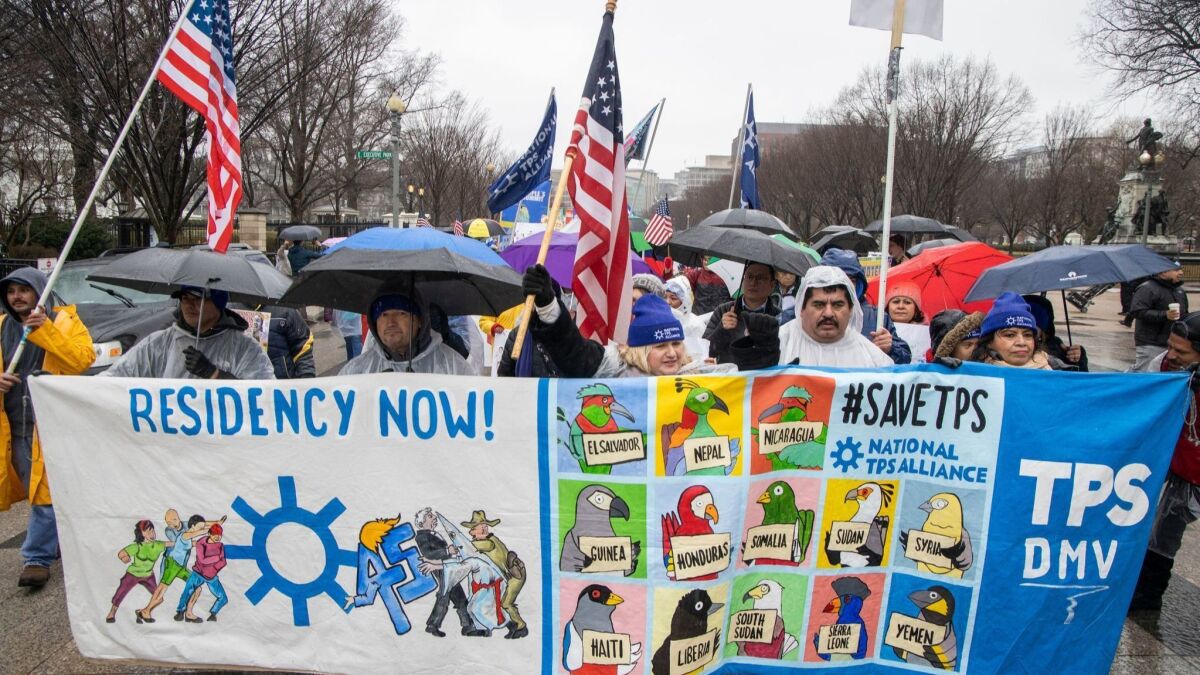 The Trump administration has agreed to temporarily halt the termination of humanitarian protections for more than 100,000 people from Honduras and Nepal, the American Civil Liberties Union announced Tuesday.
The decision comes exactly one month after the ACLU and other immigrant rights advocates filed a class-action lawsuit against the administration over its decision to end temporary protected status for immigrants from those two countries. In their lawsuit, the plaintiffs alleged that the decision by the Department of Homeland Security to end TPS was "motivated by racial animus."
Protections were due to end in June for 15,000 people from Nepal and next January for 86,000 people from Honduras, leaving them vulnerable to deportation.
The lawsuit was filed in U.S. District Court in San Francisco on behalf of six immigrants with TPS and two U.S. citizens who are children of beneficiaries. TPS is a form of humanitarian relief granted to residents of countries devastated by natural disasters or war that allows beneficiaries to work legally while they remain in the U.S.
The program, created in 1990, applies to people from 10 countries. But the Trump administration has announced the termination of TPS for 98% of those who have it.
In October, a U.S. district judge in San Francisco temporarily blocked the administration from rescinding TPS for more than 300,000 immigrants from El Salvador, Haiti, Nicaragua and Sudan while their case plays out in court. The administration is appealing that ruling to the 9th Circuit Court of Appeals.
The Trump administration canceled TPS for Honduras and Nepal after the first lawsuit was filed last year. Tuesday's agreement essentially groups the fate of the two cases.
The case of Ramos vs. Nielsen alleges that government officials illegally diverged from how all previous administrations had interpreted TPS law, as part of a broad effort to decrease the number of nonwhite immigrants in the U.S. Lawyers representing the plaintiffs in Bhattarai vs. Nielsen, the case filed last month, made the same legal arguments.
Internal documents capture Trump administration debate about ending temporary immigrant protections »
Government lawyers said that those countries had sufficiently recovered from the original disasters, and that TPS was never meant to be permanent. A Department of Justice spokesman last month said the decision to terminate TPS for Honduras and Nepal was "both lawful and reasonable."
Under the agreement, TPS will remain in place for Honduran and Nepalese immigrants at least until the appeal in the Ramos case is decided. Lawyer Ahilan Arulanantham with the ACLU of Southern California said that oral arguments with the 9th Circuit probably will be set for this summer, giving TPS beneficiaries several months of reprieve.
"I feel like I've been sick and this agreement is a few drops of medicine," lead plaintiff Keshav Bhattarai, a TPS holder from Nepal who lives in Sunnyvale, near San Jose, said in a statement.
Also Tuesday, House Democrats unveiled a new version of the Dream Act, formally called the Dream and Promise Act, including a path to citizenship for beneficiaries of TPS. Arulanantham said immigrants with TPS, many of whom have lived in the U.S. for decades, deserve stability.
"Our lawsuit is not the solution to this — it's temporary relief," he said.
andrea.castillo@latimes.com | Twitter: @andreamcastillo
The stories shaping California
Get up to speed with our Essential California newsletter, sent six days a week.
You may occasionally receive promotional content from the Los Angeles Times.