Transgender woman on migrant caravan: 'I wouldn't last a day if I returned to Honduras'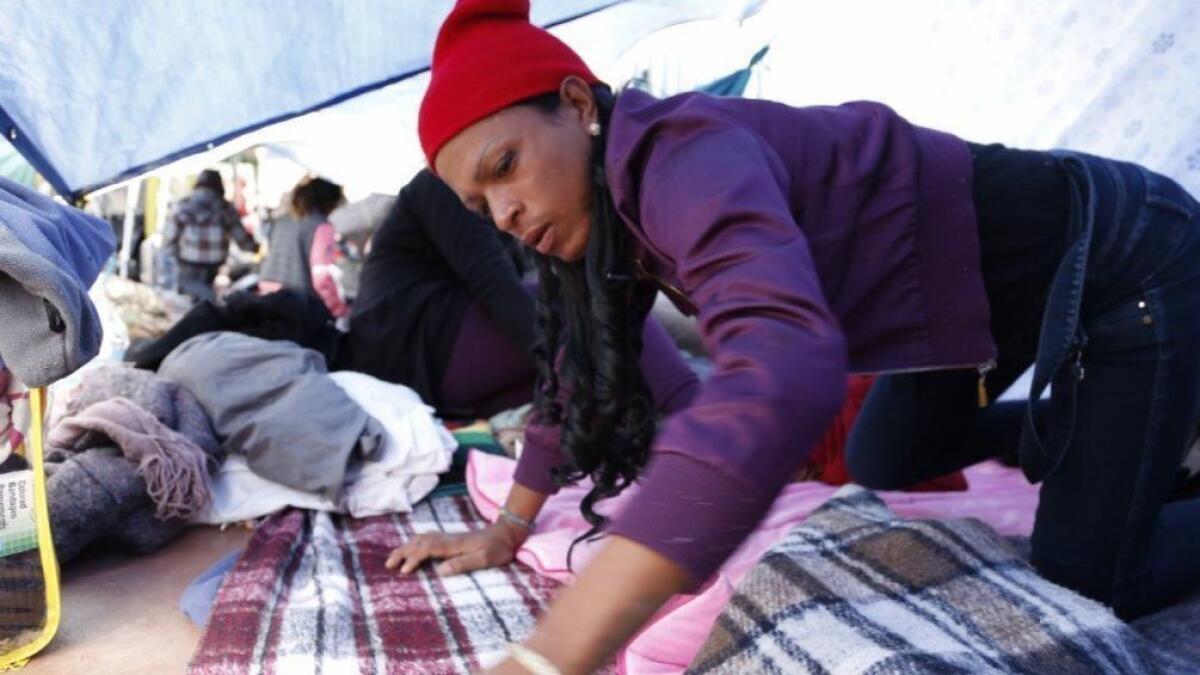 Of the 225 asylum seekers escaping from places like Honduras, Guatemala and El Salvador, the dozen or so members of the transgender community who arrived in Tijuana feel they are targeted wherever they go.
These women say they have survived murder attempts, have seen their friends beaten to death, and have been forced into sex work.
Not all of them made it to Tijuana.
"Some of us have been kidnapped, assaulted and disappeared," said Ivan Mondragon, 30, who organized the transgender group. "Some have been forced into sex work. Here in Tijuana, one of our girls was assaulted, someone broke her rib and we haven't seen her since she posted a video on Facebook after she was beaten."
Mondragon, who lives in the Mexican state of Chiapas, organized a transgender caravan last year. During that trip, they successfully transported 17 people, including 11 transgender women, to Nogales, Ariz.
While planning a second caravan this year Mondragon learned about the Central American caravan getting ready to leave the Guatemala-Mexico border, the same caravan that President Donald Trump openly criticized as a sign of "weak" immigration laws and inadvertently turned into an international media spectacle.
Mondragon decided to join the larger caravan for protection. Five transgender women were part of the caravan and more joined along the way, including a large contingent in Puebla.
Along the month-long journey through Mexico, about 35 transgender women joined the caravan and about 20 made it to Tijuana, Mondragon said.
Many of them said they are runaways, cast away by their families. Most of them said they have at least one friend who was murdered for being transgender.
"I have friends who don't have the opportunity to ask for asylum because they are already dead," said Shannel Smith, 28, of Honduras.
Smith said she left the capital of Tegucigalpa with two friends after gang members who killed their transgender friend went after them. Her friends decided to stay in Mexico but Smith chose to keep going.
"I don't think Mexico can give me the security I'm looking for," she said. "I have friends who live here in Mexico and say it isn't as safe as it seems."
Melany Santiago, 19, is one of the transgender women who joined the caravan in Puebla. She is from Honduras but has been living in Mexico City since she was 14.
Santiago left Honduras after she said someone tried to kill her. She carried copies of hospital records and hoped to use them while making her claim for asylum.
In Mexico, she thought she'd find acceptance but said she experienced the same level of discrimination as in Honduras. Apart from being denied jobs and housing, violence against transgender women goes unpunished, she said.
"When you report a crime no one follows up," Santiago said. "There is no investigation, there is impunity. The legal system here is a farce."
Along their month-long trip through Mexico, the transgender women formed a close-knit community. That bond was most apparent to Alexandra Mejilla, 29, of El Salvador, when they had to make their way through a series of trains known collectively as "La Bestia."
Mejilla had trouble getting on the train and briefly thought about giving up and staying in Mexico. But her friends, some on the train and some behind her, pushed her up and into a box cart.
"I felt more support because I wasn't alone anymore," she said. "If something happens your friends protect you. We're all running from the same thing so we help each other out."
In El Salvador transgender people are treated "like extraterrestrials," Mejilla said. "They don't talk to us, they won't come near us."
Last year, 15 of Mejilla's transgender friends were murdered in El Salvador, she said. Some were hacked to pieces with machetes to the point that they were no longer recognizable, she said.
During the trip, caravan organizers helped all of the asylum-seekers build a strong case. Mondragon puts together legal screenings and works with nonprofits in the United States to find sponsors for the transgender women.
Mondragon also organized talks and empowerment workshops to help the transgender women find their voice. Ideally, she would like for them to be able to stay in Mexico one day. But the country's views toward transgender people need to change before that happens, Mondragon said.
Asylum cases are difficult to win. They can take months, even years, to complete and more than seven out of every 10 claims from Central Americans are denied.
To be granted asylum in the United States, applicants need to prove that they suffer persecution due to race, religion, nationality, political opinion or membership in a particular social group.
Nicole Ramos, an immigration attorney who has been helping prepare asylum seekers, says some of the strongest cases are from the LGBTQ community, particularly transgender women.
Five transgender women entered the U.S. last Wednesday, organizers said. Five more entered Friday. About 10 stayed behind in Tijuana. Organizers aren't yet sure how many will try to claim asylum and how many will stay in Mexico.
Even as they prepared to enter the U.S., death followed the caravan's transgender women. Melannie Osorio, 20, of Honduras, said she had received a WhatsApp message telling her that her best friend, a transgender woman named Angie, had been shot and killed.
Angie was Osorio's third transgender friend to be murdered this year, she said.
"I wouldn't last a day if I returned to Honduras," she said.
Solis writes for the San Diego Union-Tribune.
Sign up for Essential California for news, features and recommendations from the L.A. Times and beyond in your inbox six days a week.
You may occasionally receive promotional content from the Los Angeles Times.