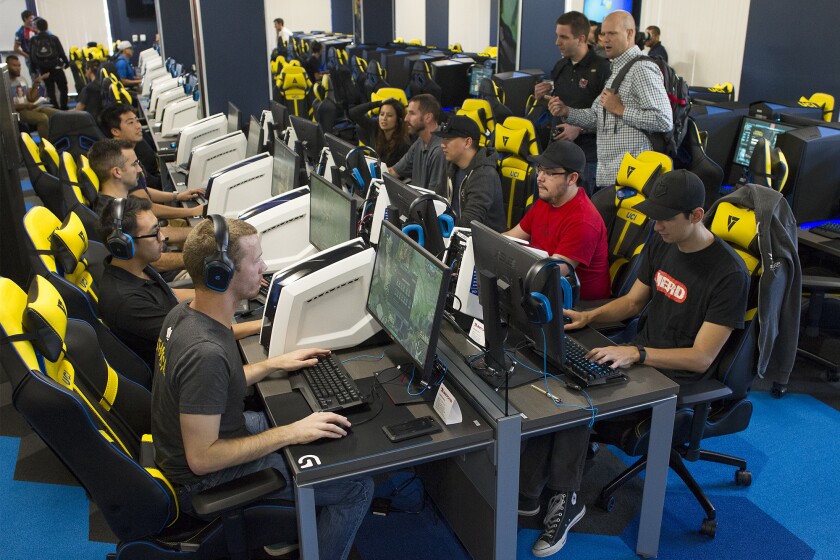 The new team at UC Irvine is suiting up for battle in a recently furnished arena on campus, where members will gear up with headphones, a keyboard and mouse.
UC Irvine this month opened its e-sports arena, which is equipped with 80 computers and will be frequented by the school's new team competing in the "League of Legends" game.
E-sports, or electronic sports, are multiplayer video game experiences and competitions in which players play against one another through a digital platform.
"When people like to watch professional basketball or football, people also want to watch the best gamers in the world play against the other best gamers in the world," said Jesse Wang, president of UC Irvine's Assn. of Gamers, a student group.
In a collective effort from the association, the school's admissions department, Student Affairs and UC Irvine's e-sports acting Director Mark Deppe, the university was able to recruit five of the team's players, who are receiving about $15,000 worth of scholarships.
"When we announced this program, we had a recruitment form on our website.… There were about 130 people who expressed interest," Deppe said. "We asked for a link to their gamer profile so we can see how highly they're ranked. Then we reached out to the top 20, asking for academic info."
The team is still looking for five more members, he said, and student tryouts will be held in the beginning of October.
"This is the first time a big-name university — and a public university at that — is doing a program like this," Wang said, adding that only small private universities have pursued the e-sports endeavor so far.
The team plans to practice on weekends in the 3,500-square-foot arena, which houses rows of Noctis computers that are considered to be the Ferraris of gaming, Wang said. They were provided by IBuypower, a computer gaming equipment company based in the City of Industry.
Each computer is also accompanied with a Vertagear blue and gold ergonomic chair — UC Irvine's school colors.
"The chairs were the star celebrity we didn't anticipate," Wang joked. "Everyone likes them."
Before the arena's facility underwent its $250,000 transformation over the summer, the space was formerly known as Zot Zone. It had pool tables, board games and karaoke.
Team member Youngbin Chung, 22, was recruited to play "League of Legends" for UC Irvine from Robert Morris University Illinois. He said that he feels like he's been gaming "since I was born" and that he always wanted to study at one of the University of California campuses.
A spot on UC Irvine's "League of Legends" team proved to be the perfect fit.
"The first memory I have is of me playing a game. I think it was playing my Game Boy," Chung said. "Every game makes me try harder to win."
Team member Loc Tran, 21, previously attended San Jose State, where he was gaming for a student club. He was already close to graduating, but the chance to play competitively for UC Irvine was too good to pass up.
Tran said his favorite part about gaming is knowing that everyone competing is "on a level playing field."
"I'll never be able to play in the NBA, even if I was shredded," Tran said with a laugh. "Yes, some people can have talent truly in anything, but all you need here is access for the game."
UC Irvine's "League of Legends" team will compete with student gaming clubs from schools throughout Southern California, including UCLA, USC and Cal Poly Pomona.
For recreational community use, games such as "League of Legends," "Overwatch," "World of Warcraft" and "Final Fantasy" are available to the public on the arena's computers for $4 an hour.
"This is for everyone, regardless of whether you're an athlete, an artist or an administrator," Wang said. "It's about bringing a community together, and I think that's something we're going to prove here."
Chan writes for Times Community News.
---