Fentanyl arrests at San Diego border spur push to warn underage smugglers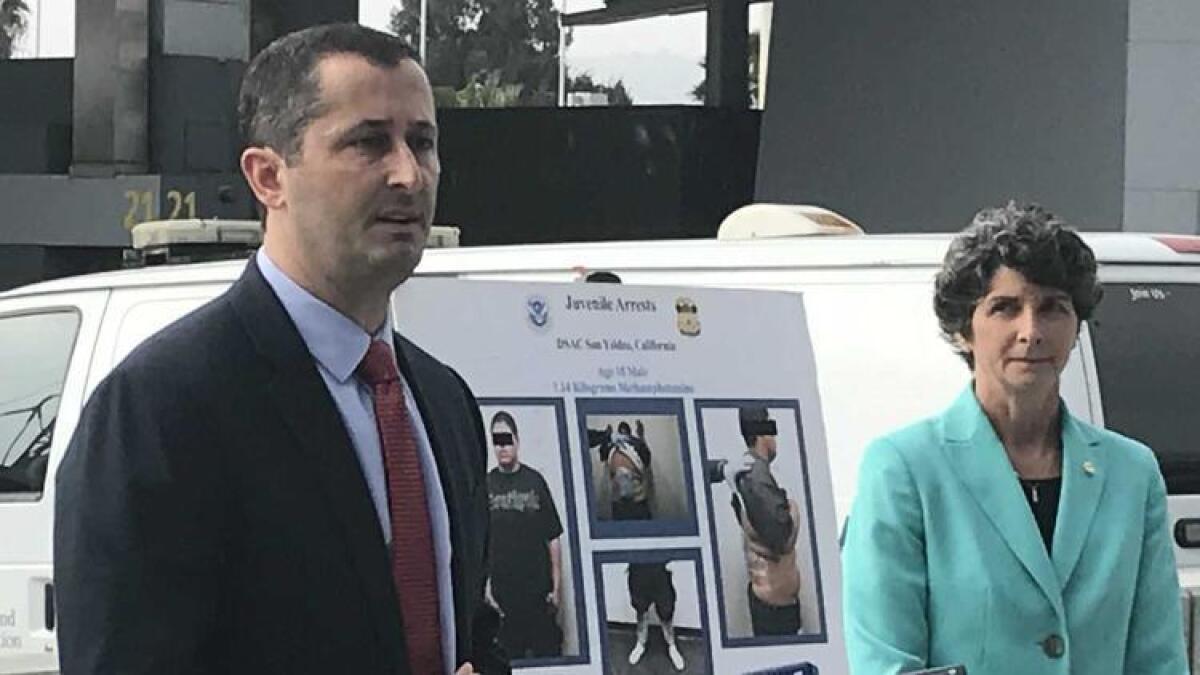 Reporting from San Ysidro, Calif. —
Following a recent rash of arrests of teenagers attempting to sneak fentanyl through the San Ysidro Port of Entry, federal and local law enforcement authorities have joined forces in a push to warn underage smugglers of the consequences of getting caught.
"Juveniles should be forewarned that their age doesn't necessarily give them immunity from prosecution," said Anne Maricich, deputy director of field operations in San Diego for U.S. Customs and Border Protection, speaking at a Thursday news conference at the port of entry.
The agency is working with U.S. Homeland Security Investigations and the San Diego County district attorney's office to prosecute these cases. Law enforcement officers also are preparing to visit area schools to inform students of the dangers of fentanyl, a powerful opioid that is 50 to 100 times more potent than heroin.
Maricich said the San Diego field office — which oversees ports of entry on the California border — has seen a steady increase in fentanyl seizures over the last three years. "But this happens to be the first year that we've seen youth involved in the smuggling of fentanyl," she said.
In the current fiscal year, which started Oct. 1, six juveniles have been caught with fentanyl, according to the field office's figures. Five of those arrests took place over a five-day period — from March 27 to March 31 — at the San Ysidro Port of Entry.
Last month's cases involved four teenage boys, ranging in age from 15 to 17, caught with the drug strapped to their bodies in the port's pedestrian lanes. The fifth involved a 17-year-old girl driving a car through the dedicated SENTRI lane.
While drug-trafficking organizations for years have used teenagers to smuggle narcotics across the border, the involvement of juveniles in smuggling fentanyl is raising new alarm.
In 2009, the prime concern was the involvement of young people in marijuana smuggling, and law enforcement authorities began visiting area schools.
"Now they've turned to the harder drugs, and fentanyl is the most dangerous one they're doing," said David Shaw, the special agent in charge of the San Diego office of Homeland Security Investigations.
Even the smallest exposure to the drug, including through skin absorption or inhalation, could prove deadly to smugglers.
Shaw said the juveniles are taking great risks for small sums of money, typically less than $500. They are recruited though a variety of channels on both sides of the border: "It can be schools, public transportation, while waiting in line to come across, through social media."
Lisa Weinreb, who heads the juvenile branch of the district attorney's office, said "the message is very clear: These youth will be caught and they will be prosecuted if they engage in this very, very dangerous felony activity."
Smuggling organizations often tell teens that if they are caught, the consequences will be minimal due to their age.
"Nothing could be farther from the truth," Weinreb said.
Dibble writes for the San Diego Union-Tribune.
sandra.dibble@sduniontribune.com
---
The stories shaping California
Get up to speed with our Essential California newsletter, sent six days a week.
You may occasionally receive promotional content from the Los Angeles Times.