Union Station's Traxx restaurant quietly closes after more than 20 years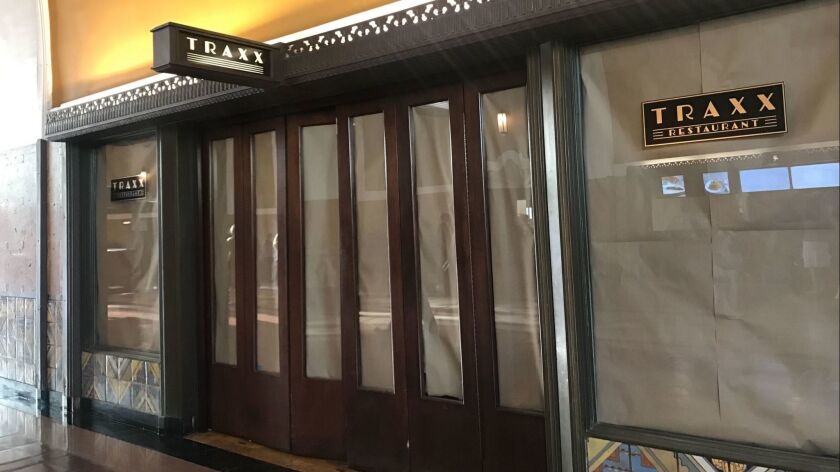 The phone isn't yet off the hook and the website still allows guests to make dinner reservations. But brown parchment paper covers the windows of Traxx, signaling the closure of the longtime Union Station eatery.
Inside, darkness fills the Art Deco space. The only light that emanates comes from the owner's laptop as she wraps up work at the restaurant where she has invested more than 20 years of her life.
"It was no longer a good business decision for me to remain open here," Tara Thomas, the executive chef and owner, said Wednesday.
The restaurant offered service for the last time Monday night. Without fanfare or announcement, its doors closed Tuesday, months before its 2020 lease was up with the Los Angeles County Metropolitan Transportation Authority, which owns Union Station.
Traxx opened in 1997 as a sit-down bar and restaurant at the downtown L.A. transportation hub. Thomas developed it as a fine dining establishment reminiscent of historic Los Angeles, down to the 1920s type font on its signage.
But over the years, new restaurants have come into Union Station, offering customers more cocktail options beyond Traxx. In October, Imperial Western Beer Co. opened its doors, becoming a new destination for those looking for a contemporary spot.
I saw the writing on the wall.
Tara Thomas, Traxx executive chef and owner
It's the drink profits that often help keep the fine dining places in business. For Traxx, a restaurant that offered upscale dining, those new options proved fateful.
"I saw the writing on the wall," Thomas said. "There are only a certain number of cocktails you can sell in your site plan."
Paul Kanemitsu, a server at the restaurant, said he witnessed a decline in customers over the past year — and more strikingly, in the past five months.
"It's a younger market now. They want to drink and hang out in a cool place," he said. "We're a little more mature, more cultured and refined."
Thomas has been the sole owner of Traxx, overseeing a small staff. The restaurant operated like a mom-and-pop spot, said Gary Callahan, Thomas' life partner. Changing its style to serve a different crowd wasn't ever a consideration.
Callahan said that before Traxx opened, the former Union Station owners wanted a more accessible concept.
"They told [Tara] she needed to dumb it down, and she refused. Chefs are artists," he said.
Traxx isn't the only downtown Los Angeles eatery to recently close its doors. Last week, Cafe Pinot — the French restaurant that's long been attached to the Central Public Library — closed after 25 years.
---
Must-read stories from the L.A. Times
Get the day's top news with our Today's Headlines newsletter, sent every weekday morning.
You may occasionally receive promotional content from the Los Angeles Times.