Victorville prison strains to handle hundreds of immigrant detainees: 'We cannot take care of these inmates'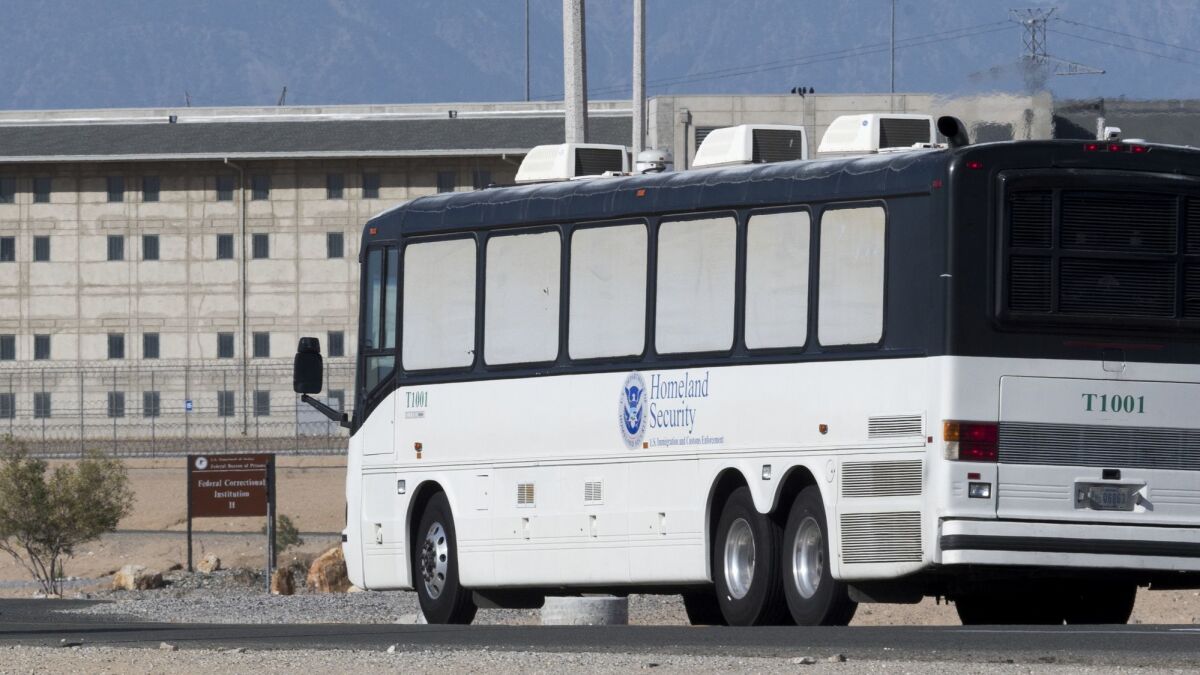 Reporting from Victorville —
Immigration detainees who were sent to a federal prison in Victorville last month were kept in their cells for prolonged periods with little access to the outside and were unable to change their clothing for weeks, according to workers at the facility and visitors who have spoken with detainees.
Staffers at the prison also say they have not been given the proper resources or direction to handle the influx of detainees, putting both inmates and workers in danger.
"We're putting out fires, just like we were doing before," said a worker who asked not to be identified for fear of retaliation. "But it's gone from bad to worse to worst. We cannot take care of these inmates."
The Victorville Federal Correctional Complex is a sprawling federal prison in San Bernardino County that houses thousands of inmates who have been convicted of crimes in federal courts.
The immigrants who were sent there are considered "civil" rather than criminal detainees, meaning they are being held pending the outcome of their immigration cases. Some are asylum seekers; some are fathers who were separated from their children in recent months.
They were sent to the prison in June as part of the Trump administration's policy of increasingly detaining asylum seekers and immigrants in the country illegally until their cases are decided. Federal officials have said that using prisons to hold the detainees is a stopgap measure while officials find more holding space.
Officials with the Federal Bureau of Prisons say the facility had beds available because of a decline in the inmate population in recent years, and that it has managed the new population using existing staff, some of whom were reassigned from other facilities.
But workers and people who have been able to visit the detainees say the prison was seriously unprepared for its new role.
The prison, which workers have long complained was short-staffed, is now scrambling to care for hundreds of new detainees from around the world with language, medical and care needs that are very different from those of typical federal prisoners, workers say.
The situation has raised concerns among Democratic and Republican lawmakers.
In late June, Rep. Paul Cook (R-Yucca Valley) wrote a letter to U.S. Immigration and Customs Enforcement and the Bureau of Prisons urging officials to increase staffing levels at Victorville to match the increase in population.
"Furthermore, I urge ICE to support and train [prison] staff so they are properly equipped to implement policies and procedures that may be unfamiliar to them when dealing with immigration detainees," Cook wrote.
Rep. Mark Takano (D-Riverside), who visited the facility July 2, said he saw numerous signs that the prison was struggling to meet detainees' needs.
"Every detainee group that we met said they had not had a change in clothes since they arrived on June 8. Their bedding had not been switched. They were wearing the same underwear," Takano said.
Thirteen of the detainees who spoke with Takano and his staff were fathers who had been separated from their children. The men said they had been unable to speak with their children since arriving at the facility.
Detainees also complained of not getting enough food and of being "locked up for long periods of time in their cells" and having very limited access to the outdoors, Takano said.
Prison officials showed Takano a recreation area, which he said was nicely equipped. But when he asked one group of detainees whether they were able to use that room, they told him they had been there only once, he said.
"That's an indicator to me that the prison was not ramped up to be able to accommodate this incursion of detainees. They were understaffed before the detainees arrived, and the arrival of 1,000 detainees I think has fully stressed the staff's ability to be able to safely oversee their health and safety," Takano said.
Nearly 1,000 immigration detainees were initially transferred to the prison. As of this week, 656 remained, said ICE spokeswoman Lori Haley.
The complex includes a high-security prison, two medium-security prisons and a minimum-security camp. The detainees are being housed in one of the medium-security prisons. Visits to the facility are tightly controlled.
Workers say one of their biggest concerns is the lack of staff and resources to adequately handle detainees' medical needs.
There have been three cases of chickenpox and about 40 scabies cases since the detainees arrived.
One worker who spoke to The Times on the condition of anonymity for fear of retaliation said medical workers are stretched so thin they can address only detainees' most urgent needs.
"We're not finding illness because we are so rushed," the worker said. "As patients, they're not getting the care they need."
The worker said that, after Takano's visit, detainees were given a change of clothing — but for many of them it was paper gowns normally reserved for inmates with specific medical needs.
Eva Bitran, an attorney for the ACLU who has met with two detainees at the facility, said both men told her they had struggled to get medical care.
One man told her about a button that detainees could push for emergency medical care. When that button was pushed, they were asked: "Are you being raped or are you dying?" When the answer was no, no help would come, the man told her.
One detainee who has since left the facility told The Times that he and others in his unit were locked in their cells for most of the day for the two weeks he was at the prison, with food passed through a small opening in the door.
The man was not given a change of clothes during the 14 days he was at the facility and was not able to bathe for the first four days, he said.
In late June, the ACLU sued the Department of Homeland Security and the Bureau of Prisons on behalf of detainees, saying they had been held "incommunicado," and asking the court to order the prison to allow lawyer visits and phone calls.
U.S. District Judge Otis D. Wright II sided with the ACLU and granted a temporary restraining order June 21 requiring the prison to allow detainees to communicate with immigration attorneys and attend "know your rights" workshops.
Haley, the ICE spokeswoman, referred questions about conditions at the prison to the Bureau of Prisons and said that ICE was deferring to that agency's standards on questions of things such as access to time outside of cells and outdoors time.
In an email response to questions from The Times, Bureau of Prisons officials said, "[D]etainees have regular inside and outside recreational opportunities and receive meals in the facilty dining hall."
Officials also said that since the detainees' arrival, 25 medical staff members were temporarily assigned to help with intake screenings, physical exams and general care.
Regarding the chickenpox and scabies cases, officials said the facility is "taking the necessary precautionary measures to protect staff, inmates and detainees, and the community, from the possibility of being exposed."
John Kostelnik, president of the American Federation of Government Employees Local 3969, which represents workers at the prison, said although while some medical staffers were briefly assigned to help with the detainees, it was far from enough to meet the need.
He said many problems stem from a lack of direction from officials about how to reconcile standards that are common to federal prisons but aren't necessarily appropriate for immigration detainees.
"We're still day by day, making things up as we go," he said.
As the facility has received increasing scrutiny from political leaders, legal groups and others following the transfer of detainees, Kostelnik said some things appear to be improving — such as more uniforms.
But the staff is still overtaxed, said Kostelnik, who worries about what might happen if bigger changes don't come fast enough.
"You have this group of detainees that are starting to get upset," he said. "You get a large group of individuals that are upset, you have the potential for anything."
For more Inland Empire news follow me @palomaesquivel
---
Life is stressful. Our weekly mental wellness newsletter can help.
You may occasionally receive promotional content from the Los Angeles Times.