An explosive wildfire season drives firefighting costs to record levels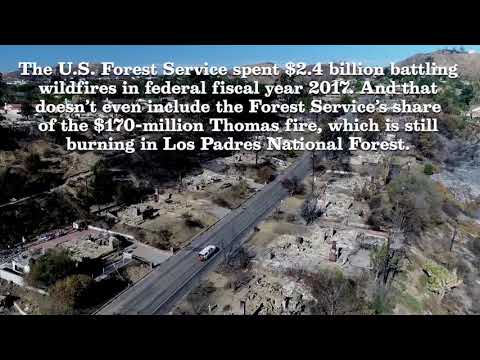 The U.S. Forest Service spent $2.4 billion battling  wildfires in the federal fiscal year 2017.
State and federal firefighting costs soared to record levels this year as wildfires scorched more than 9.5 million acres across the country, continuing a trend that is playing havoc with the U.S. Forest Service budget.
The agency spent $2.4 billion battling wildfires in federal fiscal year 2017, which ended Sept. 30. And that doesn't even include the Forest Service's share of the $170-million Thomas fire, which is still burning in Los Padres National Forest.
Only halfway through the state fiscal year, the California Department of Forestry and Fire Protection has already spent $699 million fighting wildland blazes that turned California's 2017 fire season into the deadliest and most destructive on record.
The rising costs are sucking funds from other Forest Service programs, such as recreation and maintenance. And the longer fire season has pushed state officials to spend more taxpayer money expanding California's year-round firefighting staff.
There have been some years of respite, but in general, firefighting costs have been climbing since 2000.
"It's just getting worse and worse," Forest Service spokeswoman Jennifer Jones said.
This is the fifth year since 2006 that national burn acreage topped 9 million, with 2015 setting a modern record at 10.1 million acres.
In California, the wind-driven Thomas fire roared to the head of the state's 85-year-old list of large wildfires. This is the third year in the past decade that flames charred more than 1 million acres in the state.
At one point, more than 8,600 federal, state and local firefighters were attacking the Thomas blaze. In October, more than 11,000 firefighters battled the Northern California fire siege, which claimed 45 lives.
"We're seeing sieges happen more frequently," and fire seasons are growing longer, said Cal Fire director Ken Pimlott.
That has prompted his department to beef up permanent staffing.
Cal Fire, which is responsible for fire protection in rural areas, traditionally kept 10 fire stations open all year in Southern California and staffed others around the state during the fire season.
Starting this year, an additional 42 Cal Fire stations throughout the state will remain open year-round, each with an engine that can be dispatched at a moment's notice.
"This is the state recognizing that conditions are changing," Pimlott said. "As this becomes the new norm we will continue to look at what it takes to keep pace."
Cal Fire's overall budget — $2.1 billion this fiscal year — includes a category for fighting large wildfires. But the actual costs usually exceed the budgeted amount.
With six months left in this fiscal year, the state firefighting bill is already the highest on record and tops the budgeted amount by $272 million.
Some of the state's firefighting expenses are eventually reimbursed by the federal government. But one way or another, taxpayers pick up the tab.
The legislature in 2011 imposed an annual fee on homeowners in areas protected by Cal Fire, but that paid for fire prevention activities, such as brush clearance inspections and hazardous fuel reduction, not firefighting operations.
And the $150 per-home fee, which raised about $74 million a year, proved so contentious that lawmakers this year suspended it until 2031.
In its place, Cal Fire is getting prevention money from the state's cap and trade program, in which companies that emit greenhouse gases buy pollution credits.
The Forest Service, meanwhile, has been forced in many years to borrow money from the agency's non-fire programs to cover ballooning firefighting expenses. While those programs are later repaid, the transfers disrupt and postpone work in national forests.
And total fire spending — including firefighting, training, and hazardous fuel reduction — is eating up more and more of the agency's budget.
A decade ago, it amounted to 42% of the total Forest Service budget. In fiscal year 2017, it consumed 57%. By 2021, Jones said the agency expects fire to amount to roughly two-thirds of its budget.
That leaves the agency with less to spend on other forest projects, including road and trail maintenance and recreational activities.
From 1998 to 2016, the number of Forest Service employees working in fire programs more than doubled to 12,000. At the same time, Jones said, staffing for some other programs declined by 39%.
In 2009, Congress created another firefighting fund, but that failed to solve the Forest Service's money problems.
The Obama administration subsequently proposed a system of budget adjustments when the agency was hit by major wildfire costs, but that went nowhere.
Now Forest Service officials are trying to come up with a fix that would treat the costliest wildfires like a natural disaster, meaning they would be paid for outside of the agency's annual appropriation.
Neither federal nor state officials expect the wildfire threat to diminish, as the forces that drive big burns are escalating.
In California and the West, development continues to push into fire-prone wildlands. Twentieth century policies thwarted the natural fire cycle on public lands, leaving many forests overgrown and fire-starved. Drought and climate change are extending the fire season.
"We all have to come to the understanding that fire is a part of the landcape in California," Pimlott said. "We will never be able to stop these 60-mile-an-hour, wind-driven, intense fires that move the length of a football field in a minute."
"It's no different than if you live in a flood zone or a hurricane zone or any place frequented by tornadoes," he added. "You have to have that same mindset on any given day, there could be a wildland fire and here's what I have to do to stay safe."
Twitter: @boxall
Sign up for Essential California for news, features and recommendations from the L.A. Times and beyond in your inbox six days a week.
You may occasionally receive promotional content from the Los Angeles Times.