Woman got restraining order, installed security system before being killed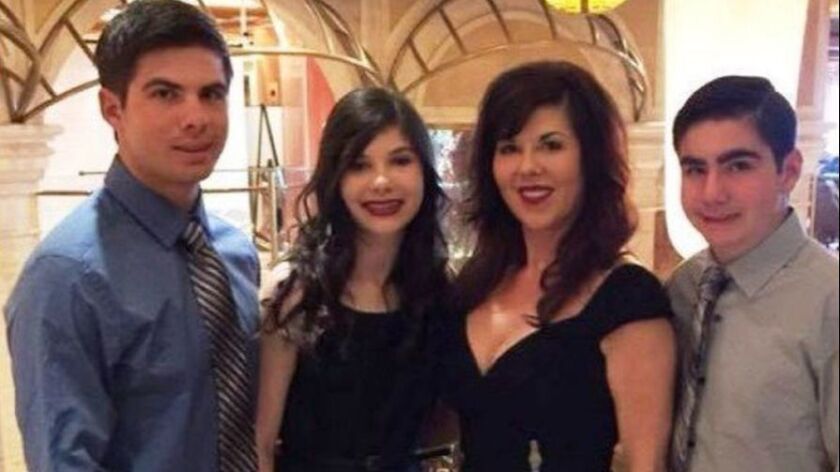 A woman who was brutally killed in her Huntington Beach home in December 2016 had obtained a restraining order against her ex-boyfriend, who is charged in the slaying, and had installed a security system a day before she died, according to documents filed in Orange County Superior Court.
Authorities allege that Jason Becher, 43, of Anaheim entered the Litchfield Drive home of 50-year-old Marylou Sarkissian in the early morning of Dec. 2, 2016, and beat and strangled her, according to court records.
Becher is facing a murder charge and a possible sentencing enhancement on allegations that he committed the crime by lying in wait. If convicted, he could face a minimum sentence of life in prison without possibility of parole, prosecutors said.
He has pleaded not guilty and is being held without bail at the Theo Lacy Facility in Orange, jail records show.
Becher's public defender did not return a call seeking comment Wednesday.
Authorities have not released many details about the crime, but a Huntington Beach police report attached to an arrest warrant filed in court sheds light on the events leading to and immediately following Sarkissian's death.
Police wrote that they launched their investigation the afternoon of Dec. 2, 2016, after Becher's uncle reported that his nephew had told him he killed Sarkissian. After the call, three officers went to Sarkissian's home and were let in by her teenage son.
The boy told officers he arrived at the house around noon and had walked around and called for his mom but didn't think she was home. The boy led the officers to his mother's room and screamed when he saw Sarkissian lying on the floor of the shower, according to the report.
"The female appeared to be badly bruised and beaten about her face and was lying in a pool of blood," police wrote.
Detectives reviewed 24 hours of recordings from Sarkissian's two motion-activated surveillance cameras. One was in the living room pointed at the front door; the other was in the kitchen to monitor two other doors leading into the home, according to the report.
Sarkissian is last seen in video from the kitchen camera at 10:30 p.m. Dec. 1. Nearly four hours later, at 2:22 a.m., a man wearing gloves and dressed in black, with blood smeared on his forehead, is pictured on the camera's recording, the report states.
The man, who authorities say is Becher, is heard in the footage saying, "So you got a new surveillance system; how'd that work out for you?" according to the document.
About 30 minutes later, the man is seen in the footage carrying a garbage bag out of the house, authorities wrote. He is barefoot and appears to have changed clothes.
Becher's brother told detectives during an interview that Becher told him he waited outside the house until Sarkissian let her dog out and rushed in when the dog went back inside, the report states.
Authorities wrote in their report that Becher apparently told his brother that he had zip-tied Sarkissian and "beat her to death."
In the house, police wrote, they found a garbage bag containing bloodied clothing and a black plastic hanger that they believe was used to inflict some of Sarkissian's injuries. Authorities suspect a bloodied nylon rope also found in the bag was used to strangle her.
One of Becher's family members, whose name was redacted in the document, told detectives that in the weeks before the killing, Becher had mentioned that Sarkissian owed him money, which angered and frustrated him, the report states. He also was angry that Sarkissian had a restraining order against him, police wrote.
The restraining order was related to an incident Aug. 29, 2016, when Sarkissian filed a police report alleging that Becher dragged her into a bathroom and tried to choke her with a bath towel until she pepper-sprayed him. Becher had accused her of stealing $100,000 from him, police wrote.
Sarkissian's sister, Debra Zdrazil, also was granted a restraining order against Becher in September 2016, alleging that he was threatening her.
Becher previously was incarcerated for violent crimes including corporal injury on a spouse or cohabitant, assault with a deadly weapon and false imprisonment, court records show.
He is expected to appear in court for a preliminary hearing in the Sarkissian slaying in May, when a judge will decide whether there is enough evidence to move to trial.
Fry writes for Times Community News.
---
For reporting and exclusive analysis from bureau chief John Myers, get our California Politics newsletter.
You may occasionally receive promotional content from the Los Angeles Times.