No health risk from Woolsey fire that burned nuclear cleanup site, state officials say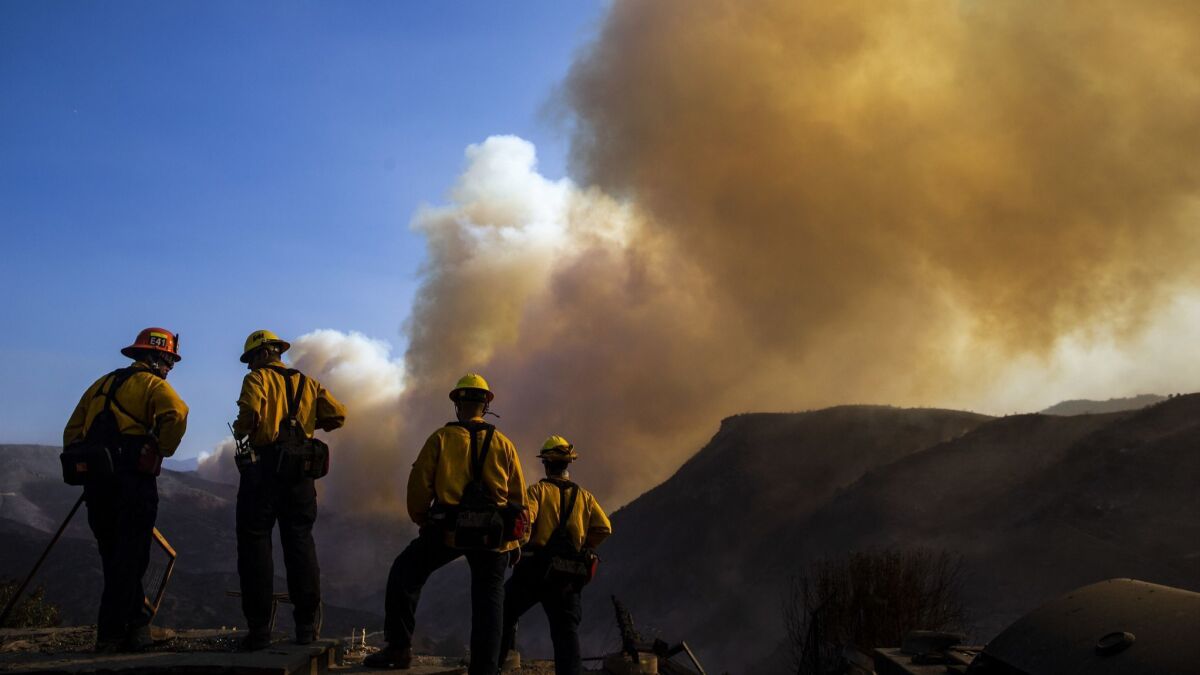 State regulators and outside experts are tamping down concerns from advocacy groups about the Woolsey fire, which burned part of the Santa Susana Field Laboratory nuclear cleanup site, saying it likely posed no risk to the public beyond what is normal for wildfire smoke.
The state Department of Toxic Substances Control, which oversees a long-delayed cleanup of the former rocket engine testing and nuclear research facility in the Simi Hills near Chatsworth and Simi Valley, said that fire officials believed the blaze "did not present any risks other than those normally present in a wildfire situation."

For the record:
9:55 a.m. Nov. 13, 2018A previous version of this story misspelled the last name of UC Berkeley professor Kai Vetter as Vitter.
A department statement issued at 1:30 a.m. Friday, hours after the fire burned through the area, said state scientists and toxicologists "do not believe the fire has caused any releases of hazardous materials that would pose a risk to people exposed to the smoke."
Kai Vetter, a professor of nuclear engineering at UC Berkeley, said the potential danger of any radioactive materials spread into the air by the fire would be outweighed by the health effects of smoke and particulates.
"Although there is a possibility that radioactive materials — accounted for or not — could be dispersed through the fire and the smoke plume, the risk for health effects due to radiation is expected to be small," Vetter said.
But those assurances have not tempered concerns by watchdog groups and environmentalists, who worry the blaze spread radioactive material, carcinogens and other contaminants present at the site from decades of rocket-engine testing, toxic chemical spills and a partial nuclear meltdown in 1959.
"The Woolsey fire likely released and spread radiological and chemical contamination that was in SSFL's soil and vegetation via smoke and ash," said Dr. Bob Dodge, president of Physicians for Social Responsibility-Los Angeles.
Community members and advocacy groups have long criticized state and federal authorities for moving slowly and failing to clean the 2,850-acre site once known as Rocketdyne.
In 2007 the state Department of Toxic Substances Control signed a consent order under which Boeing, NASA and the Department of Energy were supposed to complete a cleanup of the site by 2017. There are plans to demolish buildings and remediate contaminated soil and groundwater. But more than a decade later, the cleanup has not begun.
The Department of Toxic Substances Control said in a statement late Monday that its staff accessed the site Saturday morning to assess the damage and "confirmed that the SSFL facilities that previously handled radioactive and hazardous materials were not affected by the fire."
"Over the weekend our multi-agency team took measurements of radiation and hazardous compounds, both on the site and in the surrounding community," the department said. "The results from this initial round of testing showed no radiation levels above background levels, and no elevated levels of hazardous compounds other than those normally present after a wildfire."
The state said it would conduct additional soil and air testing over the next several days "out of an abundance of caution."
A spokeswoman for Boeing, which is responsible for a portion of the site, said in an email Monday that "preliminary estimates show that over half of the Boeing property at Santa Susana was burned, however, these assessments indicated no major structures were damaged."
A spokesman for the South Coast Air Quality Management District said it had distributed dust masks to some residents downwind of the wildfires but did not conduct any special monitoring for air contaminants around the Santa Susana facility. That agency referred questions to the state toxics department and the neighboring Ventura County Air Pollution Control District. The U.S. Environmental Protection Agency also referred questions to the toxics department.
Watchdog groups, meanwhile, called for greater transparency and accused authorities of understating the risk to the public.
"There should be immediate radioactive and chemical monitoring," said Daniel Hirsch, president of the Committee to Bridge the Gap, which has monitored nuclear safety at the site for decades. "This is one of the most contaminated sites in the country, with a large amount of radioactive material."
---
UPDATES:
10:40 p.m.: This article was updated with additional information from state officials.
This article was originally published at 6:40 p.m.
---
Life is stressful. Our weekly mental wellness newsletter can help.
You may occasionally receive promotional content from the Los Angeles Times.