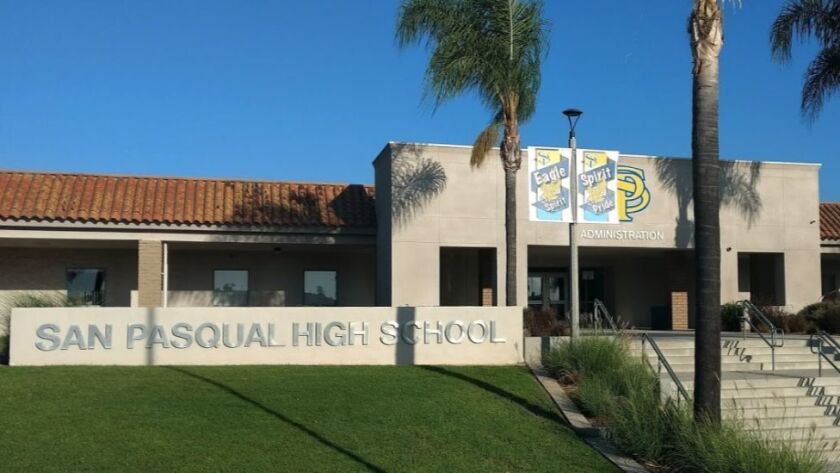 When the Golden Legend yearbook was passed out to seniors at San Pasqual High School in Escondido, it was the photos of the six Spanish teachers that raised eyebrows. The educators were dressed in ponchos and sombreros while holding fake mustaches to their mouths, prompting the principal to call their attire inappropriate.
"Cultural appropriation is offensive, whether it was intentional or not," Principal Martin Casas wrote in a statement. "We owe an apology to our Latinx and Chicano community, a community that I am part of. It is unacceptable and has no place in our school. I am saddened and disappointed that this happened, but we will use it as opportunity to learn and grow together."
The images were taken at the beginning of the school year for the teachers' identification badges. The faculty in the world languages department picked attire they believed represented the languages they taught, with the images displayed on their ID cards and worn by the teachers for the entire school year.
The Spanish teachers, addressed as "Senora" and "Senor" in the yearbook, were pictured next to the French teacher, who wore a beret and was labeled as "Madame." Her attire didn't spark the same reaction that the Spanish teachers' did, with many parents and students viewing the Spanish teachers' images less as a tribute to Latino culture and more of a stereotypical caricature.
Freshman C.J. Craig told the San Diego Union-Tribune he thought the photos were disrespectful to the Latino community.
"I thought it was racist," he said. "I thought they were making fun."
Some, however, defended the teachers. One parent told KNSD-TV she believed the instructors were trying to pay tribute to Latino heritage.
"It doesn't look offensive to me," Merced Juarez said.
The Escondido Union High School District, however, was not amused. It referred to the images as "culturally insensitive and in poor judgment."
"We are committed to continuing our efforts to ensure all students, families and staff feel welcome and valued," a statement read.
Teachers asked students how they felt about the images and discussed ideas to prevent something similar from happening in the future.
In the last month, two other school-related photos have been deemed inappropriate or racist. In Palmdale, a group of educators posed with a noose, possibly in celebration of the death sentence given to a man convicted in the murder of one of the teacher's students. And in Palos Verdes Estates, two students were photographed posing with a "promposal" poster that spelled out the N-word.
In both instances, school administrators disapproved of the images. But in each case, the photo itself spilled from the confines of school grounds and into the wider community, picking up steam on social media.
Twitter: @cshalby
---