Trump, turnout and four other things to watch for in Nevada and South Carolina voting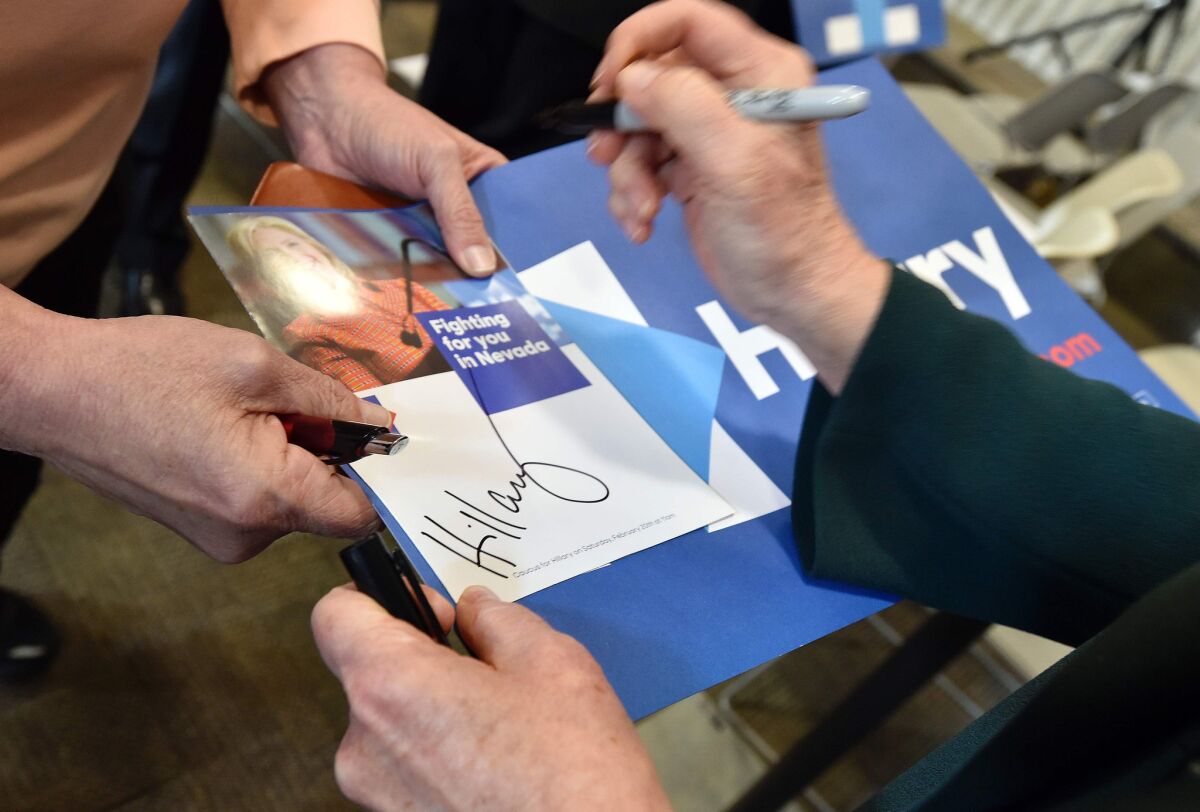 Reporting from Las Vegas and from Columbia, S.C. —
Voters in Nevada and South Carolina — two very different states — will make their choices Saturday in this year's unpredictable presidential nominating season, with Democrats in Nevada appearing surprisingly split between Hillary Clinton and Sen. Bernie Sanders, a race that has narrowed in its final days, and Republicans in South Carolina struggling for consensus in an unwieldy field dominated by Donald Trump.
What to watch for Saturday:
Nevada
Margin
If Bernie Sanders wins Nevada or comes close, he'll have momentum to build on going into the Democratic primary in South Carolina next week and Super Tuesday the following week. He will have proved that he can win votes from an electorate much more diverse than those in New Hampshire and Iowa. Clinton, on the other hand, is looking not just for a win, but a substantial one.
The Latino vote
The Vermont senator and the former secretary of State have been battling to win over Latinos, who could make up 20% of caucus-goers. Both have flooded the state with high-profile Latino supporters in recent days. Clinton has reached out to Latinos of all ages, with an emphasis on older Latina women, and Sanders is hoping his popularity among college-age voters expands to millennial Latinos as well.
Turnout
Who dominates turnout at the polls — party regulars or first-time voters? If a lot of young voters show up, that's a sign Sanders has been able to translate enthusiasm into concrete support. If Democratic die-hards who are used to voting show up in large numbers, that probably benefits Clinton.
South Carolina
Donald Trump's popularity
The billionaire businessman is riding his wave of popularity in South Carolina, a conservative and religious state that was once seen as a place where voters would hoist more establishment-minded candidates such as former Florida Gov. Jeb Bush or Florida Sen. Marco Rubio to the top spot.
But Trump's momentum shows no signs of slowing. Voters here flocked to his jam-packed rallies, despite his messy brawl with rivals on the pre-election debate stage and midweek sparring with the very popular Pope Francis.
If Trump wins in the Palmetto State, as he did in New Hampshire, the Republican Party will be closer to reckoning with Trump as the nominee — or we might see a brutal assault by another candidate trying to take him down.
The second-place finisher
With Trump's dominance, much of the fight has been over the next-best spot. And it is a doozy.
Rubio had once sought to sweep South Carolina, but even with the backing of the state's popular governor, Nikki Haley, Rubio has struggled. He and Texas Sen. Ted Cruz have engaged in an ugly tit-for-tat that has devolved into liar-liar name-calling.
Both men need a strong finish to provide convincing rationale — and donor dollars — to elevate their campaigns to show them as the best alternative to Trump. But the more likely outcome is that both press on without clear resolution.
Bush Country no more
Jeb Bush also had high hopes for South Carolina, a military-heavy state that has been fond of his family and gave a hero's welcome to his brother, former President George W. Bush, during a campaign appearance.
But a family legacy means less than might be expected in this year of the angry electorate and has not translated into support for Jeb Bush. The former Florida governor may have difficulty sustaining enthusiasm for his campaign to the next potentially hospitable contest, in his home state March 15.
During a campaign appearance late in the week in the state's capital, Bush told voters that if they couldn't support him, to at least pray for him.
For the latest on the 2016 campaign, follow @KateLinthicum and @LisaMascaro
---
Life is stressful. Our weekly mental wellness newsletter can help.
You may occasionally receive promotional content from the Los Angeles Times.